China's SAIC buys $500m stake in General Motors (AFP)
Written by Yahoo Business
Thursday, 18 November 2010 06:42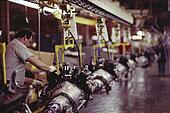 BEJING (AFP) – China's leading automaker SAIC Motor Corp confirmed Thursday it had agreed to buy a stake in General Motors, as the US auto giant prepared for one of the largest stock offerings in history.
SAIC said its wholly owned unit SAIC Motor HK Investment Ltd had acquired 15.2 million ordinary shares for 500 million dollars, accounting for just under one percent of GM's total equity.
The unit paid 33 dollars per share and would raise all the capital from the Hong Kong financial market, SAIC said in the statement.
Read more: http://www.trafalgardesign.com/news/news-feeds/7464-chinas-saic-buys-500m-stake-in-general-motors-afp