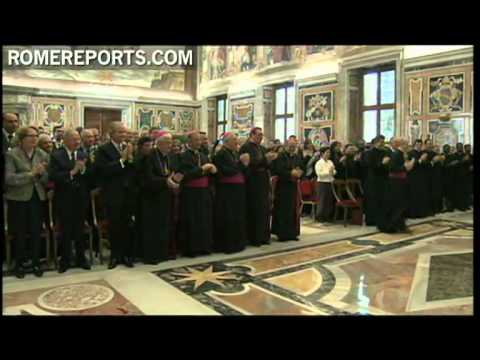 At the beginning of the fourth chapter of his Rule, Saint Benedict emphasizes the primary importance of love as the greatest instrument, and indeed the goal, of every good work his monks would seek to accomplish:  First of all, love the Lord God with your whole heart, your whole soul and all your strength, and love your neighbor as yourself (Mt 22.37-39, Mk 12.30-31, Lk 10.27) (RB 4.1-2).  Likewise, Saint Benedict states later in the same chapter that the love of Christ must come before all else (RB 4.21). 
The phrase "first of all" is important to underline here, as it shows the primacy of place (in primis) that love is to hold in our lives as human beings.  We must embrace love as our primary vocation if we desire to live life to the fullest, that is, if we seek to please God and to discover full communion with Him, which is cojoined intimately with our love for neighbor and growing in communion with our fellow man.
Concerning God's divine plan for such human love, the feast of Our Lady of Fatima on May 13 marked the 30th anniversary of two important events in the Church's history that happened to coincide on the same day, and it seems not by coincidence.  On May 13, 1981, Blessed Pope John Paul II held a public audience at which he had intended to announce the new establishment of the John Paul II Institute for Studies in Marriage and Family, which he had opened earlier that day at the Pontifical Lateran University in Rome. 
However, before he had a chance to share his passionate vision at having created this new research institute within the Church, both to study love within the sacred institutions of marriage and the family and to counter threats working against them, a gunman opened fire on the beloved Pope in an assassination attempt that shook the world.  By the grace of God, and through the heavenly intervention of the Blessed Virgin Mary of Fatima to whom the Pontiff credited the sparing of his life, the firm resolve of Blessed John Paul II to carry out the mission of evangelizing anew the authentic love of God and neighbor within the Church and across the globe only strengthened.
In his recent speech marking the anniversary of both of these historic events, Pope Benedict XVI highlighted that the Blessed Pontiff had entrusted to the John Paul II Institute the study, research, and dissemination of his Catecheses on Human Love (known commonly now in the United States as the "theology of the body").  This Magisterial teaching profoundly reflects upon the meaning of the human body in God's divine plan for human love.   On May 13, 2011, Benedict XVI emphasized a crucial development in this "theology of the body" for the Institute and thus for educating the world in its proper interpretation:  Joining the theology of the body with that of love in order to find unity in the human journey:  this is the theme I would like to point out to you as a horizon for your work.
Our Holy Father's words here provide crucial insight as we move forward in seeking both personally to comprehend, then subsequently to educate individuals, couples, and families in Blessed John Paul II's Magisterial teachings on human love in the divine plan.  We discover in Pope Benedict's words here that the theology of the body is most importantly a theology of love, as reflected in his first and great encyclical on human love, Deus caritas est.   in his remarks on May 13, Pope Benedict highlighted to the Institute that our bodies hide a mystery, one in which the spirit is manifest and active, pointing us to our ultimate vocation as human beings to "be spiritual bodies" (cf. 1 Cor. 15.44).  Our bodies "are not inert, heavy matter but, if we know how to listen, they speak the language of true love."
We understand at a theological level that our human bodies are called to be sacred, by virtue of Jesus' Ascension body and soul into heaven.   In ascending to the throne of His Heavenly Father, Jesus shows Himself to us as the Way, the Truth, and the Life and the path to eternal life upon which we are called to walk if we truly desire perfect communion with the Triune God, Who is Being-in-Communion.  The theology of the body, when correctly understood and applied, marks God's vocation of man to love God and neighbor perfectly.  Man is to be conformed fully into the image and likeness of His Son Jesus Christ Who is the Love Incarnate of God the Father, so that the human person may become sacred in body and soul like Christ and dwell forever with Him in perfect communion with God the Father in heaven. 
It is in this manner that we discover God's destiny for man:  From the moment of the mysterious Incarnation of our Lord, when Jesus takes on human flesh and sanctifies it in the eyes of the Father (cf. image), and through His Nativity and life of ministry on earth, Jesus manifests in His body and spirit the love of God the Father through perfectly loving, virtuous action and points the way to perfect communion with God (cf. likeness).  When we live excellently by way of choosing virtuously loving action, we thereby reflect God's glory and fulfill God's desire for the human person, becoming a fragrant and pleasing offering to God Who Is Love, Deus Caritas est.
Pope Benedict teaches us that the first word in the language of love is discovered in the creation of the human person, highlighting that the body "speaks to us of an origin that we have not conferred upon ourselves".  In revealing our origin to us, the body "bears a filial significance" [emphasis added] as it helps us to understand that we are generated, pointing us back — through our parents who first gave us life — to God the Creator as the Source of our life and love.  Pope Benedict wisely instructs that only when we recognize the originating Love Who has given us the gift of life can we as human persons accept ourselves fully and "be reconciled with nature and with the world."
The theology of the body, in manifesting most importantly a theology of love, demonstrates that God has designed our human sexuality to open us as human beings to the vastness of His love through genuine love of neighbor.  Properly understood, the theology of the body is much more a theology of loving communion and not a mere "theology (or Gospel) of sex", which would reduce and even risk debasing Blessed John Paul's real intent in promulgating his Catecheses on Human Love. 
Reflecting on Blessed Pope John Paul II's teachings, Pope Benedict elaborates that human sexuality is born of the vastness of God's Love, leading us to discover "integral beauty, the universe of the other person and of the 'we' that is born of the union, the promise of communion that is hidden therein, the new fruitfulness, the path towards God, the source of love, which love opens up." 
When the body is separated from its filial meaning, from its origin in the Creator, it "rebels against the person, loses its capacity to let communion shine through and becomes a place for the appropriation of the other."  The Holy Father poses a crucial question here for our reflection: "Is this not perhaps the drama of that sexuality which today remains enclosed in the narrow circle of one's own body and emotions, but which in reality can only find fulfilment in that call to something greater?"
Pope Benedict leads us to the family as the place where we engage the process of redemption of the body.  Emphasizing a key theological development here concerning the meaning of the human family, Benedict XVI proclaims:   The family: this is the place where the theology of the body and the theology of love are interwoven.  Here we learn the goodness of the body, its witness to a good origin, in the experience of the love we receive from our parents.  Here lives the self-giving in a single flesh, in the conjugal charity that unites the spouses.  Here we experience that the fruitfulness of love and life is interwoven with that of other generations.  It is in the family that the human person discovers that he or she is not in a relationship with an autonomous person, but as a child, spouse or parent, whose identity is founded in being called to love, to receive from others and to give him or herself to others.
We discover more deeply, in light of Pope Benedict's recent words, the value of family as the place where we discover both love of God and love for God, and as well as the love of neighbor and find our meaning in relationship.  Saint Benedict established monastic community in his Rule specifically to form his monks as such a family, to provide the forum where love of God and love of neighbor might be fostered and nurtured through the monks' daily rhythm of prayer and work dedicated to God.  Indeed, Saint Benedict calls his monks cenobites (RB 1.2), people who live together in the communion of family surrounding the table of the cena, that Supper of our Lord which is the Eucharist, where the monk most expressly receives and gives God's love openly within the intimate exchange of loving communion in spiritual family. 
The monastic community thus provides a model for families to embrace in light of these two great modern popes, that gathered around the altar of the Lord where we receive Jesus as our Eucharistic food for this life's journey toward life eternal in Him, we become authentic family as we grow in perfect loving communion with God and neighbor.  When we finally realize this communion in God's perfect love, we receive the fulfillment for which we long:  What the eye has not seen nor the ear heard, God has prepared for those who love him (1 Cor 2.9) (RB 4.77).
As Christians, we focus particularly on the fundamental importance of belief in Jesus Christ as Lord (meaning "Master"), Teacher, and Savior.  As Catholics, we especially highlight Jesus' fulfillment of the threefold office of being Prophet, Priest, and King.  Belief in Jesus Christ, however, involves much more than stating Jesus' qualities at a level of mere factual detail. 
It is all too tempting to pronounce, "I believe in Jesus Christ as Lord and Savior" without pondering the true weight of what we are saying.  We may become quite uncomfortable when reminded that Satan believes Jesus to be the Son of God and knows from plenty of experience that Jesus is truly Lord, Teacher, Savior, Prophet, Priest, and King (cf. Phil 2.9-11)!  Certainly, we know at the same time that Satan is not at all saved by such "belief".
 So what is the difference between authentic belief that leads to salvation and the "belief" of the Adversary?  It's all a matter of faith, which stirs in us when we open ourselves to receive the grace-filled gift of a relationship with Jesus Christ at the most personal level of our being. 
God calls for us to enter into relationship with Him not only with our mind but also with our heart, indeed with our entire being!  It is at this level where Christian prayer becomes crucial, for prayer is the locus in our existence where communion with God is constructed, building it through the bricks and mortar of love, and manifested in Christian life one loving action at a time … Doing what is good, avoiding what is evil, discerned first as such by way of constant communication between God and us in prayer.
It is in this spirit that the Rule of Saint Benedict (RB) cites St. Matthew's Gospel:  We ask God in prayer that His will may be done in us (Chapter 7, cf. Mt. 6:10).  Our minds and hearts can enter the fullness of communion with God ultimately only through the vehicle of prayer, for it is in prayer that He reveals to us precisely what is His will, what God's will determines to be good as action to be carried out, or evil to be shunned and avoided.  It is in prayer that Jesus Christ and the human being enter together into personal relationship, where Jesus is able to become our Lord, our Savior, our Teacher, and our Prophet, Priest and King.  It is in the possessive pronoun that we find God's possession of our souls and our reciprocal possession of His Way, Truth, and Life in us.  It is where we find the relationship of authentic faith that saves us in hope (cf. Rom 8.24) ; this relationship is what the devil lacks that leads to true salvation, for he that anybody be his lord or savior, his prophet, priest or king …
How do we discover a genuine relationship with the True God of the universe?  First and foremost, we must seek to follow His example perfectly, going regularly up the mountain (e.g., Mk 6.46) or to the desert (e.g., Lk 5.16) to pray intimately and to rest in relationship with His heavenly Father.  Numerous New Testament passages emphasize that Jesus regularly did just so, and we know in examination of the life and pontificate of Blessed Pope John Paul II that the beloved pontiff found the strength to carry out his expansive ministry across the globe in regulary, intense, and even mystical times of prayerful solitude.  The greatest saints of the Church indeed were able to become so distinguished because they were people who first rooted their loving actions in prayer, as contemplatives in action if you will. Their dependence first on God's Providence in their lives provided the personal foundation in Divine-human relationship that enabled these saints to carry out great works of love and goodness, actions for which they have come to be identified and renowned transcending time and space.
Saint Benedict shares this secret to carrying out good works in the Prologue to his Rule:  Every time you begin a good work, you must pray to him most earnestly to bring it to perfection (v.4) … Let us open our eyes to the light that comes from God, and our ears to the voice from heaven that every day calls out this charge: If you hear his voice today, do not harden your hearts (cf. Ps 95:8) (RB Prol. 9-10) … If you desire true and eternal life … turn away from evil and do good; let peace be your quest and aim (Ps 34: 14-15).  Once you have done this, my eyes will be upon you and my ears will listen for your prayers; and even before you ask me, I will say to you: Here I am (Is 58:9) (RB Prol. 17-18).
We are able to perform truly good works only when we first have looked to Jesus Christ through eyes of believing faith.  The 17th century French Saint John Eudes teaches that Jesus Christ Himself is the first and last point of reference in doing good works that provide us with the fulfillment we seek in life. He states, "It is by looking to Him in faith that Christ's faithful can hope that He Himself fulfills His promises in them, and that, by loving Him with the same love with which He has loved them, they may perform works in keeping with their dignity".  According to St. John Eudes, when we lead a prayerful life, we are drawn to consider Jesus Christ as our true head, and we as the members of His body.  As such, everything that is His becomes ours:  His spirit, His heart, His body and soul, and all of His faculties.  Good works transpire whenever we make use of these powers "to serve, praise, love, and glorify God.  [We then] belong to him, as members belong to their head.  And so He longs for [us] to use all that is in [us], as if it were His own, for the service and glory of the Father" (Tract. De admirabili corde Jesu, 1, 5).
Our Holy Father Pope Benedict XVI has been focusing his latest Wednesday audience series over the past several weeks on the theme of Christian prayer.  On May 11th, Pope Benedict described prayer as a "[thirst within himself] for the infinite, a nostalgia for eternity, a search for beauty, a desire for love, a need for light and truth, which drive him toward the Absolute."  In this thirst within himself, man desires God and knows deep in his heart that he can pray to Him.  The Pope elaborates that this attraction toward God is at the core of what it means for the soul to pray, and this desire in man comes from God Himself so that we will have the interior attitude necessary to seek His Face.  Benedict XVI describes how prayer involves being before God more than simply "carrying out acts of worship or pronouncing words.  Prayer has its center and founds its roots in the most profound being of the person … However, the full realization of man's search is found only in the God who reveals himself. Prayer, which is the opening and raising of the heart to God, becomes a personal relationship with Him" (General Audience, St. Peter's Square, 11 May 2011).
Part IV of the Catechism of the Catholic Church (CCC) is devoted completely to the important topic of Christian prayer and is worth careful examination (accessible free online courtesy of the U.S. Conference of Catholic Bishops ).  Section One is dedicated to "Prayer in the Christian Life" and includes the themes of the revelation, tradition, and life of prayer.  Section Two elaborates upon the tenets of the prayer Christ our Savior gave us, what is commonly known as "The Our Father" or "The Lord's Prayer".   Citing the Catechism at the same Vatican audience, Pope Benedict reminded us, "Even if man forgets his Creator, the living and true God does not fail to call man to the mysterious encounter of prayer … 'In prayer, the faithful God's initiative of love always comes first; our own first step is always a response. As God gradually reveals himself and reveals man to himself, prayer appears as a reciprocal call, a covenant drama. Through words and actions, this drama engages the heart. It unfolds throughout the whole history of salvation'" (cf. CCC 2567). 
As we prepare now liturgically for the Ascension of our Lord and the Descent of the Holy Spirit at Pentecost, may we as young or elder Christians alike enter into ever deeper prayerful relationship with our our Lord.  May we respond prayerfully to God's initiative of love within us, which seeks to draw us into ever loving communion to encounter most intimately our Creator.  May our hearts truly be engaged in the love of Christ so that all of the works we do may be truly good, for the glory of God and salvation of souls.
Over the course of these days, the Christian world is in the midst of celebrating what the Catholic Church calls the Easter Triduum, that three-day period of Maundy Thursday, Good Friday, and Holy Saturday.   During a triduum, the Church celebrates with more intensive prayer and devotion the occasion leading up to the occasion immediately following it, so it is typical for a triduum to precede some important feast.  Certainly for the Easter Triduum, the feast transpiring is the greatest feast in the liturgical year, that of the Resurrection of our Lord Jesus at Easter.
For Christians truly to reap the spiritual fruit of Easter, we must be willing to enter as fully and as deeply as possible into the Paschal Mystery  — that is, the passion, death, and resurrection — of our Lord Jesus.  This feat is no easy one, for as our hearts and minds are willing to enter more deeply into the Will of God in this holy season, we are drawn more intimately into the intense love of our Lord in His perfect gift of self in the Holy Eucharist at the Lord's Supper of Maundy Thursday, and soon thereafter into His lonely agony of the Garden of Gethsemane. 
We stand next to Jesus as Judas Iscariot betrays our Lord with the worst "kiss of death" known in the history of mankind and experience the abandonment of the Lord by his best friends at the time of His greatest need.  God confronts us in this moment not to abandon Christ again, but rather to sit in humble adoration of Him as Lord, even through witnessing His mocking and scourging, the farce of His trial, and along the Via Crucis (Way of the Cross) up until His death at Calvary on the Cross of Good Friday.  We long to rest with Him in patient waiting within the tomb of his Holy Sepulchre, watching in expectant, prayerful hope for Jesus to arise in new life in the splendor of Easter. 
It is the most beautiful time of Church's liturgical year, and also the most difficult if it is taken with the seriousness that it merits.  In entering into the Paschal Mystery, the Christian dares to encounter the living Lord Jesus in the fullness of what He has endured for the sake of our personal salvation.   It is important to note here the terms personal and encounter within the spectrum of human time and God's eternity.  As Son of Man, Jesus lived the historical events of the Easter Triduum into Easter Sunday at a specific point in human history approximately 2,000 years ago. 
However, as Son of God, Jesus is not bound by time.  Rather, as Eternal Son of the Father, these events are not bound by time.  At any given human moment in our personal encounter with Jesus, we face our Lord in our own personal lives as He bows down in loving service to wash our feet and as we sup with Him, as we betray Him by our sinful actions, as we abandon Him in fear of what the world threatens to do to us if we remain faithful to the Lord.  We personally sit in cowering fear of those who mock Jesus and deny that we know Him when He desires our friendship the most, lest the world subject us to the same trials, and we experience the deep shame with Saint Peter for having caved in to the world's sinful ways once again. 
We strive to walk alongside Jesus to be His Simon of Cyrene, at first protesting because it is too humilating and no human being ought to be subjected to such torture and ridicule … It is so offensive to our inherent sense what human dignity deserves.  But as we walk alongside Jesus and personally encounter him face to face at every Station of the Cross, by the time we reach Calvary with Him, we are transformed, changed inside and out by the reason why Jesus chose to go through such bitter humiliation, suffering, and even brutal death:  He did all of this in perfect love, for me, so that I could live forever with Him and not have to pay forever myself that terrible price due to my own sin.
 
What is my response?  Do I remain spiritually asleep, conveniently refusing to be disturbed as it is simply too uncomfortable to be challenged with the notion that I am called to be transformed into Jesus' perfect image and likeness?  Do I dare admit that there are times when I have been wrong and set Jesus on this course to the Cross by my own personal actions of refusing to love as He does?  Jesus' perfect self-gift on the Cross indeed should be jarring to us … It should lead us to encounter the One Who has been pierced on the Cross, the One whose total being in Love with us as God's Love in human flesh for us shows us so starkly just how much further we have to grow in order to be completely loving as He is. 
Yet Jesus nonetheless ever patiently and lovingly looks into our eyes and speaks to our heart, Come, abide with me, wherever I go.  If we are awake enough truly to listen to this His invitation, we grow in our desire to respond to Him in expressions of authentic love, allowing His Love to pierce our hardened hearts so that His Sacred Heart — pierced by our sins — may pour forth His Lifegiving Holy Spirit and enflesh our hearts with His Love (Ez. 36.26-27).  For our hearts to become like His, we must allow Jesus to transform us … We cannot do so merely out of our own resources.  The Easter Triduum is a pointed reminder that we just don't have what it takes on our own to live the life of holiness to which Jesus calls us.  Rather, we must be open to the Holy Spirit, Who will transfigure us with God's infinite Love if we only we would invite Him into our life.  The more deeply we invite Him in, the more we permit God to transform us into an image and likeness of Jesus that becomes increasingly recognizable as His Own.
It is in this spirit that the monk seeks for his life to be a perpetual Lent but also a continuous Easter.  We hear from Saint Benedict in his Prologue of the Rule of Saint Benedict (RB):  Never swerving from His instructions, then, but faithfully observing His teaching in the monastery until death, we shall through patience share in the sufferings of Christ that we may deserve also to share in His Kingdom (v.50).  Patience comes from the Latin verb patior, pati meaning "to suffer", and given that Saint Paul teaches us that "Love is patient" (1 Cor. 13.4), our patience indicates our strong love for Christ Jesus and our open willingness to walk in His Way alongside Him, wherever our Good Shepherd leads us. 
While this attitude is one to embrace in daily life, it is not easy even for a monk to live out, due to our human weakness (RB 49.1-2):  The life of a monk ought to be a continuous Lent.  Since few, however, have the strength for this, we urge the entire community during these days of Lent to keep its manner of life most pure and to wash away in this holy season the negligences of other times.  This we can do in a fitting manner by refusing to indulge evil habits and by devoting ourselves to prayer with tears, to reading, to compunction of heart and self-denial … Let each one deny himself … and look forward to holy Easter with joy and spiritual longing (RB 49.1-4, 7). 
This compunction of heart  (compuctio cordis) literally means allowing our "heart to be punctured with" the Heart of Christ, such that by permitting our heart to be pierced with the Love of Jesus while our sin pierces His Sacred Heart on this Good Friday, we may look forward ever more eagerly to Easter with expectant hope.  "It is high time for us to arise from sleep" (RB Prol. 8, Rom. 13.11), to "run on the path of God's commandments, our hearts overflowing with the inexpressible delight of love" (RB, Prol. 49) so that we might share forever in His Kingdom. 
This Way of God's Love is a narrow one, for "Narrow is the road that leads to life" (Prol. 48, 5.11, Mt. 7.14).  As we place our hope in God alone (RB 4.41), we will come to yearn for everlasting life with holy desire, day by day reminding ourselves that we are going to die, hour by hour keeping careful watch over all we do, aware that God's gaze is upon us whenever we may be (cf. 4.44-47), and we will have to render an account one day for all that we have done.  In other words, live every day as if it is your last … and one day you will be right!   Perhaps this truth is even better articulated by the skeletons of the Capuchin cemetery of Santa Maria della Concezione in Rome: What you are, we once were … What we are, you will become.
In keeping Jesus' suffering, death, and entombment of this Easter Triduum always before our eyes, we are reminded of the superior price that Love called our Lord to pay so that we might have the fullness of life forever in Him.  In remembering that we too shall die at an unknown hour, as Christians we choose to live in the now knowing that we will have to answer for our actions – right and wrong – on that day of our death when we will appear before the throne of the Most High God.  At that time of God's judgment particular to us, each human being will encounter Jesus Christ crucified and will hear Jesus' piercing question: Who do you say that I am?  May we be able to respond to Him on that day in the fullness of love: You are my Christ, my Lord, my Savior.   As Christians, may we live every moment now in preparation for that day when all of our heart and mind, body and soul, every ounce of our being is called to experience the powerful splendor of Jesus' Easter Resurrection in eternal life.


Greetings in our Lord Jesus from Mary Mother of the Church Benedictine Abbey in Richmond, Virginia.  Writing to you from the banks of the historic James River, on which the first colony of our beloved nation was founded over four hundred years ago, The Blogging Monk brings you food for heart and soul based on the Rule of Saint Benedict, which has been meditated upon by monks and nuns for over 1,500 years since the time of Saint Benedict.  This Rule provides great food for thought for all people as it details the ways by which we most effectively can follow in the footsteps of the way of Jesus Christ.
Saint Benedict was born in Nursia, Italy along with his fraternal twin sister, Saint Scolastica, around the year 480 A.D.  As an older teenager, becoming frustrated at the corruption of the city of Rome and desiring to seek God through a monastic desert experience, he left Rome as a young man to dwell for three years in the cave of Subiaco, where he lived below the monk Saint Romanus and listened constantly for the voice of God to speak to his heart.  It is commonly agreed by scholars that the Rule of Saint Benedict comes to us from the second third of the sixth century.  It is held traditionally that Saint Benedict passed into eternal life on 21 March 547 A.D.
The Life and Miracles of Saint Gregory the Great, or Book Two of the Dialogues by Saint Gregory the Great, detail in fascinating fashion the life of Saint Benedict and his relationship with his beloved sister from the beginnings of his monastic journey until his death.  Saint Gregory's purpose in writing the Dialogues was to edify and inspire, not to provide a biography of the Saint in the strict sense of the term as we understand it in modern times.  Saint Gregory highlighted the great holiness of life of Saint Benedict, holding him up as an example for the people of his time – and for each one of us – to follow despite all of the political and religious storms churning chaotically throughout the history of mankind.
Our current Pope Benedict XVI in part chose to take the name Benedict due to Saint Benedict's prominence in providing a deepening of Christian culture in medieval Europe, where for many centuries we can see Europe's history meshing with that of the monastic centers of scholarship, learning, and the pursuit of holiness.  Just as Saint Benedict's life reflects the holiness of the saints and prophets from throughout the ages, Pope Benedict encourages us to meditate upon the faith and works of this saint and so many others throughout the history of the Church, in order to help us live out the challenge of a life of holiness that is the fundamental vocation of every Christian even now in the 21st century.
Obsculta, o fili, praecepta magistri, et inclina aurem cordis tui
Listen carefully, my son, to the master's instructions, and attend to them with the ear of your heart
(Rule of Saint Benedict, Prologue v.1)
The introductory words "listen carefully" frame the entire Rule of Saint Benedict in the form of wisdom literature found in the Old Testament and reflect what the Rule teaches monks throughout the pages of this great work, on the monastery as being a "school of the Lord's service".  Saint Benedict proposes that the monastic home is where each monk learns how to live the ways of God practically in his daily life.  In the same manner, the Rule provides every one of us – monk or not – beautiful guidance that helps us make the right choices in our daily living that will lead us to authentic happiness in our homes. 
But how can we go about "listening carefully", especially when so much of our lives is full of noise, and even chaos?  Certainly Saint Benedict's Rome over 1,500 years ago had its noisy problems in politics and economics, being under the constant threat of barbarian invasions throughout many centuries!  Nonetheless, Saint Benedict encourages and gives us the hope that Christ Jesus indeed provides us the solid, unchanging, and steadfast Rock upon Whom we can and should build our lives.   Jesus Christ leads us to the tranquil love of which He is the Source, and for which we thirst in a world so rife with problems and temptations toward hopelessness.
To find peace, happiness, and the greatest fulfillment in this life, Saint Benedict calls us to "listen carefully" for the voice of God speaking in the silence of our hearts.  We need to retreat in order to seek God in the silence, listening for Him "with the ear of our heart".   What a curious and fascinating image, that Saint Benedict says our hearts have ears!  The Latin word inclina indicates that we are to lean, but towards what or whom?  Towards Christ and His  Commandment of Love!  By making our hearts attentive in trust and hope toward the heart of Jesus, we become more and more capable of hearing God's own heartbeat beating in love for us. 
We come to hear the words of God's Love, spoken by the One Who has created each one of us in Love, by Love, for Love.  The commandments of God – that is, the "master's instructions", as articulated  by the superior of the monastery who stands in his authority over the monks of his religious house as representative of Christ's rule over us – always point us to the divine rule of God's Love, which is summarized in the complete divinity and humanity of Jesus Christ as Son of God and Son of Man.  It is in the rule of the commandments of God's Love that we find peace, happiness, and the utmost fulfillment … that perfect Rule being Jesus Christ Himself!