When I was twenty-five I became a devotee of the spiritual teacher Marianne Williamson. One of her books in particular hit me straight in the heart: A Woman's Worth. After reading it, I was awakened to a power source within me I had never recognized before. This awesome awakening occurred upon reading the following passage:
"A queen is wise. She has earned her serenity, not having had it bestowed on her but having passed her tests. She has suffered and grown more beautiful because of it. She has proved she can hold her kingdom together. She has become its vision. She cares deeply about something bigger than herself. She rules with authentic power."
At the time I couldn't comprehend what it would feel like to "rule with authentic power," but it sounded really groovy. I wanted to perceive myself as a powerful woman, but deep down I felt like a weak girl seeking my self-worth from outside circumstances. This passage helped me recognize that there were no shortcuts on the path to my authentic power. I would have to show up for life's assignments and pass my tests to release all that was blocking me from being my highest self. I did just that. Soon after reading this passage I became a student of the metaphysical text A Course in Miracles and began to unlearn my false perception of myself.
For the past seven years I've been a student of the Course. Through my dedicated practice I've come to understand that my outside need for approval is what blocked my authentic power. I was searching for meaning in the meaningless world I had projected. My awareness of these blocks was the first step toward releasing them.
The spiritual journey I embarked on left me no wiggle room for small play. I had to surrender to a new perception and chose to seek my power in an internal condition rather than an external circumstance.
Once I became willing to stop looking out there and look inward instead, my entire life changed. I began to earn my serenity and learned to find my source of peace and purpose from an inward condition. My neediness melted away, my insecurity weakened and my self-doubt transformed into self-assurance. In time I became a queen, and today I live in my authentic power.
I work hard each day to maintain my authenticity. A major part of the maintenance process is to know the difference between what it feels like to be living in my truth versus living in my ego. When I'm living in my truth I breathe slowly, I feel fulfilled regardless of what's going on in my external world, and I exude a genuine confidence that cannot be manufactured.
Living in my ego is quite the opposite experience. When I'm in my ego my energy is frantic, I compare myself to others and I try to be something I am not. Knowing the difference between living in my truth versus acting out from my ego keeps me conscious of when I'm not aligned with my authentic power. This awareness is the key to staying on a path toward authentic truth.
You too have the capacity to live in your authentic power. If you feel out of alignment in any area of your life, use my tools below to recalibrate your authenticity. Follow these steps and you'll awaken a powerful force within that has been eager to come through you.
Step One: Become Conscious of When You're out of Your Truth
This exercise will heighten your awareness of what it feels like to be in your truth in opposition to what it feels like to be out of alignment. Take out your pen and paper and describe the differences between what it feels like to be in your truth versus what it feels like to be in your ego. How do you act differently, talk differently, think and even breathe differently? Pay close attention to the differences in how you feel.
Step Two: Welcome the Assignments
I'll let you in a powerful secret: When you begin to look at your ego's false behavior, you've unconsciously asked for a miracle. The slight willingness to see things differently is the catalyst for spiritual shifts. These shifts can sometimes be a bit uncomfortable—but that's a good thing. Remember that we must "pass our tests" to grow into our authentic power.
Step Three: Show Up For the Assignments
Welcome the life assignments that come your way and stay committed to connecting to your authentic truth. Have faith that there are no coincidences and that as the Course says, "no one is sent to anyone by accident." Every experience you have will be a powerful opportunity for you to strengthen your internal condition. Continuously recite the prayer, "I am willing to know my truth." Trust that you will be guided.
Step Four: Learn What Authentic Power Means to You
Authenticity is different for each person, but the one defining factor is that authenticity is a feeling, not an action. Throughout this process of awakening your authentic truth, you will come to feel an internal shift. You may not be able to put this shift into words. Simply trust that you're being led to know much more than what you once perceived to be real. Allow this new feeling to pass through you, guide you and energize you to experience a newfound self-awareness.
Step Five: Watch this video.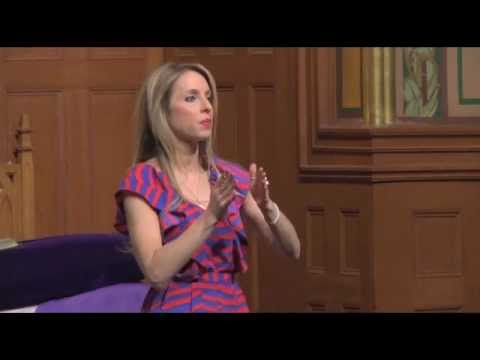 Though these steps seem subtle, you can trust that they are igniting transformational shifts within you. Stay committed to this process and invite the energy of the Universe to support your assignments and spiritual growth. Be faithful that your authentic power is all you need to truly share your light with the world.
To learn more about your authentic power click here.

Gabrielle is the bestselling author of Add More ~ing to Your Life and Spirit Junkie. In 2008 she launched her social networking site HerFuture.com for young women to find mentors.For Gabrielle's free Spirit Junkie guided meditations click here.
Coming down from the Valentine's Day mayhem can be a bit trippy for single folks. Sometimes V-Day's trappings can create a sense of separation and lack. Feel familiar? In that case, enjoy my awesome tools for finding more romance in every area of your life.
Now that Valentine's Day is over, I offer you a whole new perspective on romance. The thought that one person can be your source of inspiration, excitement and bliss is totally wacky. Don't just seek romance in one special love partner–open up to the possibility for more fiery sparks within your friendships.
This week, go on a date with a friend. The goal? To shake yourself out of your routines and recognize how fulfilling friendships can be. Enjoy your friend's company in a whole new way by focusing the same attention onto the friendship as you would a romantic partner. Okay, no–you won't be making out with your best friend. But you can be equally inspired by their personality and unique traits. By perceiving your friendship as more romantic, you'll strengthen your sense of companionship and oneness.
The benefit of shifting your perspective in friendship is not only that you have more fun, but that you let your romantic partner (or, if you're single, your future romantic partner) off the hook. When you bring more romance into your friendships, you no longer need a romantic partner to be your only source of happiness. This shift guides you to radiate a more confident energy and release neediness and lack.
Set yourself free from the false perception that one special person will save you. Level the playing field and ignite fiery sparks in all your relationships!
For my free meditations click here.
Check out my next lecture in NYC & Livestream video. Your Highest Self. DETAILS HERE.
To live an authentic life we must release all that interferes with our truth. This video will help you recognize the ways you disconnect from your truth so that you can begin to shift the pattern.


To delve deeper into this topic join me for my next Spirit Junkie Group Coaching Course, DETAILS HERE. Or attend my March 9th NYC or Live Stream lecture entitled: Your Highest Self. DETAILS HERE.
Featured in the New York Times Sunday Styles section as "a new role model", speaker, and author Gabrielle Bernstein is making her mark. Expanding the lexicon for the next generation spiritual seekers, Gabrielle is a #1 bestselling author of the book Add More ~ing to Your Life – A hip guide to happiness. Gabrielle recently launched her second book, Spirit Junkie – A Radical Road to Self-Love and Miracles. Gabrielle is also the founder of the social networking site HerFuture.com for women to inspire, empower and connect.

Each New Year brings awesome blogging opportunities for self-help junkies like me. I love offering up tips for making positive change, especially when readers are committed. This year I'm going to take advantage of the resolution bandwagon and throw down some tips for bringing more HAPPY into your new year.
Now is the perfect time to make powerful change—your willingness is at an all-time high. Check out my top twelve happiness tips for 2012. Apply these principles and you'll kick off the New Year with a happier approach to life.
Spirit Junkie Tips: Top 12 in 2012
Tip 1: Let go of 2011 baggage. It's likely that 2011 brought many ups and downs. This year, resolve to focus on the good stuff. Choose to let go of what went wrong last year and commit to what will go right this year. Be grateful and appreciate all that you have. When you appreciate what you do have, you create more of what you want. Stop focusing on lack and let the energy of gratitude create a more abundant life.
Tip 2: Change the conversation. Make a resolution to change your dialogue about fear and negativity. When you think, talk and act from a negative place, you attract negativity into your life. Commit to a new conversation. Begin the New Year talking and thinking about what you love about your life rather than replaying the same old negative story. You might just be surprised by the results.
Tip 3: Give. Being altruistic not only benefits the person you're helping but greatly enhances your own life, too. This year, commit to the mantra "How can I give?" rather than "How can I get?" Giving produces endorphins, which make you feel great! Plus, giving to others helps you get out of your own way. When you focus on giving you can stop focusing on what you're not getting.
Tip 4: Take a ME break! Commit to a ME break at least once a week. Take time out to focus on yourself. This is a powerful habit to create early in the year. Need some suggestions? Take a long yoga class, prepare a nice meal for yourself, or creating an evening ritual. One of my favorite ways to take a ME break in the evening is to give myself a facial. This January, Bliss Spa is offering the Youth As We Know It Night Facial using their new the Youth As We Know It Night Cream. This ME break treatment involves a soothing facial massage, calming cucumber eye pack, paraffin pack to soften hands and feet, and a groovy hand/arm and foot massage. Bliss suggests enjoying this facial after 5 p.m., served with a cup of tea!
Tip 5: Get naked! This year, make a commitment to be authentic. Get naked with your truth, offering the world your greatest gift: your authentic self. Begin a practice of being yourself on dates, in the office or even in your home. We all thrive on true connection—so this year, get naked with your truth! Don't deprive the world of your authentic gifts. Even if it feels uncomfortable at first, go with it … you'll feel liberated in no time.
Tip 6: Get creative. This year, I commit to spending more time painting. This creative hobby takes me out of my daily patterns and ignites my inner spirit. Pledge to engage in a creative project as often as possible. You'll find that time spent in creativity heightens your happiness and gives you more energy for the other areas of your life.
Tip 7: Do innovative exercise. Each New Year, millions resolve to hit the gym and lose weight. This year, make your physical resolutions fun! Rather than locking yourself up in the gym for days, find cool ways to shed the pounds. I am a huge fan of Hoopnotic, a rockin' workout with a hula hoop! When I hula hooped as a kid, it was just a fun thing to do. I never would've imagined doing it as a killer (and totally addictive) workout! For a fabulous deal on your own Hoopnotica Travel Kit, check out my discount offer on OpenSky.
Tip 8: Practice the F word. Carrying resentments into the New Year will only recreate the patterns from the years prior. This year, vow to let go of resentments by practicing the F word and forgive. Become conscious of whom you need to forgive (including yourself) and be willing to let go of your resentment and turn it over daily. Each morning when you wake up, set the intention to forgive. This daily intention will ignite a consciousness of forgiveness and provide you with the necessary tools to allow the F word process to set in.
Tip 9: Eat mindfully. To keep your Spirit Junkie mentality intact, you must feed your soul superfoods. This New Year I've committed to kicking the coffee. Rather than go nuts trying to eliminate everything bad in your diet, keep it simple and choose one thing to let go of. My spiritual running buddy Kris Carr offers amazing tips for cleaning up your palate in her book Crazy Sexy Diet. Let Kris's book inspire you to keep it simple and wholesome. There's no need to kick it all at once. Small shifts create powerful change.
Tip 10: Get romantic—start MediDating. Many people carry disastrous relationship experiences from the past into the present moment. Holding onto anger about your last date (the one who didn't call you back) inevitably transfers negative vibes to the next one. This anger sabotages the possibility of creating a healthy new relationship, keeping you rooted in your past instead of the now. Romantic love is an inside job that requires you to change your mental outlook if you want to let go of your fears and grab hold of the love you desire. This month, I'm launching a new meditation album called MediDating: Meditations for Fearless Romance. Enjoy the process of activating your romantic power through breathing exercises, visualization, and awakening your love energy. Begin MediDating today.
Tip 11: Sit back and receive. I work hard to balance my go-getter mentality with my "sit back and RECEIVE" approach to life. This year, welcome stillness and receptivity. Through a daily meditation practice you can begin to transform your need to control outcomes and learn to sit back and receive. Begin a meditation practice today. You'll come to understand that stillness is sometimes the greatest action. For my guided meditations click here.
Tip 12: Expect miracles. Kick off the New Year with a miracle mindset. Begin each day with a prayer for peace and happiness. Say out loud or to yourself: Thank you, inner guide, for reminding me of all of the love and light in my life. I welcome positive support throughout this day. I expect miracles. This daily prayer will jump-start your day with a miracle mindset and awaken your consciousness to the greatness around you.
Take these twelve steps into your daily practices and enjoy the positive results. Trust the Universe has your back, expect miracles, and be happy!