In what seems like a late April Fool's Day joke, a new "version" of the Bible is making headlines: "The Book of Yeezus." That's right, Kanye West has his own Bible that you can own for just $20.
The only good news about this story is that West had nothing to do with the novelty item. It was created by "three entrepreneurial brothers with a special interest in mass-society and its effects on our worldview and imagination" and offered through Etsy.com. Why Etsy, known for selling artsy and crafty items, would like to be associated with the book is mystery.
"What if the Bible, the most singularly significant publication in the ancient canon of Western tradition, were updated to reflect our modern society?," says the website. "What would it look like? What we came up with was an interventionist art, coffee-table novelty, that will appeal to both Kanye fans everywhere and those made curious by this enormous cultural phenomenon." The website continues to explain what the book is all about: "At it's simplest, it is the book of Genesis, modified to feature "Kanye" or "Yeezus" in the place of God or Y—A. 'In the beginning Kanye created the heaven and the earth… And Kanye said, Let there be light: and there was light.'"
West may be disappointed that he didn't think up the idea of himself since he sings "I Am a God" on his current "Yeezus" album. Here is a clip from an interview where he explains to the interviewer what he means: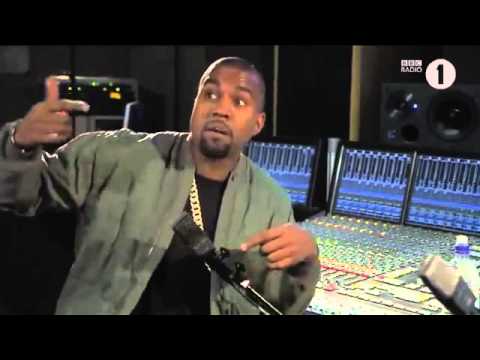 Though obviously a joke, for Christians believing that the Bible is the inspired word of God, it is an offensive one. Not only that, but spiritually, it seems a little dangerous to try to make money by mocking God. Not that people don't do it every day, but this is pretty bold. But the books are popular and the makers even branched out with their own website to sell their wares. Apparently, the handmade books are in demand. "We've gotten a helluva lotta orders. Actually, we sold more books than we have sitting in the kitchen," says the brothers on Etsy. "Please understand that from your time of purchase, there will be an extra delay in delivery time as we wait for more books. Moses walked through the desert for 40 years. A few extra days ain't much. Thanks."
Perhaps the saddest thing about this story is the others will be sure to get on the band wagon and create their own bible "translations" as humor.
In a time where some Christian publications remind us on a daily basis that our world is going to hell in a hand basket, the rest of the world surprises us. While some fight for freedom FROM religion, others are embracing it. And who better to take advantage of this trend? TV.
This week's schedule is full of Easter and religious-themed programing all around the dial, a rare occurrence indeed. But will people watch? If last night's ratings of Killing Jesus are any indication, then yes.
Last night, the National Geographic Channel brought in 3.7 million viewers to watch the adaptation of Bill O'Reilly's book, Killing Jesus. This is the channel's biggest audience ever and much of the audience fell into the 25-54 age range. Later this week, the film will be shown on the Fox News Channel and will air globally in 171 countries.
This week, just before Passover, CBS is bringing (albeit with very little fanfare) the TV mini-series The Dovekeepers on Tuesday and Wednesday. Based on Alice Hoffman novel of the same name, the made-for-TV movie is yet another project of Mark Burnett and Roma Downey who are getting a lot more attention for the NBC limited series, A.D.: The Bible Continues which begins on Easter. This is sort of a sequel of their History Channel project, The Bible and takes place right after the crucifiction of Christ. (Side Note: Have you seen pictures of Burnett lately? He is growing his own Bible-sized beard.) Also on Easter Sunday, ABC will air its umpteenth presentation of the classic Cecile B. DeMille's The Ten Commandments.
On the UP channel, they are celebrating Easter (or Bible stories) all week long including a newer version of the Ten Commandments. They are also featuring the classic 1961 King of Kings and Mel Giblson's The Passion of the Christ. Also on Easter, TCM will featured Easter-themed movies all day.
Here is a listing of evening presentations for this week:
Monday, March 30
– Jesus – UP – 8:00 pm
– Killing Jesus – National Geographic Channel – 11:00 pm
Tuesday, March 31
– The Dovekeepers – CBS – 8:00 pm
– The Ten Commandments – UP- 9:00 pm
Wednesday, April 1
– The Dovekeepers – CBS – 8:00 pm
– King of Kings – UP – 9:00 pm
Thursday, April 2
– The Dovekeepers – CBS – 8:00 pm
– Mary, Mother of Jesus – UP – 9:00 pm
– Apostle Peter and the Last Supper – UP – 11:00 pm
Friday, April 3
– Judas – UP – 7:00 pm
– Killing Jesus – Fox News Channel – 8:00 pm
– The Passion of the Christ – UP – 9:00 pm
– Jesus – UP – 11:00 pm
Saturday, April 4
– Noah's Ark – UP – 5:0o pm
– The Passion of Christ – UP – 7:00 pm
– Noah's Ark – UP – 9:00 pm
– King of Kings – UP – 11:00 pm
Sunday, April 5
– The Ten Commandments – ABC – 7 pm
– Killing Jesus – Fox News Channel – 8 pm
– A.D.: The Bible Continues – NBC – 9 pm
Michele Ganeless, president of Comedy Central, announced today that the decision on who should replace Jon Stewart on The Daily Show has been finalized. Trevor Noah, who began working on the show as a contributor in 2014 has been awarded the coveted spot.
Born in South Africa, Noah was first featured on American television on The Tonight Show with Jay Leno and The Late Show with David Letterman in 2012. He was the first South African stand-up comedian to do so on either of those shows. While Noah is not a household name yet in America, he is one of Africa's top comedians and even hosted his own late-night show there, Tonight with Trevor Noah. He was also the subject of David Paul Meyer's documentary, You Laugh but it's True.
"Trevor Noah is an enormous talent. He has an insightful and unique point of view, and most importantly, is wickedly funny," said Ganeless in today's press release. "For the next host of The Daily Show, we set out to find a fresh voice who can speak to our audience with a keen take on the events of the day, and we found that in Trevor. He has a huge international following and is poised to explode here in America, and we are thrilled to have him join Comedy Central."
"It's an honor to follow Jon Stewart. He and the team at The Daily Show have created an incredible show whose impact is felt all over the world," said Noah. "In my brief time with the show they've made me feel so welcome. I'm excited to get started and work with such a fantastic group of people."
Said Jon Stewart: "I'm thrilled for the show and for Trevor. He's a tremendous comic and talent that we've loved working with…In fact, I may rejoin as a correspondent just to be a part of it!!!" It's hard to know if Stewart is kidding or not. Having him pop up from time to time as a corespondent just might a be genuis idea.
The Daily Show airs at 11:00 pm on Comedy Central Mondays-Thursdays. The date on when Noah will begin has not been decided at this time.
What may be new on TV this fall you've already seen. Sort of. It's deja vu all over again in TV land. Just this week, NBC announced that it had greenlit a 13-episode order of Coach, a new sitcom based on the old one but still starring Craig T. Nelson. The original show ran on ABC from 1989 to 1997 and also starred Jerry Van Dyke, Shelly Fabares,Bill Fagerbakke and Clare Carey. Although, no other cast members have been announced as of yet, the new show will pick up 18 years later with Coach Hayden Fox now serving as an assistant coach for his grandson. Original show creator, Barry Kemp, will also write for the new series.
Re-boots of favorite TV shows are nothing new of course, but rarely do they do well. Ironside, The Bionic Woman, Night Rider, The Munsters and even the current The Odd Couple with Matthew Perry and Thomas Lennon have failed to connect with viewers while the new version of Hawaii Five-O has done quite well.
However, the renewed series of Coach is part of an ongoing trend that is having some relative success. TV isn't just wanting to put a new spin on an old series. It wants to bring back the old series with its original stars. TNT brought back Dallas (which ended in 1991) with original cast members and an extended family in 2012, Fox brought back Kieffer Sutherland as Jack Bauer in 24: Live Another Day last year, Arrested Development with its entire cast, came back for a season on Netflix and Disney Channel's revival of ABC's Boy Meets World, now dubbed, Girl Meets World, is shooting its second season.
In addition to Coach, be on the look out for three other fan favorites making a return. David Duchovny and Gillian Anderson will return for new episodes of The X-Files, Kyle MacLachlan is set to return to Twin Peaks for a short visit for Showtime and NBC's Heroes will come back as Heroes Reborn with at least Jack Coleman and Masi Oka returning as well.
However, even this new trend isn't really new. The original cast of Leave it Beaver (1957–1963) returned for Still the Beaver (1983–1989). The Brady Bunch (1969–1974) came back as The Brady Bunch Variety Hour (1976), The Brady Girls Get Married (1981) and The Bradys (1990). Finally, who can forget the three Gilligan's Island reunion movies? Yup, what's old is new again…and again.