As an astrologer, I spend a lot of time looking at people's love lives. Understanding both the birth charts and the transits involved can go a long way towards learning why a relationship isn't working, or why it has hit a speed bump, or why a person doesn't appear to have any love life at all. At times, this last category of inquiry can be the most baffling of them all, and yet even then astrology can provide some clarity.
***
Consider the case of TJ (not her real name). She appears to be a classic case of "why doesn't a nice girl like you have a husband" (as we would have phrased these things in the less-enlightened 1970s). She is attractive, intelligent, funny and capable, so why has the romantic side of her life being such a struggle? The birth chart provide some interesting clues, and — perhaps even more importantly — the upcoming transits to that birth chart will provide opportunity for change.
First of all, although it's a cliche it's still absolutely true: Venus in your birth chart has a lot to do with love — who you love, how you love, and who is attracted to you. TJ has one of the strongest Venus placements someone could ask for: Venus in Taurus in the First House. This placement usually makes for good looks and a certain degree of charm. Her Venus receives a trine from Saturn in the Fifth House, and this would tend to make her "stable" in her affections, as an old-school interpretation might put it.
There are some aspects from other planets in the birth chart that complicate the situation, however. First of all that first house Venus is in a close opposition to a Seventh House Uranus. On the one hand, this lends a certain spark to her Venus which can be very appealing. On the other hand, the Seventh House rules committed relationships, and having Uranus in the Seventh House can mean that one is drawn to or is destined to be connected to partners who might be considered unusual. There is nothing inherently wrong with that: it just may mean that TJ is less likely to find a standard, off-the-shelf Prince Charming to plug into her life than the average person might.
Now take a look at TJ's Fourth House. Although the fourth house is not usually the first place where one looks for romantic potential, there are things going on here that are affecting her Venus that help explain the course of her love life a little better. Moon square Venus can make for some emotional impulsiveness. Both the Moon and the Fourth House have much to do with a person's sense of emotio0nal centredness, and the square aspect to TJ's Venus could indicate an issue with some very sudden and impulsive attractions that may flare up and burn out relatively quickly. This might amplify the tendency of Uranus in the Seventh House to be drawn to unusual partners or encounters. Again, there is nothing inherently wrong with that, but over time that could lead to a sense of frustration and a feeling that there is little hope for stable long-term romance.
Venus square Mars often makes for a highly sociable nature, and it often makes for an amplified sex drive. In a case like this, we might speculate that is why TJ could find herself in situations that don't lend themselves well to long-term relationships.
Venus square the Moon's Nodes also has to be considered. The Nodes can be a little difficult to interpret in astrology, as they have much to do with matters of past life karma and the karma one is supposed to be building in this lifetime. Venus square the Nodes does not necessarily imply that one is karmically doomed to not find True Love, but it does indicate more of a struggle to find a suitable partner than one might otherwise expect.
(A side note: there is no quicker way to establish either that you don't understand how astrology really works or to simply demonstrate that you are a jerk than to say to someone "you are karmically doomed to never have your love life work out for you." That sort of thing is both inaccurate and unhelpful.)
Perhaps the most important thing to keep in mind here is that with TJ, as with anyone else, astrology should be more than just pointing out flaws and problems. No one is perfect, and no one's birth chart is perfect. And anyone who convinces you that you need to tone down this or that about your personality in order to attract a mate probably doesn't understand very well how these things work. What's the point in being someone other than yourself in order to attract your one true love?
So, despite the fact that TJ appears to be a prime candidate for a successful partnership, we can also see why that hasn't kicked in for her yet. Is there hope in a situation like this? You're damn right there is, and in Part Two I will be taking a look at the upcoming transits to TJ's birth chart that could very well bring the relationship that she's been looking for.
CLICK HERE to find out how you can get a personalized, informative, life-changing consultation that will help you take charge of your life in the next year!
CLICK HERE to join the OH MY STARS Facebook Fan Page, and get exclusive content, an additional discount on a reading, and more material on blog entries!
Sure enough, it happens every time: even though Eclipses hit about four to six times per year, some fans of astrology always end up in a bit of a panic about the next one which comes along. February 15th brings an Eclipse at 27 degrees Aquarius, and (as all Solar Eclipses do) it sets up conditions for dramatic surprises in your life somewhere in the next few months, depending on the House of your birth chart it falls in and any major placements in your birth chart closely aspecting 27 degrees Aquarius.
This is an exciting time! The gates are wide open for new and exciting surprises! Life is a wonderful adventure, and —
Wait. Some of you aren't buying it. Okay, well… free country and all. You don't have to take my word for things. If you like your astrology a bit on the old school scary and dogmatic side: here's is an instructional video as to what this Eclipse could unleash on your life (even though it probably won't be THAT bad).
YOU ARE ALL INSTRUCTED TO CEASE ALL ACTIVITIES AND WATCH THIS BRIEF INSTRUCTIONAL VIDEO!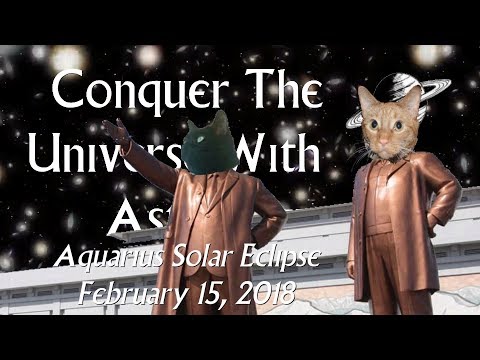 CLICK HERE to find out how you can get a personalized, informative, life-changing consultation that will help you take charge of your life in the next year!
CLICK HERE to join the OH MY STARS Facebook Fan Page, and get exclusive content, an additional discount on a reading, and more material on blog entries!
Some of you will love Valentine's Day and others won't, and there are plenty of Internet clicks to be made off of directing a message to either camp. Today though I would like to offer you all a third path: one offered both in the name of Romantic Love and in a more universal, more Aquarius way.
Regardless of my relationship status on any given Valentine's Day, I have had a distinctly personal grievance with this occasion/event/compulsory romantic outburst for most of my life, as those of you who have read the Scorpio story in my e-book Twelve Signs Of Love already know (what, you haven't written me for your free copy yet? The link is at the bottom of this blog entry). But as we stand here on the threshold of a Solar Eclipse in Aquarius, I am feeling a profound opportunity for change. And if what is needed is a shift in your  conception of Love in general, please allow me to help you with that.
Valentine's Day is too often more of a day for disappointment than delight. This particular Valentine's Day will cut with a particular edge for many: Venus may be strongly placed in Pisces now, but it is receiving a semisquare from Pluto. The longings and injuries related to the subject of romantic love could be sharper and deeper.
Here is a Valentine's Day gift for you, Dear Reader: a rare and precious opportunity to rise above the hurt.
The Solar Eclipse on the 15th may not have happened yet, but you can already access its energy. Eclipses can have a dramatic effect, and they spread their influence over many months instead of just one day as a regular New Moon does. But even a regular New Moon gives us an opportunity to reboot some part of our lives. Work consciously with an Eclipse, and you're playing with power.
So: if you are cynical about love, if you are in a relationship that is painful or is falling apart, if you are in love with someone but the damage from previous relationships is making it hard to function and appreciate that love, or even if you've completely given up, then please… join me. Join me in rebooting your heart. Address your pain and disappointment and fear and insecurity and understand it for what it is — then speak the magic word to it and send it on its way.
CLICK HERE to find out how you can get a personalized, informative, life-changing consultation that will help you take charge of your life in the next year!
CLICK HERE to join the OH MY STARS Facebook Fan Page, and get exclusive content, an additional discount on a reading, and more material on blog entries!
Between now and March 6th, Venus will be passing through Pisces. In theory this is good news, because Pisces is the Sign where Venus is considered to be exalted: in other words, where it does its best work.
In practice however, even a strong Venus tends to be a bit lazy. Mars transits might spur you to action, and Saturn transits might slap you in the face until you do something with them, but Venus is a little too lady-like for her own good sometimes. If you want to get the most mileage out of this particular time, you need to make a conscious effort to work with that energy.
Here is a guide based on your Rising Sign as to how you can best take advantage of these conditions. If you don;t know your Rising Sign, a bit of this will apply to your Sun Sign too.
Aries Rising: There's nothing wrong from taking a little time out from the world, and in fact you might benefit more than usual during this time from a little peace and quiet. Let's be honest here: people can be pretty damned aggravating, and a bit of "Me Time" can make things more bearable.
Taurus Rising: Get out and socialize! Pisces is the Friendship House in your birth chart, and for many of us this time of year doesn't present a lot of opportunities to get out and mingle. For business purposes, this is also an excellent time to do some networking.
Gemini Rising: You should be getting increased benefits from your work and career. This is also a good opportunity for you to reach out to your boss or other superiors for your benefit. Why not ask for a raise? You know you want to…
Cancer Rising: Try something new exotic in your pleasurable pursuits. Ever had Bhutanese food? Neither have I. It's probably excellent though, so let's go get some! You will also find increase benefit from things like prayer and meditation and attempts to access your Higher Mind.
Leo Rising: Now is a good time to organize your finances, especially when it comes to matters of loans or credit cards or mortgage debt. Oh, and by the way, your chances of getting more and better sex should be greatly improved.
Virgo Rising: Partnerships, whether we're talking about romance or friendship or business partners, should work more smoothly at this time. If you are in a relationship and it's time to kick things up a notch, this transit will improve your odds of success.
Libra Rising: You will be able to find happiness in the small details of life. Take better care of your health and diet, and organize your workplace environment so that it is more harmonious.
Scorpio Rising: If you are seeking romance, you're always will be improved now. If you aren't seeking romance, you just might end up finding some coming your way anyway. It's also a good time for creative pursuits in general and for working with children.
Sagittarius Rising: Go ahead and loaf around the house. Sometimes you've just got to stay in bed and hide under the covers, and if you've ever planned a multi week vacation doing just exactly that, now is the time. Otherwise, just take the time to make your nest more comfortable.
Capricorn Rising: This is an excellent time for socializing, speaking your mind in a manner that will be well-received, and for making verbal or written peace offerings to those who have experienced conflict with recently.
Aquarius Rising: As is the case with Pisces Rising, you may find yourself drawing more than usual to good times and good food and spending money. Unlike Pisces Rising, you're generally likely to have better results with that, and may actually find yourself making more money.
Pisces Rising: The good news here is that you will generally spend this time being well-liked, will get more positive attention, and may even actually look better. However, if you are struggling with your weight or your spending habits, you could find yourself giving into certain impulses more than is good for you.
For further information, please consult this video. Also, there is a cat at the end, and the Internet loves cats.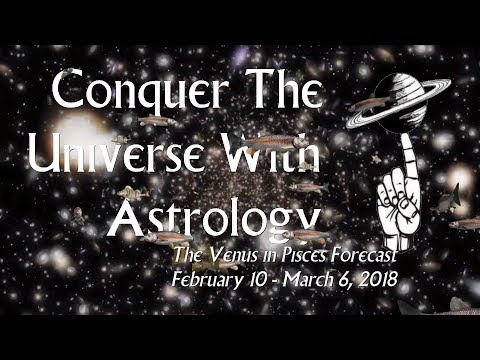 CLICK HERE to find out how you can get a personalized, informative, life-changing consultation that will help you take charge of your life in the next year!
CLICK HERE to join the OH MY STARS Facebook Fan Page, and get exclusive content, an additional discount on a reading, and more material on blog entries!