| This product uses the TMDb API but is not endorsed or certified by TMDb.
What kind of movie do you feel like?
Ask Movie Mom
Click here
I'm very excited about the new Harry Potter movie, opening next Wednesday and already setting records in ticket sales. Want an early peek? Making its worldwide debut today is an exclusive podcast titled "Being Me Has Its Privileges," from the upcoming theatrical release, hosted by Daniel Radcliffe (Harry Potter), Rupert Grint (Ron Weasley) and Emma Watson (Hermione Granger. In their continuing search for the retrieval and destruction of Voldemort's Horcruxes, Dumbledore takes Harry on a dangerous venture into an unknown cave where he believes they will find one of the dark objects. Because of the perilous nature of the journey, Dumbledore makes Harry promise that he will do whatever it takes to save himself – no matter what.
Also debuting today is an all-new "Harry Potter and the Half-Blood Prince" app that is available for free on the Apple App Store at www.itunes.com/appstore/. Fans can interact with an authentic recreation of Dumbledore's Pensieve – a device that allows them to view memories by unlocking Memory Vials to explore the vast assortment of official film content that appears in the Pensieve including: videos, posters, character information; and much more. . They can insert themselves and their friends into a Wanted Poster or the Daily Prophet by using the iPhone camera or uploading a photo from their album on to an iPod touch.
Additionally available is a special Harry Potter Retrospective clip, which gives fans a chance to relive the magic of years one through five.
My fellow Beliefnet blogger Susan Gregg, has a new post about her favorite angel characters in movies and a link to a Beliefnet gallery about angels in movies and television in the past 20 years.
These are all good choices but of course I have to add some of my own recommendations, including some films from before 1990 as well. Claude Rains was a dapper angel assisting a boxer who was sent to heaven before his time in Here Comes Mr. Jordan
, later remade with James Mason and Warren Beatty as Heaven Can Wait
.
Spencer Tracy was a flier killed in a crash who came back as something between a ghost and an angel to help the woman he loved find love again in A Guy Named Joe
, remade with Richard Dreyfuss and Holly Hunter as Always
.
The most elegant angel in movie history had to be Cary Grant as Dudley in The Bishop's Wife
, gently helping an Episcopalian bishop remember that his priorities were his faith and his family, not the new cathedral. The remake, "The Preacher's Wife," stars Denzel Washington.
In "Wings of Desire," angels observe rather than guide, and one of them finds heaven on earth.
Roy Scheider flirted with a sympathetic angel of death played by Jessica Lange in "All That Jazz." In "A Matter of Life and Death" (sometimes called "Stairway to Heaven") a dashing wartime aviator played by David Niven must argue for his life in a celestial court. In "Death Takes a Holiday," Fredric March plays the Angel of Death who learns what it is that makes humans cling to life so dearly.
And don't forget Clarence getting his wings at the end of "It's a Wonderful Life." George Bailey was not the only one who had a happy ending.
D.W. Brown has trained, directed, and coached hundreds of actors and is co-artistic head of the distinguished and successful Joanne Baron/D.W. Brown Studio. His new book, You Can Act!: A Complete Guide for Actors
is both practical and inspiring with tips, diagnostics, and reference material that guides newcomers and professional actors to everything from the classics to a shoot-'em up. He took the time to answer my questions about the book and his work.
On "Inside the Actor's Studio," I heard Alec Baldwin talk about the difference between an actor and a movie star. What do you think the difference is? Can you be both?
You certainly can be both because the ability to act is actually one of the traits that results in success for an actor. Imagine that. But there truly are other factors involved in being a star. Those would include the type you are, your basic physical attributes and your essential nature and how this present society responds to that type. There have always been femme fatale types like Angelina Jolie (Lauren Bacall), and the decent man like Tom Hanks (Henry Fonda); but we don't seem to have much use for John Wayne types right now. There's also the buzz factor. The industry feels a trend for certain people and their fame, a fame not necessarily related to their acting, and then it builds on itself.
I was surprised to see you say that "as long as you're committing to the truth of your Action, you can pretty much be oblivious to whatever you're saying and it will come off just fine." How do you suggest an actor treat the words in the script?
Yes, I know it is heretical in some quarters to discount the text, but I'm only saying that an actor should do their job, trusting the writer has done theirs. It's Shakespeare's advice to actors when he said (through Hamlet's mouth): "Suit the action to the word and the word to the action." You use the words only as a blueprint to determine what you should be doing and, once that's decided, you make the words total slaves to the thrust of your Action. Our society makes such a big deal out of the use of language and how you present yourself intelligently, an obligation to the words and their ideas is a curse. All these reasonable minds talking to reasonable minds. An actor needs to aim for gut.
Many actors are fine when they are speaking but get lost when another character is speaking. How do you teach them to maintain concentration?
We train the concentration of an actor so that they put their attention on what's really going on, not just the words and how they themselves are coming across. The Meisner technique we teach at our school (The Joanne Baron/D.W. Brown Studio) is a brilliant method for getting an actor to habituate playing moments and working off their environment, mainly the subtextual interaction with other human beings.
What is the best way to prepare for a role set in another era?
Whatever the environment your character inhabits you have to examined the culture and its values, and then bring that to your performance; it may be by relating to events through the use of particularizations, which is saying to yourself: "This thing is to this character as blank would be if it happened to me." By this I mean, if your character is discovered to be pregnant out of wedlock in the 60s, it might be for you as if you'd been discovered prostituting yourself. To play something set in a different era you might also have to alter how you carry yourself physically.

What is the best way to think about a character's past? About the character's goals?
The past may be hugely influential or barely at all. Although it's often an interesting plot point, I think well-meaning actors tend to get too hung up on back story, whereas your character might simply have been born a shark or a saint. I do think connecting to a past can be very powerful if you think of the character as motivated for a larger purpose because of it. This might be the case with someone who, because of the sacrifices made by others to get them through college, strives passionately to succeed so as to honor them, or a person having been bullied taking revenge for all who have been bullied. I think a great way to think of a character's goals is to imagine how it is that they want to be praised. Everyone wants to be praised. If not by the entire population, at least by that certain like-minded soul. Even a self-hater loves themselves as a self-hater.
You know them. That is, they look familiar, but you might not be sure if that is because you saw them in a movie or because you saw them on a train. These are character actors, the indispensible performers who are there for the leading men and ladies to talk to, fight with, run from, almost marry, rescue, punch, shoot, chase, or watch die so they can learn an important lesson. They provide comic relief and when it is necessary they die onscreen to give the main character a growth experience. And while they get paid a small fraction of those 7-figure salaries that go to the stars, their contribution to the movie's power to entertain and inspire is often as great or greater.
I'm going to share some of my favorites in this and upcoming posts and you can learn more about them in Hey! It's That Guy!
.
The films of the 1930's had some classic character actors who appeared over and over. Here we can see two of the best, Edward Everett Horton (specialty: silly upper class types) and Eric Blore (specialty: looking down on silly upper class types). Do their voices sound familiar? They both provided voice talent for the Rocky and Bullwinkle series.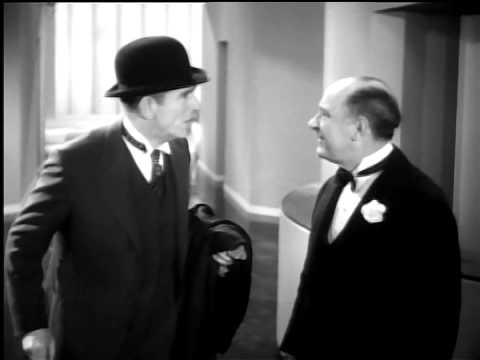 "Ball of Fire" is one of my all-time favorites, in part because of its wonderful collection of character actors playing Gary Cooper's professor colleagues. You can see some of them here including Oscar Homolka, Henry Travers (the angel in "It's a Wonderful Life") and the hilariously nasal Richard Hayden.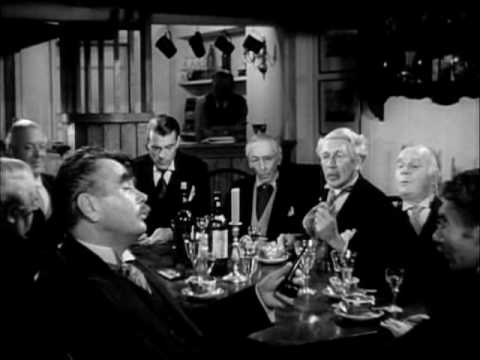 More character actors in future posts, and of course I'd love to hear about your favorites.