| This product uses the TMDb API but is not endorsed or certified by TMDb.
What kind of movie do you feel like?
Ask Movie Mom
Click here
The gospel world and everyone who loves music that lifts the spirit had a double loss this week with the passing of the magnificent Albertina Walker and "King" Solomon Burke. They will be deeply missed. But their glorious recordings will continue to bring us joy and inspiration forever.
Twelve new episodes of "Shalom Sesame" are out on DVD, Welcome to Israel
and Chanukah: The Missing Menorah
. The creators of "Sesame Street" produce this series with Israel's Channel HOP! to bring the vitality of Jewish culture and tradition and the diversity of Israeli life to American children and their families. The "Sesame Street" characters and guest stars like Debra Messing and Jake Gyllenhaal introduce children to Hebrew letters and words and Jewish values, mitzvot (good deeds), and holidays. The DVDs are supported with teaching materials.
I have one copy of each to give away to the first person who sends me an email at moviemom@moviemom.com with Shalom: Israel or Shalom: Chanukah in the subject line. Don't forget to include your address!
A snowstorm at Christmas time makes a busy woman stop and reconsider her priorities when she is stuck in her apartment with two people she has just met: a little girl who does not want to be there and a homeless man who tried to protect her from some muggers.
Catherine Mary Stewart plays Kathleen, a successful restaurant-owner. Ever since she was a little girl, when her father walked out on Christmas, she has hidden her hurt and feelings of abandonment with a brisk and businesslike manner. She is not unkind, but she is brusque and unapproachable.
And then the single father she is dating asks her to take care of his little girl, Lucy (the terrific Cameron Ten Napel). And a homeless man named Sam (Muse Watson) with a quiet, peaceful demeanor is hurt when he tries to protect her from some muggers, so she brings him back to her apartment, just for one night. And then the three of them get snowed in.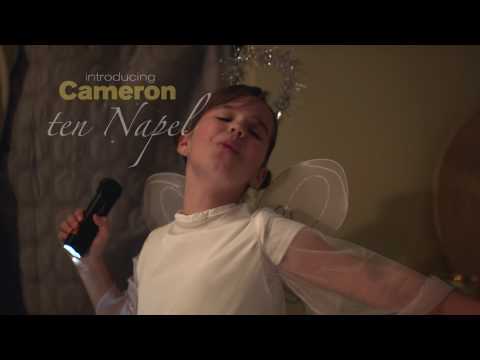 Snow has a way of helping us separate the urgent from the important. The weather outside may be frozen, but Katherine begins to thaw. And as communication with the outside world is cut off, communication inside her apartment begins to bloom. When Sam reads aloud his favorite passage from the Bible, Simeon's words on seeing the infant Jesus, a small place of peace begins to take hold of all three. And without electricity or phone they return to the simpler pleasures of the past including the meaningfully named s'mores and a board game called "Break the Ice."
But there is still a hard pain in Kathleen that she just can't let go. Sam has one more lesson for her that will help her understand that the only one who is hurt by a refusal to forgive is the one holding onto the anger. This is a touching story with humor and heart and a little wisdom, too.
Josh Brolin plays Jonah Hex, a man transformed by loss in a fantasy western set just after the Civil War, based on the series of comics and graphic novels. The war is over in the United States, but it continues to haunt Hex, who rides the West as a gun for hire still wearing his Confederate Uniform.

Hex has no friends, at least not any who are alive. He has one enemy, Quentin Turnbull (John Malkovich), who made Hex watch as he ordered his men to make Hex suffer as he had, to watch as he loses everything he loves and has to live on, scarred inside and out. After Turnbull burns down Hex's home with his wife and child inside, he orders his men to apply a fiery brand to Hex's face, burning through the skin to the jawbone. "Every day that mark will remind you of the man who took everything you had."
But that physically and psychologically searing experience gave Hex something, too. "It left me with the curse of talking to the other side," he tells us. And so he rides, feeling nothing but vengeance, a gunman for hire, haunted by the dead and answerable to no one but himself.
Turnbull steals the most powerful weapon ever made, a sort of pre-industrial age H-bomb, And President Grant (Aidan Quinn) orders Lieutenant Grass (Will Arnett) to get Hex to find Turnbull and stop his plan to bring down the United States government as it reaches its 100th birthday.
It has a trim just-over-80 minutes running time, so I'm guessing there will be a future DVD release with a lot of deleted scenes. But the lean story-telling works well for its taciturn characters and spare settings, beautifully presented by cinematographer Mitchell Amundsen, and well scored by Marco Beltrami and John Powell with assistance from Mastodon. The blend of history and fantasy, both tweaking and saluting the conventions of both genres, works better than the clumsy references to current concerns like terrorism and tea party anti-government sentiment. Brolin is as at home in the role as he is in the saddle. As (of course) a prostitute with a mean right hook and, at least for Hex, a heart of gold, Megan Fox has to learn that a husky voice and a smoldering look are not enough to create a character. On the other hand, in that wasp-waisted corset (reportedly a Scarlett O'Hara-size 18 inches in diameter) she should get an award for staying upright.