| This product uses the TMDb API but is not endorsed or certified by TMDb.
What kind of movie do you feel like?
Ask Movie Mom
Click here
What's in a gnome?
Shakespeare's tragic romance about the children of warring families has been adapted countless times (a high point: "West Side Story;" a low point: a recent Twitter version), as acknowledged in a cheeky opening monologue to this charming retelling set in the world of garden gnomes and set to the music of Elton John and Bernie Taupin.
Adjoining homes on Verona Drive have lovingly tended gardens, one with a blue color scheme, the other red. Both are populated with ceramic garden gnomes who come to life when humans are not around and like their owners, the two groups are in a bitter feud, led by Lady Bluebury (Maggie Smith) and Lord Redbrick (Michael Caine).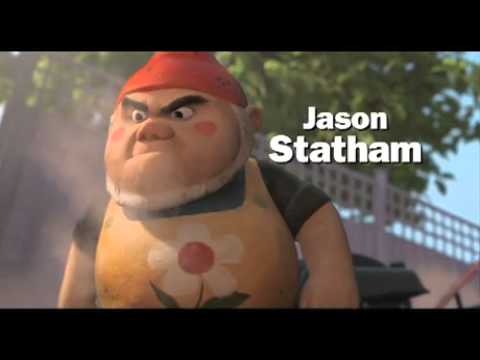 When Lady Bluebury's son Gnomeo (voice of James McAvoy) and his red rival Tybalt (voice of Jason Statham) compete in a lawnmower race, the hotheaded Tybalt cheats to win. Gnomeo decides to cross over into the red side for revenge.
Meanwhile, Lord Redbrick's daughter Juliet (voice of Emily Blunt) defies her father to disguise herself and cross over to the blue territory to capture a captivating flower. She meets Gnomeo and soon parting will be sweet sorrow and a weed by any other name is still a weed.
They have one perfect date far from home, where they befriend another garden fixture, a long-abandoned plastic pink flamingo (voice of Jim Cummings), and hear his story of the pain of lost love.
Gnomeo and Juliet want to be together, but they do not want to hurt their parents. Lord Redbrick wants Juliet to marry the suitable but dull Paris (voice of Stephen Merchant). Tensions become even more heated between the reds and the blues, especially when one side brings in a monster truck of a lawnmower called the Terrafirminator. Even William Shakespeare's statue (voice of Patrick Stewart) tries to explain that the story is not supposed to have a happy ending.
But Shakespeare didn't know about garden gnomes, 3D computer animation, or G ratings, all of which combine to make sure that all's well that ends well.
The gnomes are nicely weathered-looking, with chips and cracks, and there's an evocatively gentle ceramic clink when they move or touch each other.
There's plenty of silly but warm-hearted humor as the characters struggle with the big feelings inside their brittle terra-cotta bodies. Juliet frees a little ceramic fish from a gnome's fishing pole, and he manages quick grateful appreciation before he sinks straight to the bottom of the pond. The gnomes have to freeze whenever a human comes by, in positions only slightly more absurd than the ones they were originally designed for.
Pop culture references, unavoidable these days in an animated film, are oddly chosen (The "Tiki Room" theme song? "Brokeback Mountain?" Really?) but thankfully brief. And there is much to delight lovers of English literature, with sly references to the bard. We see like a Rosencrantz and Guildenstern moving van and the street address numbers are 2B and not 2B.
The eclectic voice cast works very well. McAvoy and Blunt show all the tenderness, courage, and spirit one could hope for in the young lovers. It is disarming to see how well Ozzie Osborne's Fawn and Hulk Hogan's Terrraforminator announcer share the screen with Dame Maggie and Sir Michael.
But what makes the film most endearing is its unabashed eccentricity. These days, so much entertainment is focus-grouped into safe institutional blandness. It is a rare pleasure to see a film, especially one with eight credited authors including William Shakespeare, with such a singularly loopy sensibility. If you are in the mood for an off-beat take on a classic love story to the sound of the Rocket Man, you will find this one is just as you like it.
"The Eagle" is an epic story, lavishly filmed, but empty at the core. Without a reason to care about the quest, it does not matter how skillfully the battle scenes are filmed.
It is based on The Eagle of the Ninth
a classic book for kids by Rosemary Sutcliff, inspired by the real-life mystery of the Lost Legion of the Roman Army, a 5000-man fighting force that disappeared without a trace around 117 A.D. This is the story of Marcus Aquila (Channing Tatum), the son of that division's leader, who goes on a journey to recapture its standard, the golden eagle of the title. Accompanying him is his slave, Esca (Jamie Bell of "Billy Elliot"), loyal to Marcus Aquila for saving his life, but with divided allegiance because he is a Briton who despises the Romans. When they cross Hadrian's Wall into Briton territory to retrieve the golden eagle, which side will Esca be on?
Director Kevin Macdonald ("The Last King of Scotland") lets his enthusiasm for the material show. The settings and the design details show meticulous care and the combat scenes are dynamic and sometimes powerful. The evolving respect and friendship between the two men does not translate well from the page to the screen and the pacing is episodic where it should be epic. While it may be a worn-out cliche to have people in ancient times speaking in modern but formal English with British accents, it is a convention that communicates very effectively on screen. Macdonald's decision to have the Romans speaking American-style English (even the British Jamie Bell) and have the Britons speak historically inaccurate and for most people indecipherable Gaelic, gives it a sloppy, Cliff's notes flavor. This is underscored further by Tatum's very contemporary look and build and the attire of the Britons — covered with clay and wearing a sort of animal skin jegging.
The biggest problem is that we just do not care whether they retrieve the eagle because they never make a compelling case that it stands for honor, either relative or absolute. It is the symbol of a failed invasion that does not represent valor or integrity. The film cannot free itself from the modern sensibility of its makers and its audience and therefore cannot demonize the Britons or otherwise justify the Roman attempt to capture and enslave them. The film tries to portray the warriors as heroes next to the politicians who stay at home fighting with words instead of swords. But it just comes across as another pointless road trip bromance.
The day after they invented cities, they invented stories about what happens when country bumpkins arrive in them. The adventures of the innocent in the big, bad metropolis have been popular for centuries. In part that is because of that satisfying moment when the fool from the country ends up outsmarting the sophisticates from the city, the ones who think he is an easy mark. First, though, he has to identify which ones they are. And then he has to identify who he is, and recognize his own strength.
Tim Lippe ("The Office's" Ed Helms) has spent his life in a tiny Wisconsin town, and almost all of his life working in the small local office of an insurance company. He started working there at age 16. He does not even let himself dream of the success and cosmopolitan elan of Roger Lemke (Thomas Lennon), the office star, who always brings home the coveted Two Diamond top award from the trade association's annual meeting; he just sincerely wishes him well. But then Roger dies suddenly, and Tim has to take his place at the convention. The boss (Stephen Root) has no time to give him any instruction except to keep away from Dean Zeigler (John C. Reilly), a client poacher, and to win that Two Diamond award at any cost.
Tim takes off for Cedar Rapids, Iowa, after carefully laminating all of his maps. It is only slightly less daunting and terrifying and utterly strange from him than a visit to Mars. He has never been on an airplane. And when a friendly young woman at the hotel doorway (Alia Shawkat of "Arrested Development") asks him if he'd like to party, he assumes that it's just the way they welcome people in the big city.
Surprise number one is that the black man in his hotel room is not a criminal, but his roommate, Ronald Wilkes ("The Wire's" Isiah Whitlock Jr.), a very proper, buttoned-down insurance agent. Surprise number two is that there is a third roommate, none other than the decidedly unbuttoned Zeigler, a loud, hard-drinking, dirty joke-telling cynic and instigator of trouble. With Joan Ostrowski-Fox (Anne Heche), a very pretty agent from Nebraska who is intent on living it up while she's away from home, Tim starts to learn some important lessons about his ability to say yes and his ability to say no. And his ability to figure out which is required in a wide variety of unprecedented, unexpected, and highly anxiety-producing circumstances.
As we saw with Helms in "The Hangover," it is always a lot of fun to see a guy who is tightly wrapped let go — and then to get to see him deal with the consequences. The boss tells Tim that he once thought, "Here's a kid who's going to go places," but then he never did. He goes places and then some in this story. Most of us spend a good bit of time coping with "impostor syndrome, worried that everyone will catch on to our inadequacy. There are a lot of moments of awkwardness and insecurity, but it is heartening to see Tim begin to learn that there is not as big a gulf between him and other people as he thought, even people of exalted rank, and to see him apply what he has learned to get a better understanding of what he thought he knew about the people back home. It benefits from a strong structure, astute depiction of the inevitable corny humor and cheesy networking activities of business gatherings, gutsy performances, and genuine affection for its characters. You will even have a whole new appreciation for insurance. Really.
How many can you identify?