| This product uses the TMDb API but is not endorsed or certified by TMDb.
What kind of movie do you feel like?
Ask Movie Mom
Click here
Happy birthday to Marilyn Monroe, that star of stars.  She continues to bewitch us nearly a half century after her death.  Yet another movie about her is currently in the works, with Michelle Williams as the former Norma Jean Baker.
I hope you have all seen "Some Like It Hot, " the American Film Institute's number one funniest American movie of all time.  And everyone should watch "The Seven Year Itch" and "Bus Stop," both classics.  I'd also suggest:
Let's Make Love
Marilyn does a sizzling performance of "My Heart Belongs to Daddy" in this charming story of a zillionaire who tries to stop a satiric off-Broadway revue because it makes fun of him and then ends up trying out to play himself because he wants to get to know the beautiful star of the show.
There's No Business Like Show Business
This often-forgotten film is a sudsy excuse for using a lot of Irving Berlin songs, but it has a knock-out cast, including Ethel Merman and Donald O'Connor, and Monroe is sensational in "We're Having a Heat Wave."
How to Marry a Millionaire
Lauren Bacall, Betty Grable, and Monroe are three models with a plan to marry rich. As the nearsighted girl with a warm heart, and in one of two performances opposite David Wayne (the other is "We're Not Married"), she is pure delight.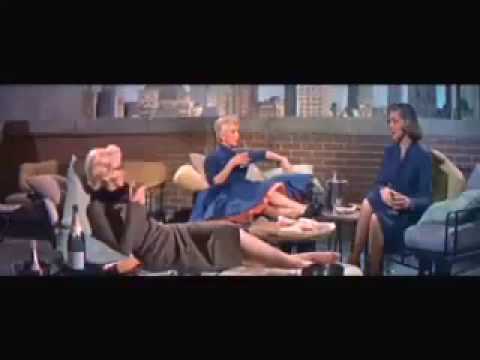 Gentlemen Prefer Blondes
Madonna based her "Material Girl" video on "Diamonds Are a Girl's Best Friend" from this movie about two free-wheeling showgirls. I also love her song, "Bye Bye Baby."
"Hangover 2" got slammed by the critics, with only a 35 percent positive rating on Rotten Tomatoes.  But I liked it.  I don't usually comment on other critics' reviews, but this time I think it is worth taking a moment because the very things that many critics didn't like about the movie were the things I liked best.  Many critics complained that it was essentially a remake of the first, sticking closely to the same structure.  They saw that as a sign of lack of imagination or just cynical and lazy.  I thought it was very clever. In narrative terms, the repetition underscores an inevitability, almost a destiny for the characters that deepens the comedy with another layer.
Many critics thought the movie crossed the line from outrageous to offensive.  I had some problems with some of the material but overall I appreciated its willingness to go darker and more twisted than the first one.  I was less offended by the confident, beautiful trans stripper/hooker in the sequel than the idealized hooker/mom with a heart of gold in the first one.
Christopher Orr is one of my favorite critics — smart, knowledgable, funny, and a terrific writer.  I loved his review of  the "brutal hilarity" of "The Hangover 2."  
Indeed, the comedy is not just black but noir–which is apt, given the formula to which Phillips has adhered so rigidly. The missing person, the seamy urban setting, the gradual accretion of clues: The Hangover films are, essentially, hard-boiled crime stories spun into comic depravity, heirs as surely to Hammett, Chandler, and Cain as they are to Apatow and the Farellys. This was central to the appeal of the first movie. Even as it found room for scenes with taser-happy schoolkids and Mike Tyson singing "In the Air Tonight," there was an uncommon meticulousness to its structure: It succeeded not only as comedy but, in its way, as mystery.
I think that when characters like Phil (Bradley Cooper) and Stu (Ed Helms) or even Helms' character in "Cedar Rapids" have some uncharacteristic acting out it should reveal something about their characters.  (I don't think Alan's behavior on drugs is very different from off drugs.)  It is fun to see how excruciating it can be for Phil and Ed to discover, slowly what they are capable of, but it is more satisfying to see them realize (even in a comedic way) that they need to integrate that with their notion of themselves.
On those dark nights of the soul, when we consider not just life but Life, and Meaning, and our place in the cosmos, our lives don't play out in our minds in sequence.  Images and snatches of words flicker back and forth in what can seem like random order or they can seem to come together like a pointillist painting, revealed at last only at the end. The famously reclusive, famously painstaking filmmaker Terrence Malick has made a film that projects such a meditation on screen, inviting us to bring to it or own search for meaning.Its non-linear, almost anti-linear style admits or rather welcomes many interpretations. Whole passages are impressionistic, almost abstract. Like the "Rite of Spring" section of "Fantasia" or the famous "Powers of Ten" short film popular with middle school science teachers, it explores the farthest reaches of time and space.  The slightly more traditional "movie" sections alternate between the story of a family like Malick's own in mid-century Waco, Texas and contemporary scenes of the now-adult son of the family (Sean Penn), who wanders almost wordless through settings of steel and glass.
Malick has only made five films in nearly 40 years. Each of them has had a meditative quality, a haunting voiceover, exquisite images, and themes centering on the loss of Eden.  "The Tree of Life" begins with a quote from the Book of Job, but even though very sad events befall the O'Brien family this is not the story of good people whose faith is tested by a series of unbearable losses.  It is an exploration of how we fit into the grandest possible scheme of things, how the patterns repeat in the division of cells to make complex systems, the development of mechanical formulas so singular that they merit a patent, the awakening of the first adult thoughts in a child, innocence and loss, harsh reality and ethereal imagination.  
Mr. and Mrs. O'Brien are so archetypal they do not even have first names.  They are just Father (never Dad) (Pitt) and Mother (pre-Raphaelite beauty Jessica Chastain).  Pitt sheds his movie-star charisma for his Missouri roots, showing us a mid-century man from Middle America, every line of him as straight as the slide rule that like O'Brien himself is about to be out of date.  He loves his three boys fiercely and fights down his own tenderness to teach them the lessons he thinks they must have to survive.  He is all that is hard and logical and precise and mechanical.  Mrs. O'Brien is gentle, almost silent, so in tune with nature she seems to float through it.
The movie's near-miracle is the way it evokes the muddy, let's-break-something boy world.  Sending a frog up in a rocket, racing behind a truck spewing clouds of DDT, shoving against each other like puppies, holding in wonder a neighbor's neglige, the heartless, heedless, long, long thoughts of a boy's life are beautifully portrayed.
It is easy to understand why this film was both booed at Cannes and given its highest honor.  I admired the film's audacity but winced at its pretentiousness.  There are some moments of stunning beauty and power.  But other parts seemed overdone and empty.
(If you want to know what I think the ending means, send me an email at moviemom@moviemom.com — and tell me what you think it means!)
Parents should know that this film includes an offscreen death of a child with devastating parental grief, children's play results in death of an animal, a father is strict with children and his wife to the point of brutality, some dinosaur violence, some disturbing existential themes.
Family discussion: What is this movie about?  How do the creation scenes relate to the story of the family?  Why is there so little dialog?  What is happening in the end on the beach?
If you like this, try: the short film "Powers of Ten" and the other films by Terrence Malick including "Days of Heaven" and "Badlands"