| This product uses the TMDb API but is not endorsed or certified by TMDb.
What kind of movie do you feel like?
Ask Movie Mom
Click here
ABC Family has a new series about two families who discover that their teenage daughters were switched at birth.  The girl who grew up with a single hairdresser mom and the girl who grew up in the wealthy home of a former pro athlete meet their biological families for the first time.  It's a very good show and one of its brightest stars is Katie Leclerc.  She plays the bright, confident biological daughter who grew up with the single mother.  And she is deaf, and attends a school for the deaf, though in the first episode it looks like she will transfer to the school her biological parents want her to attend.
Leclerc has Ménière's disease, a disorder of the inner ear.  She is fluent in American Sign Language.  She has a dazzling smile and a glowing presence on screen.  It is a joy to see the portrayal of a character who has a disability but is neither a saint nor a victim, and it is an equal joy to celebrate the arrival of a talented newcomer who has the skill and charisma to become a major star.  The show has an appreciation of deaf culture and being deaf is just a part of who the character is.  The excellent cast also includes Lucas Grabeel, Lea Thompson, Vanessa Marano, and Constance Marie.  Don't miss this show.
Switched at Birth
Shakespeare's plays were originally performed in London's Globe Theatre.  The original open-roof theatre, made of wood-and-thatch was built in 1599 by Shakespeare's company of actors and was destroyed by fire in 1613. American actor and director Sam Wanamaker, worked tirelessly to raise funds for the theatre's reconstruction and a modern reconstruction of The Globe opened in 1997 approximately 200 yards from the site of the original theatre.
Now the Globe comes to more than 260 movie theaters across the country through NCM's exclusive Digital Broadcast Network.   NCM Fathom, Globe Theatre and Arts Alliance Media with Shakespeare's Globe London Cinema Series have produced an exclusive four-part in-theater series of the most classic of Shakespeare titles in U.S. movie theaters nationwide this summer and fall. Captured in 2010 from the prestigious and internationally renowned Globe Theatre in London— Shakespeare's theatrical London home – the series will kick off in June with The Merry Wives of Windsor followed by Henry IV Part 1, Henry IV Part 2 in August and closing in September with Henry VIII. Each performance will begin at 7:00 p.m. local time and will include a special 20-minute historical perspective on the Globe, the reconstruction process, the work of the Globe today, and a behind-the-scenes look at each production with interviews from the actors and creative team involved.  It begins with "The Merry Wives of Windsor," said to have been inspired when the queen wondered what it would be like to see the wine, women, and song-loving Falstaff (of "Henry IV" parts 1 and 2) in love.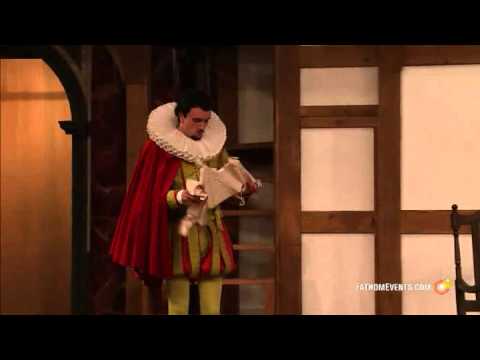 Tickets for Shakespeare's Globe London Cinema Series are available at participating theater box offices and online at FathomEvents.
Shakespeare's Globe London Cinema Series schedule is as follows:
§  The Merry Wives of Windsor – Monday, June 27 – One of the great comedies by William Shakespeare, this hilarious tale of love and marriage, jealousy and revenge, class and wealth is Shakespeare's only play to deal with the contemporary Elizabethan era English middle class life. It was first published in 1602, although it was believed to have been written prior to 1597.
§  Henry IV Part 1 – Monday, August 1 – The second play in Shakespeare's tetralogy dealing with the reigns of Richard II, Henry IV and Henry V, Part 1 depicts a span of history beginning with Hotspur's battle at Homildon and ends with the defeat of the rebels at Shrewsbury in 1403. This work of honor, rebellion and the struggle for power is thought to have been written no later than 1597. From the start it has been an extremely popular play both with the public and the critics with Roger Allam winning the 2011Olivier Award for Best Actor for his role as Falstaff.
§  Henry IV Part 2 – Thursday, August 18 – The third piece of a tetralogy, preceded by Richard II and Henry IV Part 1, this work is followed by Henry V. This play picks up where Henry IV Part 1 ended and focuses on Prince Hal's journey toward kingship. The two plays are often perceived as a dissection of father-and-son relationships, with Falstaff as a wayward father substitute for the young Prince Hal, who is estranged from his own dying, guilt-ridden father, Henry IV. It's also a drama about an old England that, like Falstaff himself, is riddled with ills, in decline and in urgent need of rebirth. It is believed to have been written between 1596 and 1599. Allam received the 2011 Olivier Award for Best Actor for his role as Falstaff in Henry IV Part 2.
§  Henry VIII – Thursday, September 15 – This work is based upon the life of Henry VIII of England. During a performance of this play at London's Globe Theatre in 1613, a canon used for special effects ignited the theatre's thatched roof and beams, burning the original structure to the ground. This play was famous in its own day as Shakespeare's most sumptuous and spectacular play, and this production presents a gorgeous pageant of masques and royal ceremony.
The latest in the wonderful "Family Movie Night" series from Wal-Mart and P&G is "Field of Vision," the story of a high school football star who has to choose between his team and his conscience when he sees filmed evidence that his teammates have been bullying a new classmate.
Faith Ford co-stars as the mother of the school's quarterback (Tony Oller).  If he tells the coach what he saw, they may be disqualified from the championship game.  And the camera's footage has more secrets to reveal as well.  This is an important movie for families to share as a way to talk about some very difficult subjects, not just bullying but about finding the moral courage to decide between competing loyalties.  It will be available on DVD after the broadcast.
Field of Vision
The quote in the movie is from Hillel: "If I am not for myself, who will be for me? And when I am for myself, what am 'I'? And if not now, when?
Common Sense Media has a great list of the best apps to encourage young readers.  This is a wonderful way to introduce children to the pleasures of books.  I was especially taken with Icarus Swinebuckle.  Parents can read aloud, with the text highlighted as they go to help children begin to recognize the words.  Then, when they begin to read on their own, they can tap on any word they do not know and hear it said aloud.  And I love the way it is inspired by the classic story from Greek mythology.  
Smartphones and tablets may have transformed the lives of adults, but the impact they will have on learning for children and older kids will be even greater.