| This product uses the TMDb API but is not endorsed or certified by TMDb.
What kind of movie do you feel like?
Ask Movie Mom
Click here
This week's release of the new "Pirates of the Caribbean" movie is a good time to catch up with the original.
Avast, me hearties and come hear the tale of a terrible pirate curse.
No, not the one about the curse on pieces of gold that turn anyone into the walking undead, revealed as skeletons when touched by moonlight. This is one about the curse of the pirate movie, which has been known to turn fine actors into eye-rolling, scenery-chomping over-actors and empty the bank accounts of movie studios faster than real-life pirates pillaged their victims.
It takes a lot of courage to take on a pirate movie following notable critical and box-office catastrophes like Roman Polanski's "Pirates" and "Cutthroat Island" with Geena Davis. This one's origins as a Disney theme park ride didn't seem too promising.
So maybe it is those low expectations that made this movie seem surprisingly enjoyable.
That is, if swashbuckling, rope-swinging, plank-walking, yard-arm-spinning, rum-drinking, double-crossing, colorful sidekick-joking, and all-around yo-ho-ho-ing sounds like fun, and especially if you know the theme park ride well enough to appreciate a couple of sly references, including a replica of one of the ride's most memorable moments.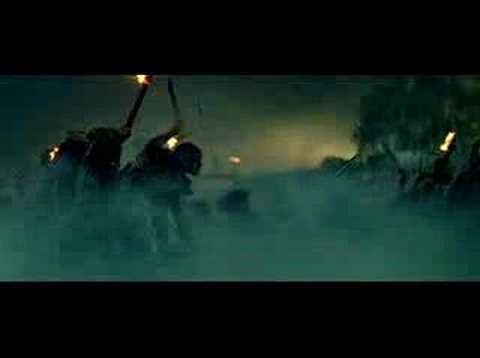 Elizabeth Swann, daughter of the Governor (Jonathan Pryce) is fascinated by pirates. On their voyage from England, Elizabeth helped rescue a boy named Will Turner. While he was unconscious, she took his gold medallion with a skull and crossbones.
Now grown up, Elizabeth ("Bend it Like Beckham's" Kiera Knightley) is still wearing the medallion and is loved both by Commodore Norrington (Jack Davenport) and by Will ("Lord of the Rings" heart-throb Orlando Bloom). When the dreaded pirates of the Black Pearl, led by Captain Barbossa (Geoffrey Rush) sack the town, Elizabeth offers them the medallion if they will leave. They take it, and take her, too. Turner takes off in pursuit with the notorious Captain Jack Sparrow (Johnny Depp), with Norrington and his men right behind them.
It turns out that the medallion is the last of the cursed pieces of gold that turned Barbossa and his crew into the walking dead, always hungry and thirsty, but unable to eat or drink. By restoring the gold to its chest — with the right person's blood — the curse will be removed.
There are advantages, though, in being a pirate who cannot be killed.
Just like the theme park ride that inspired it, the movie's greatest strengths are its atmosphere and art direction. The production design has that splendidly imaginative synthesis of classic book illustrations and some innate collective unconsciousness that gets the essence of every detail right, from the curve of the sail to a pirate's pet monkey. Then come the action sequences, both energetic and entertaining. The script has some nicely creepy twists and some nicely saucy lines. Johnny Depp falls prey to the pirate curse, speaking as though he is recovering from dental surgery and at times seeming to be acting in his own movie completely separate from everyone else. But he is undeniably fun to watch. And with Lord of the Rings heartthrob Orlando Bloom as the hero, you get the two best sets of cheekbones in Hollywood on screen at the same time.
Parents should know that this movie has a lot of violence for a PG-13, and while it is not especially graphic, there are images, including the literally skeleton pirate crew and a false eyeball that keeps coming out, that may be disturbing to some viewers. There are some revealing bodices and some mild sexual references, including prostitutes (not explicit and no nudity or sexual situations). There is some strong and colorful pirate language. Characters drink rum and get tipsy.
Families who see this movie should talk about the rules/guidelines distinction and the movie's many broken promises. How did the various characters decide which rules they would follow?
Families who enjoy this movie will also enjoy pirate classics like "The Crimson Pirate" with Burt Lancaster and Errol Flynn's "Against All Flags" and "The Sea Hawk". Fans of pirate movies with truly over-the-top pirate performers must see Robert Newton's definitive Long John Silver in "Treasure Island". For a landlubber version, any version of "Zorro" — with Antonio Banderas, Guy Williams, or Tyrone Power — is swashbuckling fun. And every family should watch "The Princess Bride". Disney's "Shipwrecked" is a sort of "Home Alone" with pirates, a neglected delight starring Gabriel Byrne. Fans of musicals will also like the Gilbert and Sullivan gem "The Pirates of Penzance", with Kevin Kline as the Pirate King and the delightful "The Pirate" with Judy Garland and Gene Kelly.
Chad Ahrendt is the writer/director/producer and editor of a new film called "Reconciliation," about a man named Grant whose impending fatherhood causes him to think about repairing the rift with his gay father.  He was kind enough to answer my questions about the film and its messages of love, compassion, and forgiveness.
1.  How did the project begin?
In some respects the project began four years ago when I surrendered my life to Christ, but really it began when my parents starting dating in the early 70's and had me soon after.  I didn't grow up in a Christian home, nor did we talk about God often.  In college I was introduced to Christianity, but I didn't come to know the Lord and fully surrender my life to Him until four years ago.  Prior to that I had been working at Columbia Pictures for over a decade on 15 big budget studio films from "Jerry MaGuire," "As Good As It Gets," to "Dreamgirls."
After coming to know the Lord, He started revealing His desire for me to make this movie.  People have said this before, but I truly mean He wanted this story to be told – because I had ZERO interest in making this movie knowing what a polarizing topic homosexuality is and the repercussions that might come of it.  The movie is loosely based on my own life and the reaction I had when I found out in the late 70's that my dad was gay.  I was teased and bullied at school when a few friends found out about my dad and I remember rumors being spread that I too was gay.  I've never had same-sex attractions, but I surely didn't want to be guilty by association so when my mom and I moved away I made sure nobody would know about my dad.  Then in the 80's I started hearing homosexuality wasn't genetic, but it was a choice and my fear turned to anger because he left my mother and I to pursue his desires, in my mind making the conscious choice I was less important.  Often we hear "Christians or God hate(s) homosexuals," but the irony in my case is it wasn't until I surrendered my life to the Lord was I finally able to fully love my dad.  The Lord was very clear that He wanted me to love and forgive my dad as God has loved and forgiven me of all my messiness…not only that, but as I read and researched all of Scripture the Lord exposed my own sexual brokenness as a "heterosexual."
After much research I finally sat down and began writing the script, praying daily for the Lord's supervision over every word.
2.  Did you have difficulty getting support for it?
Absolutely.  Although the story mainly follows an estranged father and son struggling to overcome the heartbreaking consequences of their past as they seek forgiveness and reconciliation, all everyone could concentrate on was the homosexual aspects in the movie and whether homosexuality is perceived as a sin or not.  Studio and faith-based production companies enjoyed the script, but didn't want to touch the project for very different reasons.  Secular executives were more interested in a form of "universalism" and not talking about "sin," whereas faith-based companies were excited the movie clearly presented the Gospel they had concerns about alienating a portion of their fans who might have varying opinions about homosexuality being a sin or not.
I knew the Lord wanted the movie made which gave me confidence He'd open the right doors at the right time to get the project financed and distributed – and He blew the doors wide open bringing together an amazing cast, crew, locations, and independent financing that allowed us to tell the story He wanted to tell, a story focused on the Gospel and no other agenda.  The Lord's ways are so much better then our ways!
3.  Why was it so hard for Grant to forgive his father?
Jeff's choice to pursue his sexual desires over his family set off a chain of events that would leave lasting repercussions and ultimately break the father/son bond.  Divorce, no matter the reason is very difficult for a child to understand.  Jeff lied to Grant about the reason for the divorce causing Grant to feel even more betrayed, ultimately losing trust in his father.  Jeff's sexual desires being exposed at Grant's 10th birthday party, caused Grant to be bullied and teased at school.  Grant already felt the consequences emotionally, now he experienced them physically from his peers.  What had Grant done to deserve this?  He didn't choose his father and mother, but nevertheless he paid for their choices.  Consider all the emotions of abandonment, deceit, embarrassment, shame, confusion, fear, anger, physical abuse and teasing from peers, the era of the 1970's and one starts to empathize with Grant's broken and hardened heart.  One might even begin to understand, not condone, Grant's unchecked anger that festered into hatred.  Grant's choices to hate and disown his father were also sinful and led him to deceive others.  Grant's lies and hatred of his dad were confronted when he came to know Christ.  As the Lord exposed areas of Grant's life that needed to be brought to the Cross and repented of, He also softened Grant's heart by pouring out His unconditional love and forgiveness upon Grant – a Father's true love that Grant had never known growing up.  The hatred and anger were being transformed by God's Word and the Holy Spirit, but because Grant didn't come clean to his wife about his dad Grant felt shame and guilt for the way he treated his dad and the lies he told, instead of God's intention for grace and freedom that comes from repentance.  Eventually, the Lord made a way for everything to be worked out for good.  Grant really needed to forgive himself and truly understand God's grace and forgiveness, and once he did he could extend the same forgiveness.
Life is messy and it takes work, sometimes-uncomfortable work, for reconciliation to be possible.  Yes, reconciliation will look differently for everyone depending on the wound and situation, but no matter what we are called to forgive as we have been forgiven.  Let us never forget the amount of grace, compassion, patience, love and Truth with which the Lord has dealt with each of us.
Tom Hiddleston is about to be a big star.  But I can't say too much about why.
This month alone, he plays Loki, the super-villain in Thor and he has an important part in Woody Allen's new film, "Midnight in Paris."  Those of you who have seen "Thor" and stayed through the credits know how important Loki is.  For those who have not, I will just say that when you go, watch Hiddleston.  Director Kenneth Branagh made a savvy decision in casting the Cambridge-educated actor.  In the middle of a superhero special effects blockbuster, Hiddleston gives a performance of grace and complexity that is exactly serves the tone of the film.  I always say that superhero movies should be judged by their villains and he may be the best of all time.
I can't give away any of the surprises of "Midnight in Paris" by even saying what part he plays.  I will just say that it is a daunting challenge — some in the audience will have strong feelings about the character and others may know nothing about him and there are some complexities of tone and tempo.  And Hiddleston is superb.  Next, he will appear in "The War Horse," based on a huge box office hit play in London (recently opened on Broadway) and directed by Steven Spielberg.  I can't wait to see it.
In this clip, he talks about the importance of compassion, even compassion for the characters he plays.