| This product uses the TMDb API but is not endorsed or certified by TMDb.
What kind of movie do you feel like?
Ask Movie Mom
Click here
Aviva Kempner is the director of the outstanding documentary, "Yoo-Hoo, Mrs. Goldberg," just out on DVD. I interviewed her about making the film and new material and surprising discovery she added to the DVD features.
What surprised you most in researching this film?
I never knew about the blacklisting and sad demise of fellow actor Philip Loeb, who played Jake Goldberg on first season of "The Goldbergs." Very talented and union organizer Loeb was targeted and driven from the show even though Berg fought hard to keep him on. Losing his livelihood Loeb killed himself 55 years ago on September 1st. He taught many fine actors, including Kirk Douglas, and directed seasons of the Marx Brothers in "Room Service." He lost his life to a disease called the blacklist.
What was it about the Goldbergs that made their stories seem so universal?
It was so delightfully about the joys and woes of family at a time that so many immigrant and accented speaking families were living together and struggling to succeed.
Is ethnic material handled differently now? What's better and what have we
lost?
Sadly those ethnic characters are no longer the norm unlike those delightful characters on early radio and television. I was saddened to see "Ugly Betty" go off the air as it celebrated the aspirations of a Latin immigrant family. Hopefully more of those shows will emerge again.
Is there anyone today who is a performer/writer/producer the same way that Berg
was?
Tina Fey and Oprah are as multi-tasked and powerful women in popular culture today. I was honored to bring Gertrude Berg, the most famous woman in America you have never heard of, to the screen. I loved that a combination of senior citizens, who watched the show, and young viewers, especially feminists, flocked to the movie theatres. Now the DVD can expose the rest of America to talented Gertrude Berg.
What was her biggest challenge? Her biggest triumph?
Her biggest challenge was fighting the blacklist of Philip Loeb and the her biggest triumph was winning the first Emmy for an actress sixty years ago and then go on to also claim a Tony award for "Majority of One."
What kinds of extras are on the DVD?
The jam-packed DVD includes interviews with Supreme Court Justice Ruth Bader Ginsburg, actor Ed Asner, producers Norman Lear ("All in the Family") and Gary David Goldberg ("Family Ties"), and NPR correspondent Susan Stamberg, as well as early career appearances of Anne Bancroft and Steve McQueen. The bonus features are chock-full with over two hours of material including my own audio commentary, episodes of "The Goldbergs" (including a surprising 1954 episode featuring Molly and Jake in the same bed together!), Gertrude Berg's guest appearances with Edward R. Murrow and on Ed Sullivan, additional scenes and interviews, a Gertrude Berg recipe, an essay from the director and much, much more.
Labor Day is a good time to see this musical about the romance between a representative of the union (Doris Day) and a representative of management (John Raitt). It has the good sense to keep the plot out of the way of the wonderful songs (like "Hey There" and "Steam Heat") and the ebulliently energetic dance numbers (choreographed by Bob Fosse). But there is enough of a plot to provide an opportunity to discuss the ways in which workers and managers might feel differently about things, and how they work together to find the best solution for both of them.
NOTE: There is a subplot about a man who is irrationally jealous and possessive, played for humor.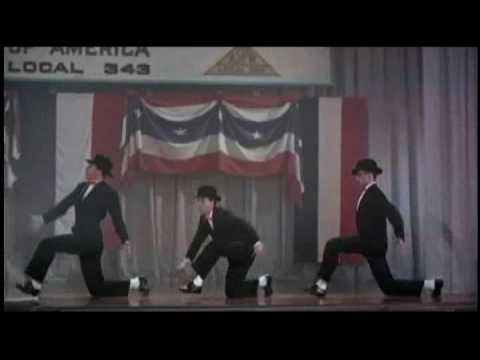 In honor of the first day of school, I am reposting my list of some of my favorite movie teachers in elementary and middle school. Note that not all movies about kids this age are intended to be viewed by kids this age. (And be sure to check out my lists of great movie high school teachers and great movie college professors.)
10. Kindergarten Cop
(PG-13) Now-governor Arnold Schwarzenegger is the tough cop who has to go undercover as a kindergarten teacher in this romance/comedy/action film. (High school and up for violence)
9. "Bright Road" (Not Rated)

Dorothy Dandridge is perhaps best remembered now as the pioneering black actress brilliantly portrayed by Halle Berry in the made-for-cable biopic and her own sizzling performance in "Carmen Jones." But in this neglected film she shows range, sensitivity, and charisma with a subtle and sincere performance as an idealistic teacher in the pre-Brown v. Board of Education days of "separate but equal," when no one even considered integrated schools as possible.
8. To Be and to Have
(Not rated) This brilliant documentary about a compassionate teacher's last year in a French one-room schoolhouse documents the persistence, generosity, and gentle wisdom of a man whose influence on a generation of students will last all their days.
7. Mad Hot Ballroom
(PG for a few mild references to sex) This documentary about elementary school teachers coaching their students for a ballroom dance competition is touching, inspiring, funny, and fun. It may just have you trying out some steps yourself.
6. The King and I
(G but some tense and sad moments) The resolute but kind-hearted British teacher sings "Getting to Know You" to her pupils, the children of the multiply-married king of Siam in this classic Rodgers and Hammerstein musical.
5. The Miracle Worker
(Not Rated with some tense confrontations and violence) One of the most influential teachers in American history is vision-impaired Annie Sullivan, who taught blind and deaf Helen Keller the power of communication and with her changed notions of the abilities of the disabled forever.
4. The Magic School Bus
(Suitable for all ages) The redoubtable Mrs. Frizzle takes her students on adventures everywhere from under water to outer space, even inner space, taking them inside the human body.
3. Matilda
(PG for mild language and some bullying and insults) Roald Dahl's classic story reminds us of the difference a sympathetic and supportive teacher can make in the life of a child who does not get sympathy and support at home.
2. School of Rock
(PG for rude humor and drug references) Jack Black plays a reluctant teacher whose young students revitalize his passion for performing in a band in this delightful story. There's a sequel in the works. And teens and adults will enjoy the documentary about a real-life Dewey: Rock School
–but note that it has very strong language.
1. Paper Clips
(G but subject matter concerns the Holocaust) This documentary about small-town teachers who teach their students revelatory and meaningful lessons about the Holocaust and its relevance to their lives shows us how the teachers can learn as much from the lesson as the students. Must viewing for all families.