| This product uses the TMDb API but is not endorsed or certified by TMDb.
What kind of movie do you feel like?
Ask Movie Mom
Click here
Jack is back.
And he is doing what he does best — stealing the movie from everyone else.  Johnny Depp continues Captain Jack Sparrow's conquest of center stage with this fourth in the "Pirates of the Caribbean" series, which abandons any pretense of having anyone else as the hero, and just lets him take over.
The series inspired by a theme park ride has for the first time relied on a book as its source.  According to the credits, it is "inspired by" On Stranger Tides
by Tim Powers, an award-winning fantasy novel about Blackbeard and the fountain of youth.  The Disney series characters are grafted onto the story, which takes us from the courts (in both senses of the term) of London to Spain and then back to the Caribbean, with some historical figures like King George II and Blackbeard.  And we also get to enjoy zombie crewmen, a gallant missionary, sword fights, Keith Richards, chases, explosions, a pirate with a peg leg, shifting loyalties, daring rescues, revenge, voodoo dolls, a carefully balanced struggle on a shifting surface, and mermaids summoned by song who are as deadly as they are gloriously beautiful.  Hurray for summer movies!
Director Rob Marshall ("Nine," "Chicago") takes over seamlessly from Gore Verbinski, adeptly managing the tumult of the various characters (three pirate captains plus Penelope Cruz!), locations, and perils.  And everyone is looking for the fountain of youth, where you can steal someone else's years if you have the chalices — and a mermaid's tear.
In the previous films, Captain Jack Sparrow's rapscallion impishness set off nicely the brave, honorable, but not exactly colorful romance of Will and Elizabeth.  Here, Ian McShane, with his gimlet eye and gravely rumble of a voice, joins the cast as Blackbeard, "the pirate all pirates fear," to remind us that pirates can be ruthless.  "If I don't kill a man every now and then they forget who I am," he explains, leaving Jack to be as close as we get to a hero.  Cruz plays Angelica, a woman Jack once wronged who may be more of a pirate than he is.  "You haven't changed," she says to him.  "I haven't found the need," he replies.  And that pretty much sums up the enterprise.
Spoiler Alert!  If you did not see "Glee" last night, wait to read this until you get a chance to watch it.
Last night, "Glee" reminded us that it can be more than a sometimes coy or campy fantasy with flashy musical numbers and flashier guest stars. The episode was titled "Funeral." It included some powerhouse solos as members auditioned for a lead singing part in the upcoming Nationals. I especially loved Mercedes' rendition of "Try a Little Tenderness." That was a fitting lead-in to the rest of the show. Termagant Sue Sylvester (Jane Lynch) had one soft spot, her sister Jean, who had Down Syndrome. Jean's death was devastating for Sue and Lynch was superb in showing us how the pain of her loss was real and genuine — but that she mourned in character, showing very little vulnerability. I was not expecting to be so moved, but the generosity of the Glee club in helping Sue pack up Jean's things and the tenderness of the funeral, with decorations from Jean's favorite movie, "Willy Wonka and the Chocolate Factory," was beautifully done and their performance of "Pure Imagination" was exquisite.
Well played, "Glee."
You have one more day to enter the giveaway for the second season of "Drop Dead Diva!"
I have one copy of the DVD to give away. Send me an email at moviemom@moviemom.com with your name and address. Put "Diva" in the subject line and tell me which episode is your favorite. Good luck!
If you remember seeing a movie in school about a witch who made magical blueberry pancakes, then you must be in your late 30's or early 40's. The New York Times has a great piece by Jennifer Mendelsohn about how that film, Winter of the Witch, continues to enthrall some of the children who saw it in 1969-the 70's.  It is a simple, short film made on a very low budget, but it features the distinguished actress Hermione Gingold as the witch and Anna Strasburg (wife of the great acting teacher) as a single mother who moves with her son into a house with a witch who cooks magical pancakes that make people happy.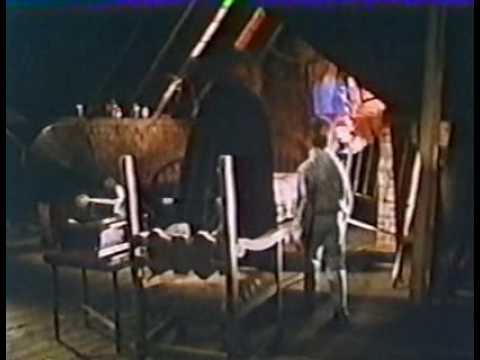 By all rights the quirky little production should have faded away, just like the quaintly dated turtlenecks and headscarves it features. But something about "Winter of the Witch" burrowed its way into the consciousness of a subset of children who saw it, and it never left, leading many to search for it well into adulthood.  "Those colored dots must have burned themselves into some peoples' brains," wrote Gerald Herman, who directed the low-budget film for $500 while a student at New York University, in an e-mail.
It has inspired a blog, The Cult of the Happy Pancake Witch, where you can watch the whole film.