| This product uses the TMDb API but is not endorsed or certified by TMDb.
What kind of movie do you feel like?
Ask Movie Mom
Click here
Indiewire has a very funny piece about the popularity — the near-ubiquity — of Edvard Grieg's "In the Hall of the Mountain King" in movies and trailers.  Before I go any further, let's listen to it and see if it brings back any memories.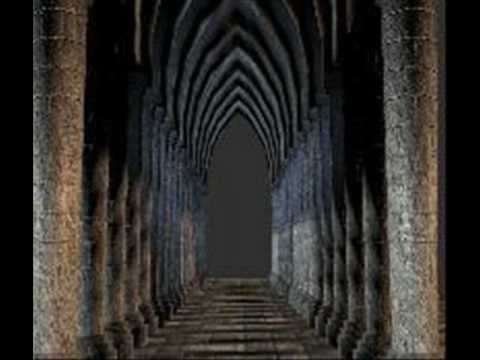 Wikipedia has an extensive list of "Mountain King" in film and television and trailers.
"In the Hall of the Mountain King" was famously used in the 1931 film "M," in which Peter Lorre's character whistles it.[32][33][34] As of February 2008, it may be viewed and heard on YouTube.[35]
In the 'boat race' scene of "The Social Network" (2010), a Trent Reznor remix is used when the Winklevoss brothers compete before discovering that Facebook reaches both Europe and video live streaming.
The song also was used in the opening promo for WWE's Vengeance 2001
The song also appears during the teaser trailer of Tim Burton's "Corpse Bride" and "How the Grinch Stole Christmas," "Beetlejuice," "Funny Games, Bride Wars," "Rat Race," "Friday After Next" and "Night at the Museum 2: Battle of the Smithsonian."
The song is the theme music for Dr. Ivo Robotnik in the animated series, Adventures of Sonic the Hedgehog.
The semi-fictional characters Tristan Farnon and James Herriot in the BBC televised series "All Creatures Great and Small" perform the piece drunkenly with their dates at a pub.
It is also played over the end credits of the Woody Allen film "Scoop."
A young boy is seen playing "In the Hall of The Mountain King" as a piano practice piece in an episode of Mad Men entitled "The Mountain King".
In the final episode of Beavis and Butthead, "In the Hall of the Mountain King" is being played when Principal McVicker has flashbacks to their antics.
In the Courage the Cowardly Dog episode, entitled "Farmer-Hunter, Farmer Hunted", the song can be heard several times.
"In the Hall of the Mountain King" is also featured in the intro of the television series "The Dudesons."
The vampires in "The Lost Boys: The Tribe" whistle the tune to this song.
Lamberto Bava's 1985 horror film "Dèmoni" (aka Demons) includes a title theme by Claudio Simonetti that incorporates the melody of "In the Hall of the Mountain King".
Fragments of the piece are heard in the BBC Oscar-winning documentary "Man on Wire" in a re-enactment where Philippe Petit and an accomplice herd the infamous tightrope wire up the stairs, past a guard on duty. Though not played in full, the song is listed in the film's musical credits.
It was used as the three brothers theme on the "Garfield and Friends" spin-off "Orson's Farm."
It is played when the antiestablishment Mozzie enters the FBI offices in USA Network's "White Collar" (season 2, episode 4, 2010). song of the French author Bernard Werber's short film "La Reine de Nacre."
It served as a basis for the theme of the Inspector Gadget animated series.[36]
A version of the song is used during a scene featuring a game of charades in a 2010 episode ("Chuck Versus the Leftovers") of "Chuck." Scenes immediately following this one then work cues of In the Hall of the Mountain King into the show's original score.
It is used in the movie trailer of "Dinner for Schmucks."
This song is the main theme of Microsoft's commercial for its Windows Phone 7: Really.
It the sixth episode of 2nd season of "Misfits" (TV series) .
It was used in "The King of Kong: A Fistful of Quarters" during a graphing of Steve Wiebe's world record attempt.
It was also played in the opening scenes of the Norwegian movie "Død Snø (Dead Snow)."
In "Mickey, Donald, Goofy: The Three Musketeers," Pete's song "Petey's King of France" is sung to the tune of this song.
Two more over-used tunes:

(A lot of sports movies including "The Sandlot," "The Mighty Ducks," "The Replacements," "The Longest Yard," "Ice Princess" and many more)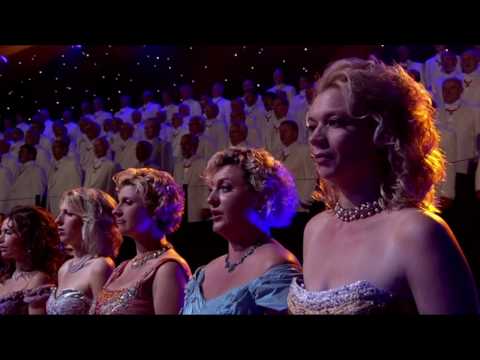 (Also mentioned by Indiewire and used for a lot of battle scenes, series and comic, in everything from "Excalibur" and "Detroit Rock City," to "Glee," "Wrestlemania" and "Jackass")
Any other candidates?
The fabulous Melinda Doolittle guest stars as Cassie Cassava in the Veggie Tales' 'Twas the Night Before Easter!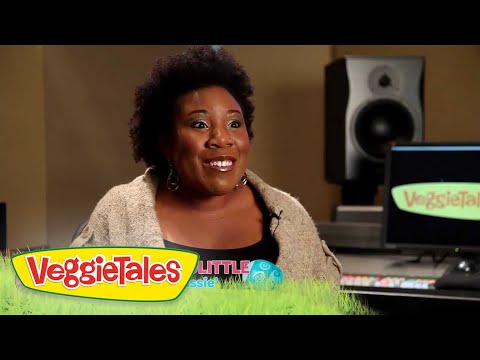 "Family Movie Night," sponsored by Proctor & Gamble and Walmart, has produced another fine film for all ages.  Candace Cameron Bure ("Full House," "Make It or Break It") stars in "Truth Be Told," the story of a marriage counselor who is not married.  When she has a job opportunity that requires a husband, she tells a lie, and enlists an old friend and his children to pretend to be her family.
I spoke to Candace about the role and about her work and her ministry, speaking about her faith and giving back to the community.
Tell me about "Truth Be Told."
I couldn't have been more excited when I was sent this script.  I had seen some of the Family Movie Night shows and said to myself, "I want to do one of those!"  When I read the script, it was absolutely perfect.  I fell in love with Annie Morgan, the character I play.  She's a family and marriage counselor.  It was something I can totally relate to, and family and marriage are so important to me.  I do a lot of speaking at conferences and churches about family and marriage, so it was a topic I am passionate about.  The premise is that one little lie snowballs into this huge mess and honesty is always the best policy.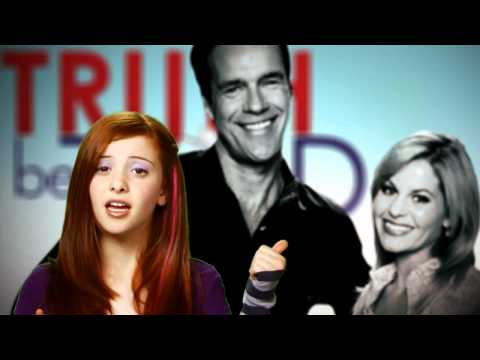 That's what I love about this series.  These are not kids' films that adults can tolerate or movies directed at adults without offensive content but true family movies with characters and situations that everyone in the family can understand and will want to talk about later.
I appreciate it as a mom.  I have 12, 11, and 9 year-olds. I loved the fact that Proctor & Gamble and Walmart teamed up to give us this time on a Friday night when we can sit down with our families and watch a movie that we don't have to worry about.  It gives us things to think about and to open up some conversations with the family.  "What happens if you tell a lie?"  Depending on the age of your kids it can be a very simple conversation but you can turn it to a situation you and your family have recently experienced.  I can open the door for something else your child has been struggling with.  You use it as a platform for whatever dialogue needs to be exposed in your family at this time.
What happens in the film?
My character is offered a job at a radio station and because she is a marriage counselor, they assume she is married.  And family is very important to the man who owns the company.  She is probably not going to get the job unless she has a husband.  She runs into an old college friend who is a widower and convinces him and his children to pretend to be her family for the weekend.  The relationship develops — it is definitely a romantic comedy.
What is your experience like as you speak to groups about your faith?
I've been speaking and sharing my Christian faith for seven or eight years, and now I am speaking to the bigger groups like Extraordinary Women and Women of Joy.  I actually just got back from a conference with Extraordinary Women.  Sometimes there's anywhere from 1500-15,000 ladies I will speak to.  It is an amazing opportunity for me to share my faith and what is important to me and ultimately the gospel of Jesus Christ.  I think I am as encouraged or maybe even more to see that God allows me to be used in that sense.  These ladies will tell me they are encouraged by hearing my story and yet I am in awe that I am just a person getting this opportunity so I feel very privileged.  It's a very different thing from being on television.  Most people would think that you would automatically be comfortable if you're an actress to go up on stage to speak but it is actually very different.  It's not the number of people that scares me.  The more there are, the easier it is for me.  But it is a very different thing to open your heart and share your heart and be exposed in that way, not reading a memorized script or acting a different character.  I get much more nervous speaking live at an event.  You throw a camera on me and I am comfortable!
You have written about your faith as a way to manage food issues.
I had an emotional attachment to food.  I ran to food for comfort, to fill a void instead of realizing I had to run to God for those things.  I learned to honor my body by eating healthily and exercising but really by putting my faith into the forefront of my relationship with food by honoring my body as a temple God gave me and learning to run to Him for those needs and not to turn to food for it.  I don't enjoy getting up at 5 am some mornings but I see it as a necessity to take care of my body.  To eat healthy, that's all about the choices I make whether in a restaurant or the grocery story.  The food's not making it for me.  There are so many tools out there to get us on the right track and help us make better choices.  We don't value those choices as much as we should.  One choice a day, one choice an hour.  If you look at it this way, it's not so overwhelming.
Do you have a favorite Bible passage?
I don't like that question because there are so many good ones!  But the one that's been on my computer desktop recently is Philippians 1, Verse 6.  I just go, "God's good work is in all of us and He will carry that on."  I don't need to worry about it, I don't need to stress over it.  I know God has a plan set before me and I need to obediently just follow the footsteps that he's laid out and keep my eyes focused on Him and He will carry out that good work to completion.  And whatever that is, it might not be my own expectation but He knows what that is.
It's everything.  We read the Bible together and we talk about verses that can help us focus for that day.  If we have a need or a worry for that day we find verses where it talks about it.  We go to church.  My kids are involved in Awana and youth group. My daughter has started leading worship and singing at her chapel.  They go to a Christian school.  So it is in every aspect of our lives but most important, my husband and I try to be that example, to show them that it is not just words but by our own actions and what we do.
Truth Be Told
As we observe the 150th anniversary of the Civil War, a defining moment for good and bad in American history, it is a good time to watch some of these great films that show how we continue to try to make sense of its causes and its consequences.
1. Glory Denzel Washington won his first Oscar in this story of the doomed 54th Massachusetts Volunteer Infantry, one of the first black units to be made up of black soldiers.  Writer-director Edward Zwick is sensitive to the many levels of the story but above all it is a compelling and heart-rending drama of honor and courage under the most devastating circumstances.
2. The Red Badge of Courage A young soldier learns courage does not mean lack of fear; it means not letting the fear stop him from doing what needs to be done in this movie based on the classic book by Stephen Crane.  It stars two real-life WWII heroes, tthe  most decorated soldier, Audie Murphy and Bill Mauldin, who won a Pulitzer prize for his Stars and Stripes cartoons about the men on the front.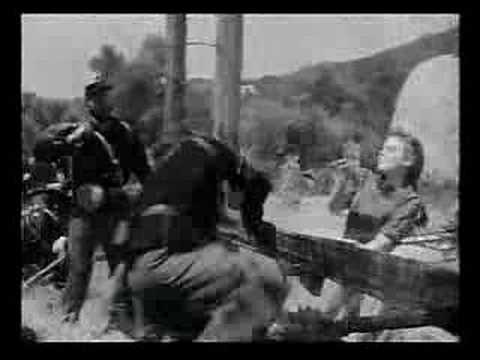 3.  The Civil War – A Film by Ken Burns
This spell-binding documentary tells the story from the first bullet fired to the surrender by Robert E. Lee, with indelible images and unforgettable readings from the people who were there.
4.  Friendly Persuasion Gary Cooper and Anthony Perkins star as a Quaker father and son, farmers who must decide how their faith guides them in the midst of a war that literally comes to their doorstep. This is a beautiful film, and a rare portrayal of faith that is respectful and sincere.
5.  Shenandoah James Stewart plays the father of sons he insists have no reason to get involved in the war, until his youngest is taken prisoner.
6.  Gods and Generals It is a bit stuffy, but its sincere respect for its subject and diligence about historical accuracy makes this story of Stonewell Jackson worth watching.
7.  The Andersonville Trial
This is the story of a court-martial trial that revealed the horribly abusive conditions of the notorious facility where Yankee prisoners were kept and explores the question of when an immortal order may be disobeyed.  The outstanding cast includes William Shatner, Martin Sheen, Cameron Mitchell, and Richard Basehart.   (A more recent film, Andersonville
, is the story of the prisoners.)
8. The General
Buster Keaton stars in this silent film about a Confederate soldier who goes on a daring mission to rescue the two things he loves most, a girl and a train.  Unquestionably one of the funniest and most exciting films of all time.
9.  Gone With the Wind Still the biggest box office champion of all time, this is a movie about love and war and power but mostly about survival.
10. Sherman's March
A documentary film-maker plans to make a movie about the enduring impact of William Tecumseh Sherman's devastating attack.  But just before he was to begin, his girlfriend dumped him, so instead he made a movie about why his love life was such a disaster, with intermittent references to Sherman. 

There are dozens more, featuring everyone from Clint Eastwood and John Wayne to Nicole Kidman, Elvis Presley, and Shirley Temple.  Each is as much a reflection of its time as of the era it depicts.  But together they form a mosaic to help us understand and, we hope, to preserve the union.