| This product uses the TMDb API but is not endorsed or certified by TMDb.
What kind of movie do you feel like?
Ask Movie Mom
Click here
Hurray for the Alamo Drafthouse movie theater for standing up for the rights of movie-goers by kicking out a woman who was texting in the theater.   The Alamo's policy is clear.  Since 1997 it has had a strict no-talking policy amended over the years to include other annoying and distracting behavior made possible by electronic devices.  After two warnings, a woman who persisted was ejected from the theater without a refund.
She then demonstrated the class and dignity one might expect from someone so ignorant and inconsiderate by leaving an hilariously piggish and downright idiotic voicemail with her views on the way she was treated and, in what I am sure was considered good news by Alamo's managers and audiences, vowed never to return.  Alamo has turned this lemon into lemonade with a short played before their feature films.  Here is the censored version.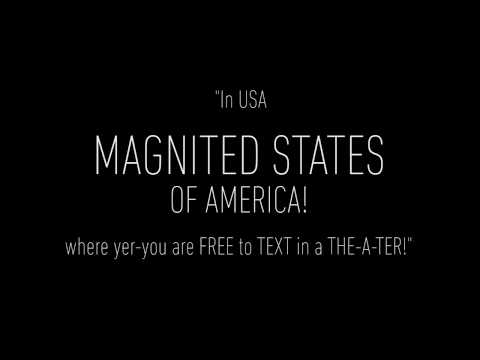 It's the Princess and the Pauper with Disney star Selena Gomez and two Gossip Girls in a story about a Texas waitress who takes the place of a selfish heiress in the glamorous title city. There's also a touch of Cinderella (though the fairy godmother is unwitting). And it is filled with flouncy pretty dresses and bouncy pop songs to delight tween Disney channel fangirls.
Gomez plays Grace, a high school senior in Texas. She and her best friend Emma (Katie Cassidy) have been saving the tips from their waitress jobs and finally have enough to go to Paris. At the last minute, her mother and her new step-father insist that her step-sister Meg (Leighton Meester) go along. Grace and Meg have a strained relationship that quickly gets much more strained once they arrive. The hotel is dingy and cramped and the tour is brusque and rushed.
The girls are enjoying the top of the Eiffel Tower when they miss the tour bus and get caught in a downpour. When they duck into a luxury hotel for shelter, Grace is mistaken for a spoiled British heiress named Cordelia Winthrop Scott (also Gomez, clearly having much more fun as the imperious young woman with an accent like a "mean Mary Poppins"). Cordelia is supposed to be on her way to Monte Carlo for a fund-raiser to repair her reputation as a party girl. The girls overhear her telling a friend she will leave the hotel without checking out and decide Grace should take her place for one night, rationalizing that the room is already paid for. But one thing leads to another and soon the girls are in Monte Carlo, selecting designer clothes from Cordelia's luggage so they can go to the ball and meeting charming princes.  Well, one is a prince and two are charming.
There's also a zillion-dollar diamond and sapphire necklace that is not always where it is supposed to be.  And it turns out that Cordelia is scheduled to play polo.
"I like the way they come down the stairs," sighed the 9-year old girl sitting next to me.  It doesn't take much more to enchant the target audience than seeing the girls in their party dresses coming down the steps in slow motion on the way to the ball.  But this movie, thankfully gives us a little bit more. The girls each have enough of a personality and story to keep it from getting too silly but not enough to keep it from being a fairy tale, at least the kind that will make dreams come true for some tweens who are too often neglected by the people who make movies.
"Larry Crowne" is such a perfectly pleasant movie that it may not be until you walk toward the exit that you realize that something is missing. Until then, the good spirits of stars Tom Hanks and Julia Roberts, clearly enjoying themselves and each other as they beam their considerable star power our way keep us feeling if not entertained at least appreciated. Hanks, directing for the first time since his debut with the terrific "That Thing You Do" is immensely hospitable. He all but hands out milk and cookies to make the audience feel welcome, with a series of recession-era but sweetly comic scenes and quirky but endearing characters and a can't miss theme of a man literally and metaphorically casting off the elements of his past that are holding him back and discovering that he is capable of taking on new challenges and new relationships.
But Hanks the star and director has a problem with Hanks the co-screenwriter (along with "My Big Fat Greek Wedding's" Nia Vardelos). Something is missing from the story.
Of course we fall in love with Larry Crowne (Hanks) right from the opening credits. The very first thing we see him do is pick up trash in the parking lot on the way to his job at a big, WalMart-style store. Then in a quick montage we see that he always does more than expected and genuinely enjoys his job. He is ever-cheerful with colleagues and helpful with customers, and an eight-time winner of the "Employee of the Month" award. And then he gets fired. Our first clue that something is not right with the story is the over-the-top awfulness of the termination, but we let that pass because we want to see what he will do.
Larry is downsized because he does not have a college degree. He joined the Navy after high school, got out after 20 years as a culinary specialist (cook), and has been working at the store ever since. He is in a financial pinch because he bought out his ex-wife's share of their home, which is now worth much less than its mortgage. A perky blonde bank representative (Hanks' real-life wife, Rita Wilson) keeps offering him complimentary coffee as she gives him the bad news. Larry can't find a new job and realizes he needs to go to college. He sells his gas guzzler and trades his flat-screen TV for a scooter.
Mercedes (Julia Roberts) is a teacher at the community college whose greatest hope is that fewer than 10 students will register for her classes so she can cancel. She feels very far from what she once aspired to, supporting a husband ("Breaking Bad's" Bryan Cranston) whose own aspirations have shrunk from novelist to comment on a blog. She once hoped to teach Shakespeare and Shaw. Now she teaches students who cannot even remember how to pronounce her name how to get up in front of the class and say something.
So we know where this is going, and we want it to go there, and the ingredients are all assembled. The situation is timely and engaging. The cast is exceptional. Larry has adorable neighbors (Cedric the Entertainer and Taraji P. Henson), and adorable classmates: the ravishingly lovely Gugu Mbatha-Raw as the girl who gives Crowne a literally top-to-bottom makeover and introduces him to her scooter-riding gang, Grace Gummer (Meryl Streep's daughter) as a lacrosse-player more comfortable on the field than in the classroom, "Night at the Museum's" Rami Malek, sweet but a little dim. George Takei is marvelous as a professor of economics. Mercedes has a sympathetic colleague (the always-welcome Pam Grier).
But something is missing. All of Roberts' movie star magic can't make the character of Mercedes as appealing as she needs to be. We never get a sense of how she got to the slough of despond she is in and the character is so inconsistent she seems blurry. All of Roberts' usual tricks, the dazzling smile, the laugh, the walk, can't disguise the fact that while she tells her students what she is teaching them is to care, it is not clear to her or to them or to us that she has learned that lesson herself. There is no moment of change or connection or even notice to make us feel that there is a genuine basis for a relationship, and the ending is hurried and superficial. There is build-up without pay-off. I enjoyed spending time with these characters. I wish they were in a better movie.