| This product uses the TMDb API but is not endorsed or certified by TMDb.
What kind of movie do you feel like?
Ask Movie Mom
Click here
I'm a huge fan of Ken Jeong ("The Hangover," "Role Models," "Community") and am really delighted that he will appear this week in "Hangover 2."  Jen Chaney has a fascinating interview with him in today's Washington Post, about dividing his time between his medical practice as an internist and doing stand-up at comedy clubs until his break-through role in "Knocked Up," and about making "The Hangover" as his wife, also a doctor, was getting treated for breast cancer.
"I am totally uninhibited at the risk of making myself look idiotic," he admits.  But that's what Todd Phillips, director of "The Hangover" movies, cites as Jeong's greatest asset. "Ken has fearlessness almost more than anybody I've ever worked with," he says…."That whole experience of 'The Hangover,' for me, was therapeutic," he says. "It was my primal-scream therapy."
I was honored to be the kick-off speaker at the Gel Conference last month.  Gel stands for "good experience live" and it is an enthralling event that brings together innovative thinkers in every area and then has them learn to juggle, doodle, explore, and generally expand their horizons and enlarge their spirits.  I loved the presentation by the New Yorker cartoonists who gave us a peek at their Fisticuffs Show.  Here's one example of an event that turned out to be not quite what it appeared on the program agenda.  (Sorry about the ad — trust me, it's worth the wait.)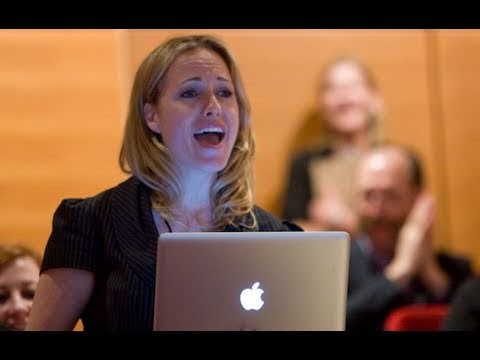 Jack is back.
And he is doing what he does best — stealing the movie from everyone else.  Johnny Depp continues Captain Jack Sparrow's conquest of center stage with this fourth in the "Pirates of the Caribbean" series, which abandons any pretense of having anyone else as the hero, and just lets him take over.
The series inspired by a theme park ride has for the first time relied on a book as its source.  According to the credits, it is "inspired by" On Stranger Tides
by Tim Powers, an award-winning fantasy novel about Blackbeard and the fountain of youth.  The Disney series characters are grafted onto the story, which takes us from the courts (in both senses of the term) of London to Spain and then back to the Caribbean, with some historical figures like King George II and Blackbeard.  And we also get to enjoy zombie crewmen, a gallant missionary, sword fights, Keith Richards, chases, explosions, a pirate with a peg leg, shifting loyalties, daring rescues, revenge, voodoo dolls, a carefully balanced struggle on a shifting surface, and mermaids summoned by song who are as deadly as they are gloriously beautiful.  Hurray for summer movies!
Director Rob Marshall ("Nine," "Chicago") takes over seamlessly from Gore Verbinski, adeptly managing the tumult of the various characters (three pirate captains plus Penelope Cruz!), locations, and perils.  And everyone is looking for the fountain of youth, where you can steal someone else's years if you have the chalices — and a mermaid's tear.
In the previous films, Captain Jack Sparrow's rapscallion impishness set off nicely the brave, honorable, but not exactly colorful romance of Will and Elizabeth.  Here, Ian McShane, with his gimlet eye and gravely rumble of a voice, joins the cast as Blackbeard, "the pirate all pirates fear," to remind us that pirates can be ruthless.  "If I don't kill a man every now and then they forget who I am," he explains, leaving Jack to be as close as we get to a hero.  Cruz plays Angelica, a woman Jack once wronged who may be more of a pirate than he is.  "You haven't changed," she says to him.  "I haven't found the need," he replies.  And that pretty much sums up the enterprise.
Spoiler Alert!  If you did not see "Glee" last night, wait to read this until you get a chance to watch it.
Last night, "Glee" reminded us that it can be more than a sometimes coy or campy fantasy with flashy musical numbers and flashier guest stars. The episode was titled "Funeral." It included some powerhouse solos as members auditioned for a lead singing part in the upcoming Nationals. I especially loved Mercedes' rendition of "Try a Little Tenderness." That was a fitting lead-in to the rest of the show. Termagant Sue Sylvester (Jane Lynch) had one soft spot, her sister Jean, who had Down Syndrome. Jean's death was devastating for Sue and Lynch was superb in showing us how the pain of her loss was real and genuine — but that she mourned in character, showing very little vulnerability. I was not expecting to be so moved, but the generosity of the Glee club in helping Sue pack up Jean's things and the tenderness of the funeral, with decorations from Jean's favorite movie, "Willy Wonka and the Chocolate Factory," was beautifully done and their performance of "Pure Imagination" was exquisite.
Well played, "Glee."