| This product uses the TMDb API but is not endorsed or certified by TMDb.
What kind of movie do you feel like?
Ask Movie Mom
Click here
I like President Obama's observation on the passing of Steve Jobs: "The world has lost a visionary. And there may be no greater tribute to Steve's success than the fact that much of the world learned of his passing on a device he invented."
Jobs will be remembered along with Thomas Edison and Henry Ford as a visionary whose ideas transformed our culture and our sense of what was possible. His 2005 graduation speech at Stanford University should be watched by everyone — especially every teenager.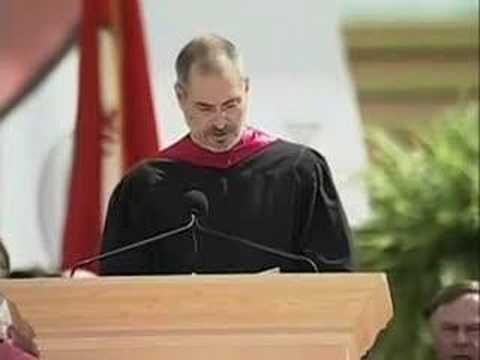 Most tributes to Jobs will focus on the computers and gadgets like iPhones and iPods and iPads, on his understanding of the user and his passion for design. I want to pay tribute to him as a film-maker.  Jobs played a key role in the development of the most successful movie studio of all time, Pixar, now a part of Disney.  Without Steve Jobs, there would be no Nemo, no Incredibles, no house lifted by balloons, no rat chef and no "Hello Dolly-"loving robot romance ("Wall•E's" Eva was of course designed by Apple engineers).  No Buzz and Woody.  No Sully and Boo.
Jobs spoke about Pixar with Charlie Rose and in a "60 Minutes" interview about how Pixar began.  Apple has invited everyone to share memories and tributes at rememberingsteve@apple.com.
To infinity and beyond, Mr. Jobs.  May your memory be a blessing.
I have three great new Shalom Sesame DVDs to give away!  Celebrate Sukkoth with Monsters in the Sukkah
!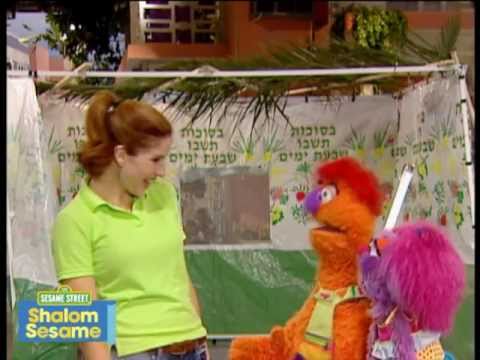 Welcome the new year with The Sticky Shofar
and explore the Holy Land with Adventures in Israel
.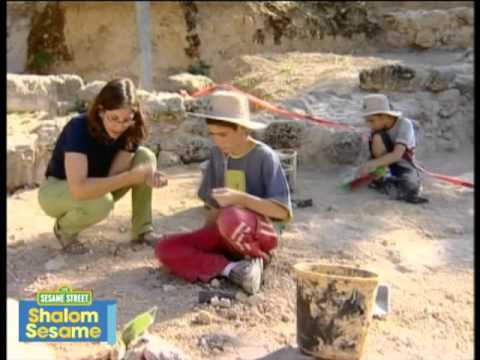 I have one copy of each to give away. Email me at moviemom@moviemom.com with Shalom in the subject line and tell me which one you would like. Don't forget your address! I will pick three random winners on October 11.
A real-life "Mr. Holland's Opus," this is the inspiring story of a dedicated teacher who transformed the lives of his students and the gathering 35 years later, when he was 92 years old, to perform a concert in his honor.
No one expected much from the kids who went to Houston's Kashmere High School in a depressed African-American neighborhood.  But a teacher the kids called "Prof" (for "professor") showed them they could learn to play music that would take them to a national championship,  international tours, and a recording that would rise the Amazon charts decades later as a CD re-release
.
Prof was Conrad Johnson, Jr.  In the 1970's, as the Black Power movement was inspiring a reawakening of pride in African-American culture, Prof took the school's jazz band and added discipline, ambition, and a lot of funk.  One of the documentary's highlights is the description of the repertoire of the other high school jazz bands of the era — mostly a lot of 1940's and 50's standards.  When the Kashmere band, called Thunder Soul, showed up for the national championships in Mobile Alabama with their Afros and their attitude, the only black high school to compete, they caused an uproar.  The judges initially tried to declare two winners but Prof insisted they go back and pick just one.
Prof's insistence on excellence, his innovative approach, and most of all, his own example inspired several years' of students to try harder and dream bigger.   The music is genuinely thrilling but the real thrill here is seeing what a great educator can do.  The love he had for music and for his students and the respect they still have for him decades later is powerful and moving.  A feature film about this story is in the works and I hope it will be everything Prof deserves, but nothing will match the heart of the real-life footage, archival and new, of the people who lived it.
There I was, at the Georgetown Ritz hotel, and Martin Sheen walked into the room.  President Bartlett from "The West Wing," Kit from "Badlands," star of movies from "Apocalypse Now" to "Catch Me if You Can," to "The American President."  He starred in the very first movie I ever reviewed — for my school paper — "The Subject Was Roses."  He was in town to talk about his new film, written and directed by his son, Emilio Estavez, called The Way
.  Sheen plays Tom, an American doctor who comes to St. Jean Pied de Port, France to collect the remains of his adult son (played by Emilio Estevez), killed in the Pyrenees in a storm while walking the Camino de Santiago, also known as The Way of Saint James. Rather than return home, Tom decides to embark on the historical pilgrimage to honor his son's desire to finish the journey.
I was very impressed that before Sheen turned his attention to me, he spoke very graciously to the Ritz employee who was there to see if there was anything he needed.  And then he introduced himself to me and we settled in for a conversation that was so warm and engaging I felt like we were old friends.
Sheen talked to me about his parents.  His mother was born in Ireland and his father was born in Cuba, the son of Spanish immigrants.  They met in Ohio in a class for people who wanted to become American citizens.  They had eleven children, ten boys (one who died at birth) and one girl, and they adored each other.  He adored them, and he told me that the only two places in the world where he feels completely at home, "absolutely totally secure and safe" are Spain and Ireland.  "I never make a reservation; I just arrive and something happens.  Haven't spent a night on the street yet."
Where did the idea come from for a movie about a pilgrimage along El Camino de Santiago?
It's been there for more than 900 years and it is a national treasure.  It's one of the oldest pilgrim sites after Jerusalem and Rome, one of the top three Christian pilgrimage sites since the Middle Ages.  St. Francis actually walked it.  Millions and millions of people have done it.  My father was a Galliego.  He grew up about 80 km from Santiago.  Santiago is St. James.  Compostela is the Field of Stars where his remains were discovered.  I grew up knowing about this path and having a romantic image of the journey.  You always think you're going to do all the someday bucket list things.  Someday I still will do it!
In the summer of 2003 we had a six week break from "The West Wing." I'd been studying on it and I thought, "This is the year!"  All I had was the intention.  I didn't have any plans.  I didn't have a backpack.  I didn't even have a map.  But I had studied it and read all the guidebooks and I was ready to go.
The previous year, my brother had died.  I'm the seventh son and this was the guy ahead of me.  We were "Irish twins," and very close.  We were inseparable.  I said. "Enough funerals, let's celebrate."  I organized a family reunion for the siblings on what would have been my mother's 100th birthday, God rest her soul, in her village in Ireland.  We got everybody there from all over the place and it was a wonderful celebration.  We had mass in chapel and celebrated for three days.  I invited everyone to come to Spain to walk the Camino, but no one would come with me!  Taylor is Emilio's oldest son, and he came with me.  He's our tour manager here today.  He was just 19 then.  And I have a friend, Matt Clark, I've known longer than my wife.  He appears in this film as the priest my character thinks is a rabbi.  He's like a brother to me so he went with us to Ireland and came with us to Spain.  He and Taylor and I were in Madrid trying to figure out how to do it in two weeks.  You can take horses and you can take bicycles and you can walk it, but in two weeks it is impossible.  So my sister suggested we rent a car and drive along it for future reference.
We stopped in San Pedro de Cardeña, the town in the movie where the boy steals my bag.  It's where El Cid is buried.  We took refuge in a bed and breakfast that night and there was a pilgrim supper, with people from all over.  The family was serving dinner and the youngest daughter, Julia, walks in and she looks at Taylor and Taylor looks at her and they fall instantly in love.  They're married now and they live there.  I came home without a grandson!
That sealed our fate.  I had a grandson that completed the cycle of his grandfather, my father, who left Spain in 1916 and sailed to Cuba and then came to America.  And now his great-grandson, Taylor, is back in Spain.  This is a real family story.  And I still yearn to do the pilgrimage without a camera or a phone, someday.
I told Emilio when I got back that he had to check it out and he knew if he was going to see his son he had to go to Spain.
In this era of airplanes and the Internet, why do pilgrimages still matter?
It is about relieving yourself, removing yourself from a comfort zone.  It is about finding balance, about seeing honesty transcendence, about uniting the will of the spirit with the work of the flesh.  No matter who you are, religious, spiritual, agnostic, we are all looking for balance.  Pilgrimage allows the opportunity to challenge ourselves.  If you don't do something that costs you something, what is its value?  You start out and make plans and you pack a big back, I need this, I need that.  And then you get there and you start taking things out of your pack.  You cannot give that stuff away.  The other pilgrims do not want it.  But you learn that you do not need what you thought you did.  You start leaving things along the way.  Every little refugio [inn] along the way has libraries of books in every language on earth that people have brought and left behind.  And then your interior journey begins and you begin to let go of all of the stuff you have been holding onto that weighs you down.  Everything you have accumulated that is burdening you.  And you begin to free all of the hatred and envy you have been keeping.  "Please let me forgive this person."  You own this journey and you begin to become yourself."  Please do not let me reject love."    And you realize that a conscious rejection of love is the universal sin.  Pilgrimage confirms our life's journey.