| This product uses the TMDb API but is not endorsed or certified by TMDb.
What kind of movie do you feel like?
Ask Movie Mom
Click here
I try to maintain a sense of humor about ads, but I really do not like the new series of commercials for Tide with people explaining how they get their clothes dirty.  I know they are intended to be funny but I find them annoying and the one with the "girly" mom complaining about her cargo-pants-wearing daughter really bugged me.  So I was very pleased to see a very thoughtful commentary on the Tide ad from Lauren R. of Representing America.
Tide may be making fun of this stereotypical perfectionist housewife. The elaborately decorated living room, the pink cardigan, sensible haircut; it all fits. Is this commercial trying to present satire? If so, I don't think that they were obvious enough about doing so.

The satire presented is also sexist in its own way. The mother is portrayed as uptight, reserved, and repressed to the point of (maybe?) being humorous….Either way you look at it, this ad is probably sending the wrong message.
Who are they making fun of here?  The little girl in the cargo pants who likes to get dirty or the mother who wants her to wear pink?  Either way, it is definitely sending the wrong message.
In honor of this DVD Pick of the Week, I have three copies to give away.  Send me an email at moviemom@moviemom.com with "The Way" in the subject line and tell me your favorite Martin Sheen movie.  Don't forget your address!  US addresses only.
A story about a father and is son comes to us from a father and his son.  Emilio Estavez wrote and directed his father Martin Sheen in a touching and uplifting movie about a doctor who completes the pilgrimage he told his estranged son not to make after the son is killed in a storm.
Sheen plays Tom, an affluent ophthalmologist living in Las Angeles, playing golf with his friends and worried about his son Daniel (Estavez).  In his late 30's, Daniel has dropped out of his PhD program to roam the world.  Tom gets a call from a French policeman telling him that Daniel is dead.  He flies to France, identifies the body, and then impulsively decides to finish what Daniel had started, to walk the Way of St. James from  St Jean Pied de Port to Santiago de Compostela, 780 km/484 miles as pilgrims have done since the middle ages.  He will bring Daniel along with him, leaving his ashes along the path so that he can complete his journey.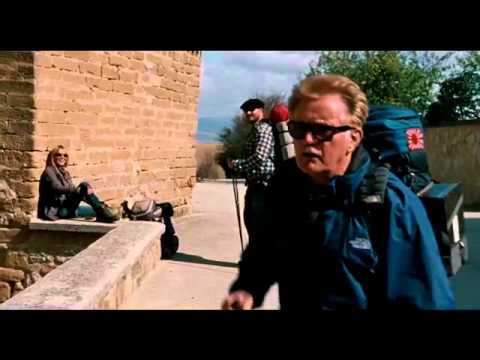 Tom has no interest in the other pilgrims or in sharing with anyone what he is doing.  But there is no way to avoid the people who are walking along the same road and staying at the same inns and soon he finds himself sharing the journey with an affable Dutchman named Joost (Yorick van Wageningen), a bitter Canadian named Sarah (Deborah Kara Unger), and a frantic Irish writer named Jack (James Nesbitt).  People on The Way tend to leave their last names behind.  Everyone is just a first name and a nationality — and everyone but Tom gives a reason for being there.  Joost wants to lose weight before his brother's wedding.  Sarah wants to quit smoking, but only after she completes the pilgrimage.  Jack is there to write a book about it and his editor is impatient.  But pilgrims are not always honest with themselves or each other and part of what they will learn on the road is what they are really doing there.
At times it has the feel of a television movie but the scenery is spectacular and benefits from the big screen and Estavez as writer and director has a good sense of timing and a gift for cinematic storytelling.  It is funny and heartfelt and inspiring and it will make you think more deeply about your own journey.