| This product uses the TMDb API but is not endorsed or certified by TMDb.
What kind of movie do you feel like?
Ask Movie Mom
Click here
"Martha Marcy May Marlene" is the story of a young woman who returns after living off the grid in a remote group home with a predatory, cult-like leader.  She moves in with her newlywed sister (Sarah Paulson) after years of no contact.  We never get the details of the source of their estrangement or why the young woman who at various times goes by all of the names in the title wanted to give herself to an abusive man.  But we do see that the experience has left her almost feral, without the most basic ability to recognize social norms.
The young woman who plays Martha Marcy May Marlene is an extraordinary young actress named Elizabeth Olson, who has two more movies coming out and is still completing her studies at NYU.  She is the younger sister of Mary Kate and Ashley Olson, the actresses/producers/moguls, who named one of their fashion lines after her.  She and I sat down for a quiet chat that covered everything from how she came up with the way her character in the film eats, to why she's not a method actor, and putting on a family-friendly version of "A Chorus Line" at summer camp.
Tell me about looking at the script for the first time.
You don't get to read many good scripts and this instantly stood out.  It's a part that gets to navigate so many different experiences and emotions it seemed like something I would have to wait to do, to do the bad stuff before I would get a chance to get to the good stuff.   But they wanted an unknown actress so it was like being in the right place at the right time.  I read twice, first the diner scene and a lighter scene with the sister.
What was the best part of making the film?
[Writer-director] Sean Durkin and I work really well together, really honest and direct but he is very gentle so it isn't off-putting. I said, "I trust you.  Save time and don't beat around the bush.  If I am not getting it, just tell me.  Tell me if I'm not giving you what you need or if I'm having an off-time."  I wish I could say that I trusted everyone that much.
You worked with one of my favorite actresses, Sarah Paulson, who plays your sister.  The movie does not tell us very much about their family history.  Did the two of you work something out to fill in those blanks?
We worked six to eight weeks and filmed all the farmhouse stuff first.  She came in and she and Hugh Dancy (who plays her husband) went over things together about their relationship and then she and I sat down and tried to make a timeline that was as specific as possible and understand when was the time that she left and at what point was my character fully abandoned.  In order to figure out all the tensions in the script we had to be so clear with what happened in the past.   Families sometimes do not talk about the things in the past that affect them today.  My family is very good at communicating.  But some never learn how to do that.  This is one of those examples.  We do mention in the film the mother passing away and living with the aunt, so there are those hints.
This character is a challenge because she is so internal.  How do you convey all of her fragility and fear without being able to talk about it?
I kept thinking of the risks that she was willing to take and showing too much fear or vulnerability was a risk for her.  So in every scene, even if she was by herself there had to be something she was reacting against or towards.  There was always something she was in relation to, a sound on the roof, a car outside.  How much she was willing to give that away was the meter I was playing with.  And she has so much energy.  There is an absurd humor in a way at times and projecting anger onto people.  What are the instigators for when that happens?  I am really an analytical person so to try to figure out at what point she was comfortable and when was the peak of her fear was really fun to navigate.  You have do do work.  We all gotta do work on things.
You have classical training as an actress.  How did that affect the way you approached this role?
I studied at the Atlantic Theater Conservatory, founded by William H. Macy and David Mamet.  It's based off a writer's view of approaching the script.  Everything the actor does is to serve the script and the story.  Every action you have is to tell the story.  It has nothing to do with your own experience.  It has to do with the function of what you are trying to accomplish.  Another thing that is fundamental is that you are not your character.  They don't believe in method or emoting.  For something like this, that couldn't be more helpful!  I had to have an outside perspective and make concrete things happen that I had control over and trust that the story-telling of the script and editing is going to tell the other part.  I don't have to do the whole thing.
One very telling detail in the movie is your character's style of eating.  Was that in the script or was it something you developed?
Those things are really fun to play.  She has not eaten in the presence of a man for all the time she has been away.  So at the lake house [with her sister], for the first time she is eating with a man at the table.  So I played with the fact that I am watching him eat and trying to figure out what our relationship is. And she is used to not being allowed to eat until late in the afternoon, so that seemed odd to her.  Those things that are out of the norm added to what seemed slightly off.  Because she had something happen to her that the audience is trying to figure out as the story goes on, it was fun to try to figure out how much of the backstory I understood, to unravel it myself.
What draws someone to a cult?
For this character I think it was a feeling of purpose and being part of something larger than yourself, that you actually have a home somewhere.  And she felt she had unconditional love.
What movies made you want to act?
When I was young, "Singin' in the Rain," "Guys and Dolls," "Gypsy," "Pal Joey." That is what spurred my interest and I went to musical theater camp.  They wouldn't pay for the rights so we did our own versions.  We did "A Kid's Chorus Line," so with different lyrics, and "A Comedy Tonight," which was our version of "A Funny Thing Happened on the Way to the Forum."  My favorite was playing Ado Annie in "Oklahoma."  I was in 5th grade and my sisters were in 8th grade and brought their guy friends and I was so embarrassed that they were there.  My dream role was Adelaide in "Guys and Dolls."  My brother influenced me and he has darker taste, like "Return to Oz" and then I started to love Woody Allen and Wes Anderson and as I got older P.T. Anderson and of course "Star Wars" and "Lord of the Rings" and "Gone with the Wind."  I don't just want to do indie films; I'd like to try it all!
This week's release "The Mighty Macs" is inspired by the true story of coach Cathy Rush, who took the basketball team from the tiny women's college to three national championships in the early 1970's, the dawn of women's basketball.  Now co-ed and called Immaculata University, it is a Catholic school sponsored by the Sisters, Servants of the Immaculate Heart of Mary and is proud to be considered the birthplace of modern American women's basketball.  Here's an ESPN segment about the real-life team.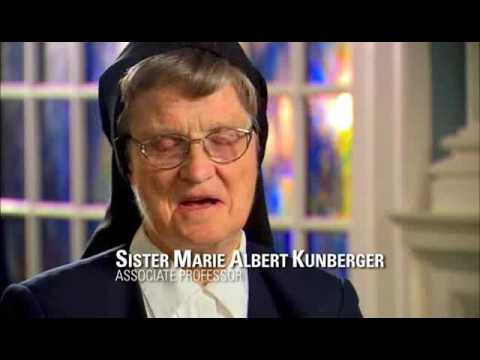 Coach Cathy Rush arrived at tiny Immaculata College at a moment when there were big changes in women's basketball.  The rules were changed to allow women for the first time to play the all-out game by the same rules as the men.  And for the first time there was a national championship.  Coach Rush took her team to the national title for three of the first four years.  And this week, a movie based on her story is opening.  It is called "The Mighty Macs."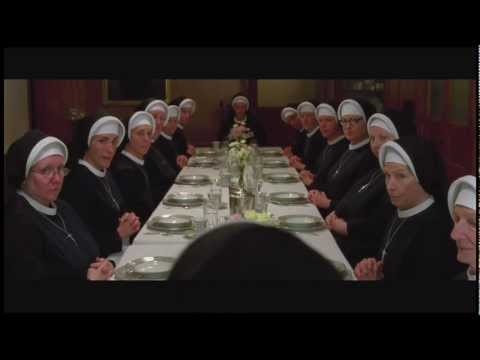 I was delighted to get a chance to speak to Coach Rush about her experiences at Immaculata and what she is doing now.
You must be very excited about the movie!
The excitement is really building as we approach the premiere.  I've been traveling around doing pre-release screenings and we've had standing ovations.  We showed it in New York and they were ecstatic.
What was the rule change that was so important in the early 70's?
This goes back to the 1930's when my mother was playing basketball.  They didn't think women could run up and down the court more than once or twice so there were three players on one side and three on the other and you never went full court.  You were not allowed to cross half-court. One group of three would shoot and the other side was just defense.
Because women were too frail?
Absolutely!  The Olympics didn't have a marathon for women until the 90's.  And then people realized women were capable of more.  In the 60's it had morphed into a huge scoring game where it was too easy to score.  One player in Iowa was averaging 58 points a game.  It was too easy to score when you were playing three on three?
Did you have a nun as an assistant coach as happens in the movie?
That is actually not true but part of the Immaculata story could never be repeated because of the community that was there and was so important.  The Mother Superior was not really with us in the beginning so the assistant coach character was the embodiment of all the nuns who loved us and prayed for us and did extraordinary things to support us.  Even after we started winning there was some controversy about whether Immaculata should be known as a jock school.  Everyone had to wear skirts to class and the dining hall — it was a different era.
Wasn't it a challenge that you did not have a chance to recruit talented high school players?
Whoever showed up on your college campus was who you used.  Coincidentally — we've often thrown around the idea of Divine Intervention — Theresa Shank Grentz was intending to go to Mount St. Mary's.  Her family home burned down and the family basically got out with what they had on.  She didn't have money or clothes.  So she ended up commuting to Immaculata and was one of our strongest players.  Because there were no scholarships we had nothing to offer players except the chance to be a part of the program.  I did start recruiting later on and found Mary Ann Crawford Stanley who was fabulous.  So we decided not to leave in fate's hand and recruit some players but all we could offer them was a good education and a good program.
I think it is a testament to your vision and leadership that so many of your players became coaches — even more than that they became champions.  What inspired them to follow in your footsteps that way?
Their experience at Immaculata, certainly, but also Title IX had just come in and major universities realized they had to find coaches and provide a little equality, well, not a whole lot but a little.  So these people went right into Division 1 jobs.  Part of it was the opportunity that they had.  Teresa was a biology-chem major and I asked how that prepared her to coach and she said she should have been a Psych major.  We've also had a bunch of doctors and other amazing women.  They came to Immaculata for an education first.
You had some unusual drills in the movie — were those things you really did?
We did a lot of stuff.  I did bring in boys to compete against.  We had 11 kids on the team and when we went from the first five to the second five the competition was not at good, so we brought in the boys.  I was blessed to be in the Philadelphia area where there were great men's coaches who knew the 5-member game and they were kind enough to let me see all of that and put it into our own system so I was very, very lucky.
What is important for a coach to know?
Coaching is really teaching.  We're all teachers of some kind — parents are teachers, too.  The players who became coaches do not coach like me; they are all smart enough to coach within the framework of their personality.  I was not a screamer.  I didn't have to yell to get across what we needed to do.  Being so young, I had kind who were two and three years younger than me but there was no question of my authority.  I was Mrs. Rush or Coach.  People need to lead by example.
The movie makes it clear how much some things have changed since the 1970's.
I was a 60's woman and not the Berkeley 60's.  I was from a small town and went to a conservative college and then coached at an even more conservative college.  It was a different time.  My life plan at that time was to get married, teach for three years, and have a family and never work again.  When I say that to kids today, they do not understand it.  But in those days people had different expectations for their sons than their daughters.
What are you doing these days?
I have a girls' basketball camp.  This is our 41st year, our biggest year ever, over 9000 kids in camp.  My youngest son runs the business and every now and then I come in and tell him what he's doing wrong [laughs].
You're still coaching!
That's right!
The American Academy of Pediatrics has said it again.  They do not recommend any screen time for children under two.  They first issued this recommendation in 1999.  But in the last 12 years, family media use has skyrocketed.
The temptation to rely on media screens to entertain babies and toddlers is more appealing than ever, with screens surrounding families at home, in the car, and even at the grocery store. And there is no shortage of media products and programming targeted to little ones….In a recent survey, 90 percent of parents said their children under age 2 watch some form of electronic media.  On average, children this age watch televised programs one to two hours per day. By age 3, almost one third of children have a television in their bedroom. Parents who believe that educational television is "very important for healthy development" are twice as likely to keep the television on all or most of the time.
The new report finds:
Many video programs for infants and toddlers are marketed as "educational," yet evidence does not support this. Quality programs are educational for children only if they understand the content and context of the video. Studies consistently find that children over 2 typically have this understanding.
Unstructured play time is more valuable for the developing brain than electronic media. Children learn to think creatively, problem solve, and develop reasoning and motor skills at early ages through unstructured, unplugged play. Free play also teaches them how to entertain themselves.
Young children learn best from—and need—interaction with humans, not screens.
Parents who watch TV or videos with their child may add to the child's understanding, but children learn more from live presentations than from televised ones.
When parents are watching their own programs, this is "background media" for their children. It distracts the parent and decreases parent-child interaction. Its presence may also interfere with a young child's learning from play and activities.
Television viewing around bedtime can cause poor sleep habits and irregular sleep schedules, which can
adversely affect mood, behavior and learning.
Young children with heavy media use are at risk for delays in language development once they start
school, but more research is needed as to the reasons.
The report recommends that parents and caregivers:
Set media limits for their children before age 2, bearing in mind that the AAP discourages media use for this age group. Have a strategy for managing electronic media if they choose to engage their children with it;
Instead of screens, opt for supervised independent play for infants and young children during times that a parent cannot sit down and actively engage in play with the child. For example, have the child play with nesting cups on the floor nearby while a parent prepares dinner;
Avoid placing a television set in the child's bedroom; and
Recognize that their own media use can have a negative effect on children.
My own recommendations: no television in children's bedrooms, during meals, or in car rides under two hours, no earphones in the car, no television as background noise or for adults to watch while children are around.  Set an example by letting your children, even the toddlers, see you talking, playing, exercising, reading, listening to music, and sitting down on the floor to help them play with blocks and toys.  One of the most important lessons they will learn is how we decide what is important.