Joseph Fiennes plays Clavius in "Risen," the new Biblical epic about a Roman solider who witnesses Jesus' crucifixion and resurrection and becomes a believer. It was a great honor and pleasure to talk with him about what drew him to the role, how he made a character from ancient times seem vital and real to a modern audience, and the surprising research he did for the part.
I think I'm always looking for authenticity and modernity because that's where the audience is at. A lot of times I look at certain period movies but I like to sniff out their relevance and modality if you like. And it seems to me if you are dealing with human conditions it doesn't matter if it is set in Judaea, in this time, or on a spaceship; human condition remain the same and it is something that we all relate to and in that sense it's always going to be about being able to look at our nature and ourselves through film.

I think in many ways Clavius is in many respects, like every man. He's got horrible bosses and he is dealing with that and with work colleagues. He is a man at the end of his career, he's possibly suffering from post-traumatic stress syndrome, he's been in the industry of death for the best part of his life and I think he is ready to get out and retire possibly get to the Senate, that would be the next for someone of his standing – he's a Tribune so I think that will be the natural direction for him to gravitate towards.  In many ways he is in every man that despite the fact that he is charged by Pontius Pilate to oversee the death of Christ via crucifixion which is a pretty appalling thing to be a part of, which also was the first question for me when I read the script: how can I get an audience to come along with me when they witness this ghastly event?

I felt that I had to reach for a thread that they could connect to, which might be an integrity. So he is a man who is dutiful, and as much as he is charged with these things by his boss that he might not want to do because he is so exhausted, if he has an honesty about him, if he is dutiful, I thought at least that is something an audience could get with. And as he goes on that journey hopefully especially as we get into the middle part of the film the audience might be able to understand two things; one is a power of redemption and also the sense of second chances that he is forgiven and also that he carries doubt which is a huge part of human condition, and that we all suffer from doubt. So I was looking for things that are sort of human in that way.
Fiennes worked with specialists to learn about the training and experiences Clavius would have had.
Though he is a fictionalized historical character, I wanted nevertheless to reach to an area of authenticity which also led me to around a week before shooting to work with these wonderful guys who call themselves physical archaeologists. They are gladiators, and they teach gladiator school but they also collect depictions of Roman military warfare that they reenact them and bring them back to life and they were very instructive to me in terms of how the minds of the military of that time worked and thought.  I found out that the way they fought in terms of in battle was surgical and brutal and economical, and that told me a great deal about the way they thought. And so I really got to a place where I had to condition myself to a point where I could then take Clavius on a journey where he was challenged and thereby de-conditioned and then essentially to where at first he feels he in is in charge of these interrogations, while what he may not know is that he is slowly being unraveled. And then his world is completely turned upside down when he walks into a room to arrest people and there is a person in that room that shouldn't be there.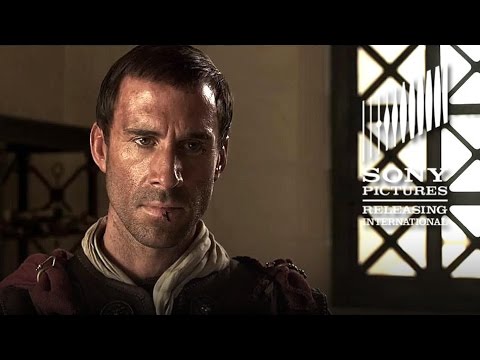 Putting on the uniform of  a Roman soldier helped him to understand the character, too.
I might come more from the method of outside in, which is being affected by the components around you rather than necessarily beginning with the psychological and interior perspective and so costume was a big deal. We have an amazing Italian designer and the costumes were made in Rome. It's something dear to them and they knew exactly what they were doing and it shows. There is an authenticity there and it does give this sort of sense of power, especially when you are depicting a military Tribune. It goes with the look and it helps you a lot, capes and a sort of sixpack leather, and I think most importantly to the costume is actually the armoury. It was a revolution in the Roman army which was the gladius which was which was more like a sort of surgical stabbing device than the slashing sword; so all of those components together then you throw a horse on into that equation and you really feel like you've been picked up and dropped off in Judea circa that time.
Clavius was a man of standing by virtue of his birth and his accomplishments, focused on advancement but, as we hear him say in the film, he has dreams of a more peaceful, quiet life.
I think the word ambition came to mind. It wasn't embarrassing; it wasn't something to be shy of. To be ambitious was something to be celebrated and I think he has worked his up through the ranks. But I think the industry of death has got the better of him and he runs out, he is at the end of his career. His next stop would be the Senate but in order to get there he has got to please his boss because his boss will give a good word to Emperor. So he is duty-bound.

It is also all he knows, it's his only family. And that's another thing; I love the sense of him having to divorce himself from the family. He ends up having to leave his family and leave his sort of father figure if you like, Pontius Pilate and he has to entertain a new theological Father in terms of a greater understanding. But certainly he is duty-bound and it's just part of his DNA and his upbringing. I've always had the feeling that Clavius was not handed the job on plate as some tribunes were.
In some of the film's most powerful scenes, Clavius interrogates witnesses to try to find out what happened to the body in the tomb.
I thought: "How am I going to do this? Please help me." So when I was in Malta I had the bright idea of finding a detective who worked on murder investigations. And I found this wonderful gentleman in Malta who brought me in with his superiors and we had long conversations. From that I got a way to color each investigation or psychological way how I would suss my suspect and how I would use psychology to extract information in different ways, threatening them with brutality or becoming their best friend or whatever so it was interesting to hear those techniques. But most importantly what actually came out of that for me was if you think of detectives that we see depicted in television and film or in literature, a lot of them smoke. And what I found out from our detective was that once you smell death constantly you cannot shake the smell from your nostrils so the only way to get rid of it is the smoke cigars or cigarettes to eliminate the smell. I thought that was really interesting. So I bought a little bit of that in in terms of asking if we could have a plant on his desk so there's always that sense of his trying to extinguish the stench of death but that also came out of there. It just was a tiny bit of nuance but it came out of that talk with the detective.
And he had a challenge in bringing reality to the scene of discovering Jesus in Galilee after he saw him die.
That is my pivotal moment in the journey of Clavius and in the movie. We had already shot the scene of the crucifixion before, going in chronological order is not always the case in movies, but this time we had so in my mind I already put to death this zealot whose followers had claimed him to be the Messiah. Crucifixion was sort of a daily occurrence in Judea at that time; it was just another day in the office but I had saved that in my memory. I psych myself up into a place of absolute aggression like I was just about to go into the frontline and arrest a series of men and I didn't know what to find in that room, whether I would have to go to war with the gladius, whether I would be attacked. So it was a moment of absolutely psyching myself up into the aggression ready to come into this room charged with a different kind of energy to be confronted and then judy react rather than act.