Roger Ebert, the most influential film critic of all time, gets the film he deserves directed by one of the many filmmakers he championed, Steve James ("Hoop Dreams," "The Interrupters").  It is co-produced by Martin Scorsese, whose emotional appearance in the film to talk about the impact of the support—and criticism—he received from Ebert is one of the highlights.
But this is not the story of a movie critic.  It is the story of a life, a big, grand, messy, vital, generous life.  It was a life with every bit as much drama, comedy, tension, romance, insight, compassion, and, as Ebert would say, civilizing influence and empathy creation as any of the films included in Roger's pantheon of Great Movies.
The film shows us Ebert as a child in the university town of Urbana, Illinois, as a college student there, as a young newsman who, still in his 20's, became the movie critic for the Chicago Sun-Times, and later a pioneering presence on television and online. He drank too much until he admitted that he was an alcoholic.  He and Chicago Tribune critic Gene Siskel created a television show that began on the local PBS channel, WTTW, and then went into national syndication and moved to commercial television.  While some print critics complained that it was stunt-ish, the show elevated serious engagement with movies to a nationwide conversation.  A highlight of the film is the testy outtakes from the show, making it clear that the competitiveness and tinge of animosity that made their on-screen interactions so fascinating were toned down from the real strains between them.  And it turns out Siskel hung out with Hugh Hefner at the Playboy Mansion during the wild era of the 60's.  "Roger may have written 'Beyond the Valley of the Dolls,' but Gene lived it," Siskel's widow says with a smile.
The intensity of the competition between the two critics is very funny. So are the outrageously awful clothes and haircuts (there are some things even the '70s does not excuse) and the amateurishness of the early episodes. But the very real respect and, ultimately, admiration, between them makes it clear that this was one of the most significant relationships of Roger's life. It was his devastation over Siskel's decision not to tell anyone about his own illness that made Roger resolve to be very open and honest about his own.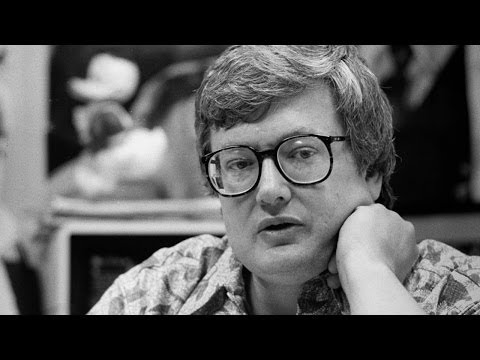 Ebert had great hungers, which led to excesses, not just in alcohol and food but in work, producing more reviews and books than any other critic and dabbling as a screenwriter in the legendarily awful "Beyond the Valley of the Dolls."  Once he stopped drinking, he developed the courage to pursue his greatest hunger, the hunger for love and intimacy.  The man who called movies "an empathy machine" was ready, at age 50, to begin to feel those feelings outside of the screening room.  It is deeply moving to witness Ebert's transformation through his finding a deep romantic love and a large extended family at age 50 with Chaz.  And then he got cancer, and we see the impact his illness had on his writing. He lost a great deal, but, James shows us, he found more.
Roger loved movies deeply, personally, viscerally. With this documentary, the movies return that love.
[Note: I don't pretend to objectivity here as I am a big fan of Ebert's work and very grateful to him for his kindness to me.  I made a small contribution to this film's crowdfunding campaign.  But I loved the film and I am sure I would have loved it even if I'd never met him.]
Parents should know that this movie includes scenes of illness and a sad death, some strong languages, discussions of alcohol abuse and alcoholism, smoking, and some sexual references and images from movies with adult material.
Family discussion:  What were the most important turning points in Ebert's life?  Do you agree that film is an "empathy machine?"
If you like this, try: Roger Ebert's books and his mesmerizing shot-by-shot commentary on Citizen Kane