Go behind the scenes with film critic Kevin Lee to see a behind-the-scenes glimpse of the making of "Transformers: Age of Extinction."  I love the way he incorporated the amateur videos made by fans as the big-budget studio film was being made in Chicago.  You can read more about his experience of making this documentary on Slate.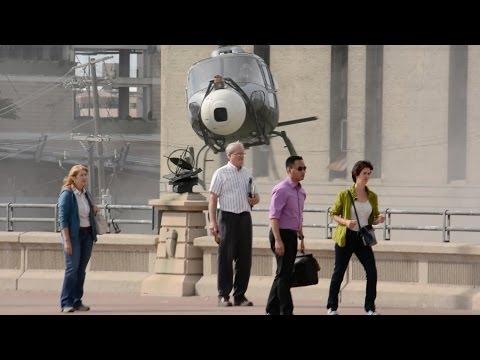 Lee writes:
There were three types of filmmaking happening all at once, I then realized: a multimillion-dollar global Hollywood blockbuster, my modest independent documentary, and the dozens of amateur videos all being created in an instant. I started to wonder about the connections between the three, and what they might have in common. Trying to answer those questions in documentary form led me to understand Hollywood movies, their production, and our shifting relationship to them as viewers and consumers, in ways that I hadn't before….

Frankly, it humbled me as a filmmaker, because it drove home the realization that everyone is a filmmaker now. I also realized that everyone in their own way was making their own version of Transformers, based on the small privileged glimpses they had of this massive production. I started to notice these videos popping up on YouTube, and not just from Chicago, but from Utah, Texas, Detroit, Hong Kong. After a weekend of keyword-spelunking through the caves of YouTube, I emerged with 355 videos that documented the production. In a sense, the documentary of the making ofTransformers had already been made, in 355 pieces. Now it was a matter of figuring out how the pieces fit together.