I last talked to editor/composer John Ottman about "Jack the Giant Slayer" and loved hearing about his unique combination of roles, often working with his former classmate, director Bryan Singer.  They collaborated again on X-Men: Days of Future Past and it was a pleasure to catch up with him to discuss the challenges as both editor and composer of working with so many characters and two different time periods.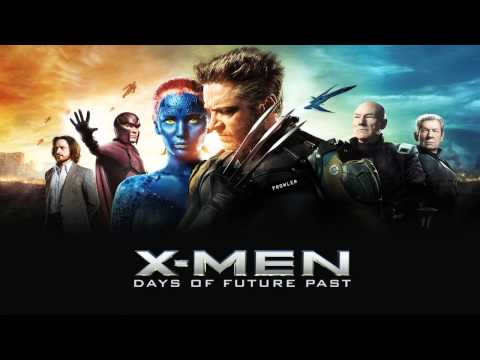 You have so many characters in this film and some of them change their appearance a lot, either due to use of their superpowers or being played by different actors in different time periods.  How do you as an editor help the audience keep everybody straight?
The hardest thing when you have many characters in a room in one scene is to basically keep their presence alive in the scene.  If you spend too much time with one character talking, your mind inevitably wants to know what the other characters are thinking or how they are reacting.  And if you spend too much time away from showing their reaction to the other character talking, the more I think you feel uncomfortable in the scene. So the challenge is sort of the keep everybody alive even if they're not speaking.
What are some of the ways that you do that?
I just put myself in the mind of the audience. I'm watching someone speak and I as soon as I start to wonder what the other character or character being spoken of might be a reacting, I want to see them. I use my own reaction to cut to another character.
And there are different time periods in this film also.
Yeah, there's a dreary future and then there is 1973.  Logan's consciousness was fed back into his younger self so that he can change an event that happens in the past so that the future might be fixed or not be so dreary.
How do you keep the audience constantly aware of where they are in time?
It's pretty obvious where you are.  Nevertheless, we did have internal debates sometimes where people were like, "Are you sure people know that we are in 1973?" "I think so."  But that wasn't a huge problem. It was just basically the timing and keeping the storyline as clear as possible. It's extremely convoluted and a very complex story.
You've got the young and old version of some of the characters, right?
Correct, yes. And the other biggest challenge of the film was the time travel aspect.  It's like the "whack a mole" game where you whack one mole and then you create another problem. It's sort of like you have to keep whacking a mole until you can live with the smallest problem. But there will always be imperfections in time travel stories so that was a big challenge; sort of building consensus with everyone to try to accept what we were going to accept.
Did you once again do the editing first and then composing second?
Of course, yes.  It's overwhelming to actually deal with all of the management of the film to get it together. The editing is not just putting pieces together.  At least for me it's also storyboarding scenes, it's designing the pre-visualization of the scenes with the pre-vis artists, it's generating the shot list with the second editing director, visual effects issues, looping the actors and all that endless stuff.  I have no hope of even starting to write the score until I have some sort of editor's cut.
So do you work with a temporary music track as you are editing?
Yes, but people would be surprised to know that I don't really use music to cut my scenes together. I wait until I get my full editor's cut together before I put any temporary music in. And working without music, I know where the film is strong and it's not reliant on the score. Once I get to that point, I spend about two weeks putting temporary music in so we can have screenings and show the studio.
I'd like to go back to that same challenge of two time periods and so many characters.  How do you use the music to help the audience keep it all straight? You don't have different themes for the characters, right?
In fact this has fewer characters themes than X-Men 2. It's not so typically superhero-like when a character walks and you hear a motif for them.
This film is different so it does not really lend itself to have numerous character themes. There is the overall theme of the film; the X-Men world, which is my theme from X-II but then there are really three other themes in the film. The main one is Charles Xavier's theme because it's really his story about how his character has lost all the hope when we see him in the 70's.
And it's Logan really trying to get him to rekindle that hope. That's the centerpiece of the score; at least subliminally, his music. And also he's trying to fight for Raven's soul so she has a little bit of a motif in the movie and then Magneto himself has a very simple very accessible motif. There's not much time in modern movies to establish a beginning, middle and end theme for each character so you barely have time to do signature sound that you can recognize, so his is very simple but very sort of malevolent.
For lack of a better description, there's a metallic sort of sound. And Mystique has her transformation swishy kind of sound. So I obviously left room for those things. I am very involved in the sound design so I think I surprise people when I am directing the dub as the editor, how I often bury the music or intertwine it with the sounds I use.
What about the time period differences? Are there different instruments or different time indicators?
The 70s gave me an excuse to use some analog synthesizers; we use some old keyboard synthesizers and electric piano and guitar, sometimes very subtly but it was fun to do that. And especially for the sentinels of the past, I was able to do some sort of electronics that were of the period. The score for me is unlike Jack in that Jack was a very pure orchestral swashbuckling score where you had basically everything emulated from the orchestra. This score was very synthesizer heavy with orchestral supplementation. So that was just our decision because every movie is different and that's what felt right for this film.
If you could take one of the X-Men, which powers would you pick?
I guess I would have Mystique's power so I can sort of… I can be really out of shape and morph into someone has a great body.
Yeah, I think we'd all like that one!