It was a galvanizing moment.  A divisive moment.  An iconic moment.
President George H.W. Bush had just nominated Clarence Thomas to be the second black man and the first black Republican Supreme Court justice.  The Senate Judiciary Committee was conducting a confirmation hearing.  It was spirited and at times partisan, but nothing out of the ordinary.
And then a law professor from Oklahoma named Anita Hill appeared before the committee to testify that when she worked for Thomas he frequently made crude, offensive, and humiliating comments to her. While she had never filed a formal complaint and had indeed accepted a second job working for him, she said that she had to answer the committee's investigators truthfully to allow them to make an informed decision about a lifetime appointment to the Supreme Court.
This was in 1991. Most Americans were not familiar with the rules on sexual harassment. The all-white, all-male, all-old members of the committee clearly had no clue on how to evaluate Hill's testimony, or even how to treat her. This documentary, more than twenty years later, looks at what happened and what has and has not changed.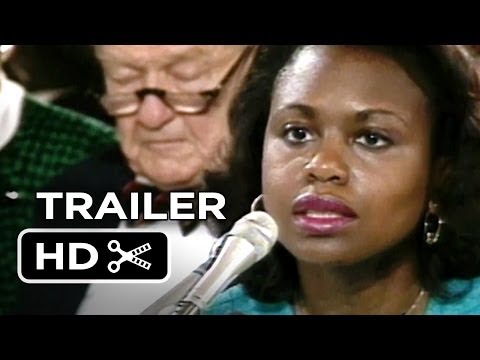 It begins with a 2010 phone message from Thomas' wife, Ginni, left on Hill's voicemail, asking her to apologize, and ending with a chirpy "Okay?" Hill is not apologizing. As she appeared 23 years ago, she is still utterly dignified and unruffled, though understandably less formal and more relaxed.
Hill is the youngest of 13 siblings, born on a farm in Oklahoma. Her parents moved there to escape a lynching. Her older siblings attended segregated schools and six of her seven brothers went into the military. Her parents told her she would have to be twice as good to get half as much as her white classmates. She was willing to be twice as good. She was class valedictorian.
The film takes us through the hearing, with the Senators'outrageous questions ("Are you a scorned woman? Are you a martyr?" asked Howell Heflin) and insulting comments (Alan K. Simpson refers to "sexual harassment crap"). She took and passed a polygraph test. Witnesses recalled her telling them about Thomas' behavior at the time, but no corroborating witnesses with similar stores were permitted. Issues of race and gender are forthrightly explored. Law professor Charles Ogletree, who represented Hill, talks about how no other black man stood up for her. "You don't do that to a brother," he quotes. Implied in his decision: "You don't do that to a sister." Hill says, "People had a tendency to think that he had a race and I had a gender."
"There was no way we were going to win," Ogletree says. "It was a charade." And yet, with much still left to do, this movie shows how much has been accomplished. Hill did not want to be a public figure and hoped to go back to her work on commercial law. She promised herself to talk about it for just two years. But "If I am not public, there will be a sense of victory over me." She understood that sexual harassment was not about flirting or seduction but about power and control and humiliation. And it was just one part of the larger issue of gender inequality. The film shows us her work, especially with young women, to teach them what is "okay and not okay."
It will itself serve as a teaching document to carry the story forward, not just the story of a woman objecting to demeaning treatment from her employer, but the story of a woman who told the truth with "honesty, dignity, and courage."
Parents should know that this film includes very explicit sexual terms and references including pornography.
Family discussion: What has changed most since 1991? What has changed least? What is the best way to educate young men and women about sexual harassment?
If you like this, try: "Not For Ourselves Alone"