April Hernandez and author Eric Metaxas will co-host host the syndicated talk show 100 Huntley Street, produced by Crossroads Media Group, featuring engaging conversations with extraordinary people to well-known celebrities.  The half-hour lifestyle show will  inspirational and uplifting stories, giving it significant crossover appeal. The weekly talk program is based on Canada's longest running daily talk show. Included in the guest lineup are Academy Award-winning actor Nicolas Cage (National Treasure, Knowing, Left Behind), famed reality show producer, The Bible and Son of God executive producer, Mark Burnett, Golden Globe nominated actress Roma Downey (The Bible, Son of God, Touched By An Angel), renowned pastor Rick Warren and actor Quinton Aaron of the Oscar-winning film The Blind Side.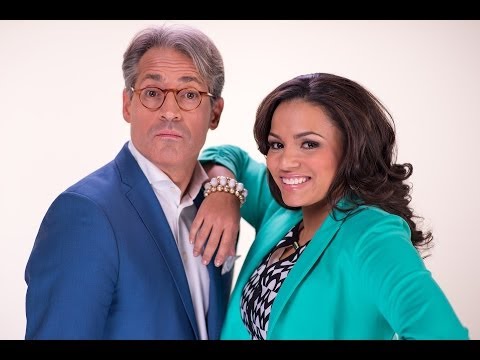 100 Huntley Street debuted nationally on REELZCHANNEL Sunday March 9th at 6:00 AM and in over 120 U.S. markets on CW Plus affiliates. Check your local listings for specific air dates and times. Hernandez was nice enough to answer my questions about the show.
What makes a story uplifting or inspiring and how do you find them?
Usually what makes a story inspiring is one of perseverance, courage, and the willingness to keep going no matter the odds. There are so many amazing people doing extraordinary things under intense situations in life that it is our duty to tell these stories. We have a team of researchers who seek stories to tell on camera.
What do you to do make a guest comfortable and willing to open up?
What Eric and I do before the show begins is meeting with the guest, talking with them breaking the ice before the show. The best key is laughter — it really helps breaking the ice!
What's the best advice you ever got about conducting interviews?
The best advice I have received so far is to make sure the guest feel you really care about what they are talking about. Also really listening to what is being communicated and not just shaking my head yes or no.
Who's your dream guest?
My dream guest would be to interview Sylvester Stallone and Oprah!
What do hope viewers will find on the show?
My hope is when viewers watch our show they feel a sense of hope, walk away with tangible information, laugh along with Eric and I, and lastly, they go and tell their friends and family about the show.
Why is it so hard to find positive messages in media these days?
I have asked myself this question so many times about positive messages portrayed on television and there are so many reasons why but I believe we live in such different times especially with social media. Back in the days there really was only two ways to attain information it was either through radio or the television. Now with so many outlets it is immensely difficult to keep tabs on what people watch especially the youth. I also believe positive imagery begins in the home.
What inspires you?
Many things inspire me but the main components are my family and my husband. They have supported me since the moment I knew I wanted to be an artist. I was never told "No" by my family and I have experienced the sacrifice my parents made so I could have a bright future. My husband loves me unconditionally so his love gives me the strength to conquer the world!