Tegan and Sara's adorable song is pure delight — did you know that the rap section is from Andy Samberg and his Lonely Island group?
And be sure to take a look at this great post from Deadline Hollywood about the film's talented composer, Mark Mothersbaugh.  Does that name sound familiar?  Yes, he's this guy: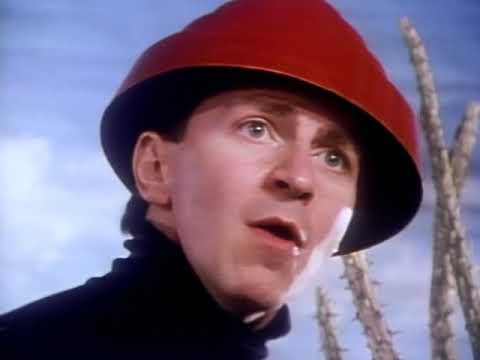 Mothersbaugh has now become a very successful composer for wildly diverse movie genres, including "21 Jump Street," "Rugrats," and "The Royal Tenenbaums."  Creating the sounds for "The LEGO Movie" was a challenge.
[H]e reached back to his past to compose the score. "I used old retro synthesizers that I used from the days of DEVO and then used circuit bending." What is circuit bending? "If you go on YouTube you can see these people who pull out all these crazy, electronic Speak and Spells to Elmo dolls and Casio keyboards and combine the sounds. It's circuit bending. These people even have their own circuit bent instruments. They are the vocabulary of modern music. So I looked at a lot of that gear, and I created this palate of electronic sounds….He initially scored the whole thing in electronics and then went back and layered in an entire orchestration underneath. The result is bright, popping, almost frenetic music with an underpinning of emotional swells. "Because it's the world of animation, you really need an orchestral sounds. Even the most cutting edge animation needs help to look and feel like the real world. When you have a little square peg with a face painted on it you need to feel the heart and know that there's a brain there. I had to ground it and give it its unique place that it was also meaningful emotionally."