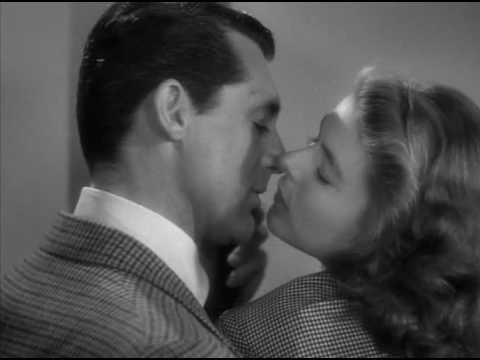 From my book, 101 Must-See Movie Moments
:
It was reputed to be Alfred Hitchcock's own favorite of all his movies, and it was the acknowledged favorite of critic-turned filmmaker Francois Truffaut, whose book-length interview of Hitchcock is essential reading for anyone who wants to understand the way movies tell stories. Hitchock biographer Donald Spoto wrote, "'Notorious' is in fact Alfred Hitchcock's first attempt—at the age of forty-six—to bring his talents to the creation of a serious love story, and its story of two men in love with Ingrid Bergman could only have been made at this stage of his life."
Bergman plays Alicia Huberman, the daughter of a Nazi spy. Humiliated by his trial and conviction and the assumption of everyone she knows that she was helping her father, she has tried to lose herself in wild parties and bad behavior. But T.R. Devlin (Cary Grant), an American agent who has overheard the wiretaps of Alicia's conversations with her father, knows that she is loyal to the United States. He persuades her to go to work for the American government as a spy, using her father's connections. One of his old associates, Alexander Sebastian (Claude Rains) is living in Brazil with some other Nazi refugees. Devlin takes Alicia there to meet up with Sebastian and find out what he is hiding. In order to infiltrate thoroughly enough to find out, Alicia has to accept Sebastian's marriage proposal and move into his home. Under the watchful eye of Sebastian's suspicious mother, Alicia must, like Bluebeard's wife, steal the key to unlock the door and uncover what has been hidden.
This is a gripping story and the scene where Alicia hides the key is a small masterpiece of tension and suspense. The overlay of the complicated relationship between Devlin and Alicia adds enormous dramatic power to the storyline. Both use a tough exterior to hide their feelings. The suspense of the emotional connection between them is even more compelling than the spy story. Will Devlin refuse to acknowledge his feelings for Alicia because of his professional obligations or because he cannot bear to admit to himself the risks he has urged her to accept? Will he be so blinded by that refusal that he will put her at even greater risk?
And that is what makes their kiss so meaningful. These days, most romantic movies are dreadful because the script cannot think of a good reason to keep them from going to bed together in the first 20 minutes of the story. (Twilight author Stephanie Meyer has acknowledged that the reason she made her main character a vampire was to provide a meaningful – if fantasy – obstacle to physical contact.) In "Notorious," there are story and psychological barriers keeping them apart. Even worse, Alicia is (presumably) having sex with someone else as a part of her cover. And yet, the longing they have for each other is evident and by the time it finally happens, we are almost as anxious for them to have some overt confession of their true feelings as they are.
And then, at long, long last, they kiss. And in an art form that has spent more time than any other on the kiss, this one just might be the very best in the history of the movies. The Hays Production Code banned kisses of longer than three seconds. So, Hitchcock told Bergman and Grant to just keep kissing, stopping to murmur to each other and nuzzle, and then kiss again. They move from the balcony overlooking the ocean into the room, talking about dinner and calling the hotel as though they are talking about sex, and as though being more than two inches apart is unbearable. "This is a very strange love affair," Alicia almost whispers as he is calling his hotel to ask for his messages. "Why?" Devlin asks. "Maybe the fact that you don't love me." "When I don't love you, I'll let you know." The result is a scene of piercing intimacy.
And two more classic movie kisses:
Breakfast At Tiffany's
with Audrey Hepburn and George Peppard (and a happier ending than Truman Capote gave Holly Golightly in the short story).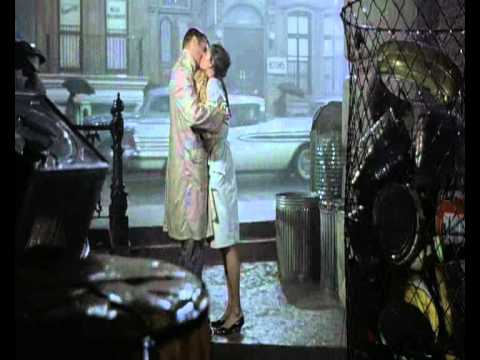 And Lady and the Tramp
and "Bella Notte."
And while you are inspired, take a look at Flavorwire's list of the ten best kisses in literature!