What could be better than a 2 1/2 hour movie with every comedian and comic actor in Hollywood in a madcap masterpiece about the race to a hidden fortune?  A new Blu-Ray edition with deleted scenes, commentary, and interviews!
Directed by a man not known for comedy, Stanley Kramer, this 1963 film begins with Jimmy Durante literally kicking the bucket after confessing to a group of random strangers on the highway that he has hidden $350,000 in stolen money at "the big W." At first, the group tries to be cooperative and civilized, but that is quickly abandoned as they decide it will have to be winner take all. Each takes off to see if they can find the big W first, creating chaos in every relationship and by every possible mode of transportation along the way. It is wild, silly fun and highly recommended for the sheer pleasure of seeing a movie that includes top comedy performers from television, vaudeville, movies, and theater, with everyone from Mickey Rooney, Sid Caesar, Buddy Hackett, Phil Silvers, Edie Adams, Mickey Rooney, Jonathan Winters, to Ethel Merman are among those trying to get to the money before anyone else and Tracy and William Demerest are the cops who have been trying to find the stolen money for 15 years. Even Jerry Lewis and the Three Stooges show up in cameos.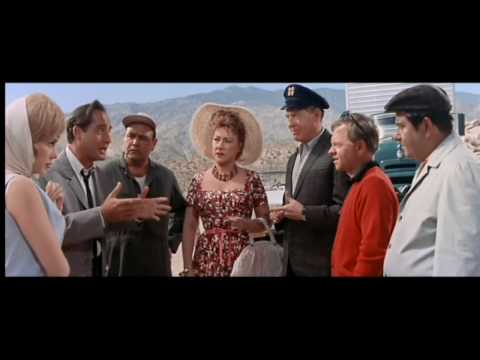 The opening credits by credit-sequence master Saul Bass are featured in my book, 101 Must-See Movie Moments
. It is a "visual overture," in the words of producer Walter Parkes, an introduction to the movie's tone and themes, an invitation into the world the movie will create.
"It's a Mad Mad Mad Mad World" presented Bass with quite a challenge: dozens of names.  The contracts of movie stars often spell out in great detail the size, placement, and order of their names in the credits.  The enormous cast of very successful performers could have led to an opening title sequence that looked like a page in the telephone book.  But Bass made it into an advantage, using each list of names to help convey something about the comedy that was coming.  It begins with a simple red frame, the score by Ernest Gold sounding like a slightly off circus.  A little animated man in black carries out an enormous globe, which topples him over.  Then a saw starts poking out of the globe and cuts out a square.  A hand reaches out holding a flag with the name of the movie's biggest star, Spencer Tracy.  A hand comes down to nail the globe shut again and the fight is on.   The globe is opened like a tuna can and more names tumble out, "in alphabetical order," but they start scrambling over each other to be on top of the list.  The globe bounces like a ball, cracks open like an egg, and gets ridden like a unicycle.  We get information but more important we get a sense of the mad mad world that we are about to enter.
This new edition includes some treasures among the extras, including deleted scenes, plus:
New audio commentary featuring It's a Mad, Mad, Mad, Mad World aficionados Mark Evanier, Michael Schlesinger, and Paul Scrabo
New documentary on the film's visual and sound effects, featuring interviews with visual-effects specialist Craig Barron and sound designer Ben Burtt
Excerpt from a 1974 talk show hosted by director Stanley Kramer and featuring Mad World actors Sid Caesar, Buddy Hackett, and Jonathan Winters
Press interview from 1963 featuring Kramer and cast members
Excerpts about the influence of the film from the 2000 AFI program 100 Years . . . 100 Laughs
Two-part 1963 episode of the TV program Telescope that follows the film's press junket and premiere
The Last 70mm Film Festival, a 2012 program featuring Mad World cast and crew, hosted by actor Billy Crystal
Selection of humorist and voice-over artist Stan Freberg's original TV and radio ads for the film, with a new introduction by Freberg
Trailers and radio spots
Parents should know that this movie includes extended cartoon-like comic peril and violence and some silly and greedy bad behavior.
Family discussion:  How did the money affect different characters differently?  Did you sympathize with anyone?  What would you do with $350,000?
If you like this, try: more work by these actors and an uneven but enjoyable update, "Rat Race"