The most outrageous, over-the-top, and insanely unbelievable parts of Martin Scorsese's new film, "The Wolf of Wall Street," are true.  At least they are true as reported by the man portrayed by Leonardo DiCaprio in the film, Jordan Belfort, who told his own story in his book of the same name
.  Massive fraud, massive substance abuse, massive money and massive spending, plus hookers, midget-tossing, secret Swiss bank accounts, and then more of all of the above.  He crashed a helicopter landing at his mansion when he was high.  He sank a yacht once owned by Coco Chanel when he was high.  He was high a lot, addicted to Quaaludes and taking up to 20 different drugs.
And he swindled people out of about $200 million.  In theory, he is supposed to contribute 50 percent of everything he makes to restitution for his victims, many of whom were financially ruined by being conned into buying terrible investments and not being able to sell out of them before they crashed because Belfort was selling his own shares first.  Of course, this is completely illegal.  Many people have criticized the film for glamorizing criminal behavior, including the daughter of one of Belfort's co-conspirators.  Scorsese is reportedly going to add a cautionary statement to the film, but as is shown in the film itself, even a story in Forbes accusing Belfort of selling dodgy stocks at the time only resulted in more people wanting to come to work for him.  The point of view of the movie, for anyone who is paying attention, is no more on the side of Belfort than it was on the side of the crooks in "Goodfellas."  His narrative voice is appealing because he is (somewhat) honest about his dishonesty, but it is not because he has any integrity.  He either does not see the point or he just doesn't care.
There are those who will not be paying attention and will get the wrong message, either because they are dazzled by the lifestyles of the rich and crooked or because they are sociopaths in suits.  And there are those who will pay Belfort to give "motivational" speeches — not about taking responsibility for the harm he has caused but about making a lot of money. As Michael Maiello of Esquire Magazine put it: "He used to sell worthless stocks, now he sells himself." 
Belfort is a crook, a liar, and a cheat with no regard for anyone but himself.  If this is how we treat/see him, we have to take responsibility, too.  He uses the words "loyal" and"loyalty" on nearly every page of the book and seems to have no sense of his own conscienceless and narcissistic lack of loyalty to anyone but himself, not his father, not his wife, not his partners, and certainly not his customers and clients.  When he saves the life of one of his colleagues (the version in the movie is exaggerated and it is is a different character and did not involve the "Popeye" element, but it did happen), his primary concern is whether the first responders and his wife will call him a "hero" enough times. Those who think there is anything to imitate in this movie should listen to the people whose lives were destroyed, like the wife of Belfort's closest colleague (played by Jonah Hill in the film), and the customers who trusted him.
Jordan Belfort was a dental school drop-out turned salesman who founded a brokerage firm with the impeccably WASP-y sounding name of Stratton Oakmont.  He had learned some important lessons in his brief career at a legitimate firm.  First, as told to him on his first day by a broker played by Matthew McConaughey, no one knows whether stocks are going up or down and the primary purpose of brokerage houses is to remove money from customers and keep as much as possible.  Second, he found as he lost that job that he could have his own firm.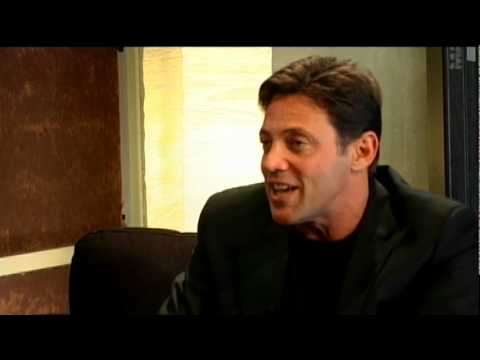 Because he spent years wearing a wire and testifying against his former colleagues (the movie makes it seem as though he tried to warn them but he did not), Belfort spent less than two years in prison, where he met Cheech and Chong's Tommy Chong (serving a sentence for selling drug paraphernalia), who introduced him to an agent.  Belfort has now written two best-sellers (making over $2 million for the books and movie rights), travels around the world as a highly-paid motivational speaker, and is being played by Leo in a movie made by Scorsese.  New York Magazine writes:
According to a judge's order, half of everything Belfort earns must go to the $110 million he is obligated to pay back to the more than 1,500 investors he fleeced. It's a hefty order to fill, and according to the government Belfort has been negligent in his payments. Belfort denies he's hiding money from the government—a skill he once perfected on Wall Street—and currently the parties are working toward a resolution. Belfort says he's not making a nickel off his story and has signed over all proceeds and profits to the government.
On Oct. 11 Loretta Lynch, the U.S. attorney for the Eastern District of New York, filed a motion asking a judge to declare Belfort in default of his restitution obligations. The motion said that Belfort had only paid restitution of $243,000 over the last four years — despite income of $1.7 million from his two memoirs and the sale of the film rights, plus an additional $24,000 from motivational speaking fees.

Of the $11.6 million he's paid as restitution so far, prosecutors allege, $10.4 million came immediately from forfeited properties, including several houses, cars and boats Belfort was forced to turn over to the government after being arrested.

His payments have slowed to a trickle in recent years, his attorney Robert Begleiter claims, because the agreement mandating he pay 50 percent of his income expired when his probation ended in 2009.
Of course, no prosecutor would ever agree to ridiculous terms like that and Belfort's lawyer has not produced any documentation.  I assume this is a delay tactic to enable him to hide his assets again.  They've changed the laws that protected Swiss bank accounts, so I hope they are searching the Cayman Islands and other notorious jurisdictions popular for hiding money.  I also hope he goes back to prison, this time one without a tennis court.
The federal investigator who spent years on Belfort's case has to admit he is good at what he does.
"From a moral perspective, he was a reprehensible human being," says Greg Coleman, the FBI special agent who made the case against Belfort. A specialist in financial frauds and money laundering, Coleman has been an agent with the Bureau for more than twenty years. "Admiration would be the wrong word, but from the perspective of manipulating the market, he's one of the best there is," Coleman says of Belfort….Agent and cooperating witness stay in touch, going out to dinner every so often when their schedules allow. "He tells a good story," Coleman says of Belfort.