Oscar-winning screenwriter Diablo Cody ("Juno") tries directing for the first time with "Paradise," based on her own script about a girl from a very conservative religious background whose faith is challenged after a terrible accident.  Even she acknowledges that she is better as a writer than a director — she has already said she does not plan to direct again.  It isn't that it is poorly directed.  It is more like barely directed.  She met the first task of a director exceptionally well, picking an excellent cast and giving them roles that allow them to make some surprising choices.  It would be nice to see a version of this story where the director made some surprising choices, too.
Julianne Hough plays Lamb (as in "lamb of God"), a sheltered young woman from a devout Christian community.  After a devastating plane crash that left her with burn and skin graft scars over much of her body she feels that everything she thought she understood about the world no longer applies.  So, instead of donating the money she received in compensation for her injuries to her church, she decides to go as far in the opposite direction as possible.  She goes to Las Vegas.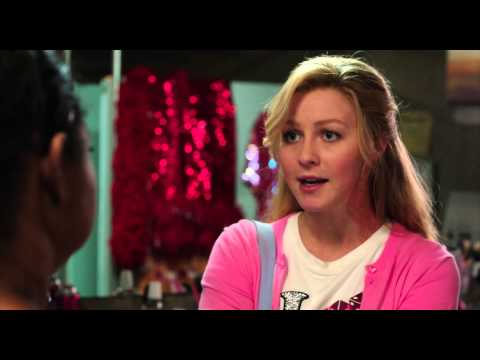 Some people do not have the gift for sin.  There is a lot of charm in some of the film's early scenes, as Lamb checks transgressions off her list that include rhythmic moving to music and getting a microscopic tattoo.  Lamb meets a British bartender (Russell Brand, raffishly engaging) and a singer (Octavia Spencer) who take her out in part to enjoy seeing her reaction to the debaucheries of Las Vegas and in part to protect her from them.
Cody tweaks or avoids the usual Vegas tropes.  She gets nicely meta, with Spencer explaining why she is not going to be the "magical Negro" stereotype minority character whose purpose in the story is to bring a greater humanity to a white person.  And Brand gets to add a bit more depth to his usual persona.  Lamb is an endearing character.  It is fun to see her get a little wild and satisfying when all three characters and some unexpected others show that they already have the greater humanity they need.
Parents should know that this movie is about a young woman who wants to explore sin and it is set in Las Vegas.  There is more discussion of sin than portrayal of it, however.  The movie includes some strong language and risky behavior and discussion of tragedy and a sad death.  A character is a prostitute and characters drink to deal with stress.
Family discussion:  Which character changes the most?  If you had Lamb's money, what would you do with it?
If you like this, try: Hough's remake of "Footloose"