I always love talking to Mark Henn, one of the top animators in Disney history.  Previously, we spoke about young Simba in The Lion King and the most recent Winnie the Pooh.  This week, we talked about the adorable snowman character, Olaf (voiced by Josh Gad) in the Thanksgiving release "Frozen."
I'd think from an artist's point of view it would be a real challenge to work with a character made of snow and backgrounds made of snow.  That's a lot of white!
Snow is certainly a real challenge, but the effects team rolled their sleeves up and dove right in and it is amazing what they were able to do.  They spent a lot of time in the snow, quite a bit of research.  They spent a lot of time tromping around in Scandinavia and some of them also went to Jackson Hole.  And snow isn't always white.  A lot of credit goes to our amazing art director, Michael Giaimo.  If you see paintings of snow, you will see that snow isn't always depicted as white.  Depending on the lighting you can have orange, blue, pink — it's like a piece of white paper, very reflective.  You have a lot of options, particularly in how you light the snow.
And you have a character whose limbs fly off and then reassemble all the time.  How do you make that feel believable when he is such a fantasy figure?
You do have some reality to him.  We've all built snowmen and they come together in parts and pieces.  He is the most fantasy, magical character in the film so we can take some liberties.  His arms and head can pop off.  He gets discombobulated a couple of times and has to be put back together, whether he does it himself or has someone do it for him.  Those were his assets, what the animators wanted to take advantage of and make him really unique.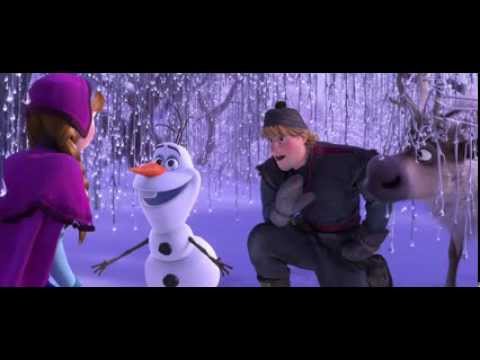 There are several scenes where his head is detached and his body seems to have a life of his own.  He says in the movie that he doesn't have any bones.  He's just snow and twigs an a carrot and some coal, but he has a warm heart and he's all about love and hugs.
How does Olaf fit into the story?
He's comic relief in one sense.  But he's also a link between the two sisters.  As children they create a snowman when they are playing and it is Olaf.  So he is integral to their relationship and to connecting them.  He is reintroduced when they are adults and Elsa has left but he is a reminder of what they shared as children.  There's a simplicity to his design.  We all know snowmen, we've built them, we know about Frosty who came to life.  There's something very fun and magical about Olaf.  He's fun and non-threatening, and has an innocence like a small child.  He's the character everyone wants to take home.
Do you have a favorite scene?
There are so many!  The music is so strong in this film, so a lot of my favorite scenes grow out of those musical pieces.  When he is dreaming of heat and summer, it is so funny.  You think there will be a rhyme with puddle but he is totally oblivious to the expectations and to what happens to snow in the middle of summer.  The high point of Elsa's transformation is when she is being attacked by the palace guards and she has what I call her werewolf moment — she is that monster and then quickly realizes what she is becoming and starts to back off.  It's quick but very powerful.  And I love the scene at the end with the blizzard.  You'll be buttoning up your collar when you see it.
What do you want people to talk about with their families after they see it?
The story is about sisters, about family.  There are great lessons for families to talk about — the importance of communication.  There are elements of trust and faith for them to talk about.  It's about taking the time to talk to each other.  If Elsa and Anna had a chance to sit down and talk things out, we would have had a very short movie.