First it was a book by William Steig.  Then it was a sensationally successful series of animated films, featuring the voice talents of Mike Meyers, Cameron Diaz, and Eddie Murphy.  Then it was a blockbuster Broadway smash hit musical starring Sutton Foster, Daniel Breaker, and Brian d'Arcy James as the ogre.  And now the musical is available on DVD, bringing the Broadway experience into the living room.  I am a huge fan of Daniel Breaker's work in "Passing Strange," so it was a thrill to get to talk to him about playing Donkey on stage in Shrek the Musical
.
What's the first thing you did when you found out that you were going to be playing Donkey?
[Laughing] I guess I wondered if this is really happening or not. You know the part really came out of nowhere for me. I was actually on vacation with my wife and my newborn so I guess you wouldn't call it vacation. My new born, he was only two weeks old when I got the call for that part.  There was actually a lot going on at that point right when I got the call. My wife is a director. She was about to start rehearsals for a play called "Ruined" which takes place in Congo and which later won a Pulitzer and so we were on that path. And then "Shrek" came in and now we have this newborn so that was a very, exciting, and exhausting, and stressful for the first couple of months. But that's just a part you can't really say no to. I mean when somebody calls and asks me to play the donkey, that's not really something you pass on.
It's kind of a challenge because you've got people coming who have a strong idea of who the Donkey is. You want to make it your own but you also want to make them happy. How do you walk that tightrope?
Well, you know, what's interesting about the version that we did is that the animated movies are very specific, right? And what was great was that when we translated that idea onto the stage, no one was pressuring anybody to make a direct steal from the movie to the stage. I think what we were doing was we're taking some the benefits that come with live theater and applying that to the iconic story. So there was no pressure to impersonate Eddie Murphy or impersonate Cameron Diaz's voice. If anything, we were celebrating the story even further by taking it unto a live medium. And then we're almost coming full circle here by bringing it back to the screen with this DVD which, I think, captures all of the living, breathing excitement of the live stage performance and bringing you just a little closer so you can see certain elements and nuances from the acting that you might not see when you're watching it on stage. So I think it sort of ups the pleasure of watching the story even further.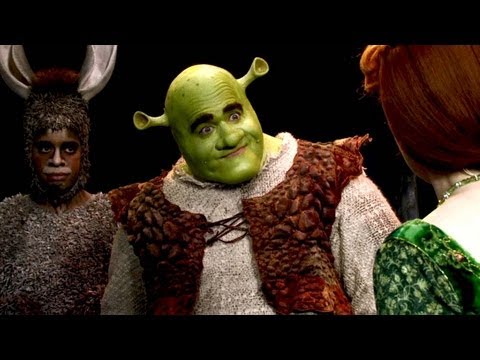 Donkey's got a lot of the best lines in the show.
I think Donkey is such a great part because I think there's a little Donkey in all of us.  I think he is a little bit of a weirdo. He wants a friend. He wears his heart on his sleeve. I think that's something that we all strive to be like. So, you know, I find him utterly thrilling. And just from sort of like the theater nerd in me, I feel like he is one of these ancient Commedia characters. I think he is completely honest in every single moment of his life. He does not know how to lie. That doesn't live in his blood. I find it actually so thrilling to be that open and vulnerable on stage. Every night was so much fun. And also, the cast is just extraordinary. I had such a magnificent time playing opposite Brian d'Arcy James. I think even on those exhausted days when I was sick or I was tired, it was just seeing him up there and his very honest eyes and thinking, "Alright. I'm going to do this anyway. We're going to have a great time." So it was a thrill every step of the way.  And Sutton Foster — that girl was a machine. I don't know how she got through that thing of like throwing the green costume, and taking it off doing a tap number, and then just walking around right after a big tap number as if she was not even winded like she just crossed the street. I mean she is extraordinary. And she also makes everything look so easy. And then Christopher Sieber who played Farquaad, the fact that he is the tallest guy in the cast and he was the one on his knees. I thought that was some form of cruelty.  He was wearing that 50 pound rig on his costume and he was still a trooper the whole way.
I love to see families go to the theater and teach kids about this role of the theater.  What's it like to perform in front of so many kids with their families?
It's a thrill because you know that if a family is willing to drop the Broadway money to bring their kids to a show that they really actually want to be there. That's quite an enjoyable experience to have and to watch, you know because sometimes I feel like a little like "Okay, the dad doesn't really want to be here. It's football season. He's going there because his kids wanted to go," and then five minutes later, he can't help but crack a smile at how extraordinary this show is. So it's a lot of fun to entertain in that respect.  Also I was a dad by the time I started the show so it's just nice to raise this child while also doing this show that is designed for children.