It's probably the most beloved family film of all time, and now it is bigger and deeper than ever.  "The Wizard of Oz," starring Judy Garland, is coming to 3D Imax screens for the first time.  See the Munchkins, the Wicked Witch of the West, the horse of a different color, the yellow brick road, the ruby slippers, and the flying monkeys — in super-sharp definition and 3D.  And hear the classic songs, including "Over the Rainbow."
The IMAX® release The Wizard of Oz will be digitally remastered into the image and sound quality of The IMAX 3D Experience® with proprietary IMAX DMR® (Digital Remastering) technology. The crystal-clear images, coupled with IMAX®'s customized theatre geometry and powerful digital audio, create a unique environment that will make audiences feel as if they are in the movie.
Following the IMAX® theatrical release, Warner Bros. Home Entertainment (WBHE) will release a limited and numbered The Wizard of Oz 75th Anniversary Collector's Edition on October 1, 2013. The Wizard of Oz 75th Anniversary Collector's Edition will debut as a five-disc set that will include Blu-ray 3D TM, Blu-ray TM, DVD and UltraViolet versions of the film; a new documentary, The Making of The Wonderful Wizard of Oz; bonus features and premium collectibles, including:
A deluxe Pin Set from The Noble Collection TM , 52-page Hardcover Photo Book, RUBY SLIPPERS TM  Sparkle Globe, Hard Covered Journal, a Map of Oz and more!  Collection is limited and numbered.  Three more editions will be available separately: a 2-disc Blu-ray 3D / Blu-ray ($35.99 SRP), a one-disc Blu-ray ($19.98 SRP) and a 2-Disc DVD ($16.95 SRP). All four will contain the new documentary, The Making of the Wonderful Wizard of Oz. This candid overview details the back story of Oz and describes the manner in which an unprecedented production overcame the odds to become an integral part of American culture. It is narrated by Martin Sheen and features contributions from historians John Fricke and Sam Wasson, composers Stephen Schwartz and Marc Shaiman, critics Leonard Maltin and Michael Sragow, Bert Lahr's son John, as well as revealing interview clips with Judy Garland, Ray Bolger, Buddy Ebsen, Margaret Hamilton and Mervyn LeRoy, among others.  I will have one to give away to a lucky winner, so stay tuned for details.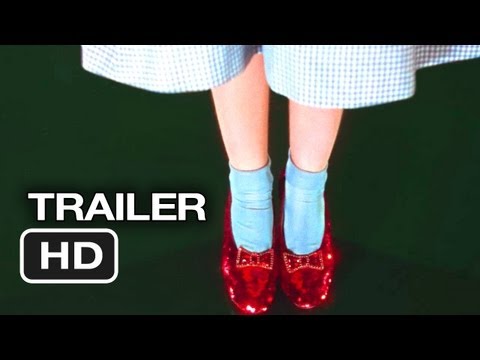 And I have tickets to give away to a special screening of "The Wizard of Oz 3D" in Northern Virginia on September 15.  The first 60 people to log in here will receive passes.  Good luck!