I love this "Portlandia" skit about spoilers.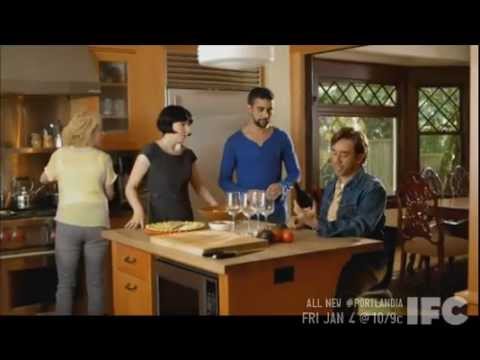 The whole issue of spoilers has become very complicated because of all the time-shifting and binge-watching in the way we consume media.  I don't like spoilers and really work hard to keep them out of my reviews.  I used to try to read as much as possible about a movie before I saw it but I discovered that I enjoy them more if I know less.
But Esther Zuckerman argues in favor of spoilers on The Atlantic Wire.
Spoilers don't actually ruin viewing experience, if the show is good I'm not the first person to argue this. Poniewozik himself did it last year. "[The spoiler] takes away the tantalizing sensation of realizing that, in just a few weeks or days or hours, you'll know this thing that you do not now know," he writes. "But it doesn't take away the myriad surprises on the way to getting there, the thrills and pleasures of watching a story play out." I actually find that if I know the big reveal, I can watch a show more carefully leading up to that moment. Since I watched the entirety of Buffy the Vampire Slayer on Netflix, long after it originally aired, I was primed to most of the big surprises. For instance, I knew that at beginning of season five the show would give Buffy a sister. Knowing that already meant I wasn't angered by the choice, but more interested in figuring out how that major move was accomplished and why it weirdly worked. Chances are if a spoiler ruined the experience of watching or reading something for you, then it wasn't worth watching or reading to begin with.

Spoilers can only make you more excited to see something With all due respect to Mad Men creator Matthew Weiner—the don, no pun intended, of spoiler-phobes—but his strict rules for critics actually aren't doing him any favors. By forbidding critics to write about new characters or new relationships in any way, he kills the element of the tease. On the same note, it's baffling to mewhy J.J. Abrams didn't want to use the fact that his villain was in fact Khan as a way to draw people into the theater.  (Not that it really mattered; Star Trek Into Darkness still did big business.)
What do you think?