I'm delighted that one of the all-time great romantic thrillers is being released for the first time on Blu-Ray this week.  Director Stanley Donen out-Hitchcock's Alfred Hitchcock with this witty, elegant, sophisticated bonbon starring Audrey Hepburn and Cary Grant.  It has a swoony score by Henry Mancini and a nicely twisty plot.  And one of the most delicious last lines in movie history.
Hepburn plays a Parisian woman whose estranged husband is murdered and thrown off a train.  She realizes she knew very little about him.  And she realizes some very bad people knew a lot about him.  When he was in the army, he and some of his friends stole some money.  And then he stole it from them.  They are after the money, and that means they are after her.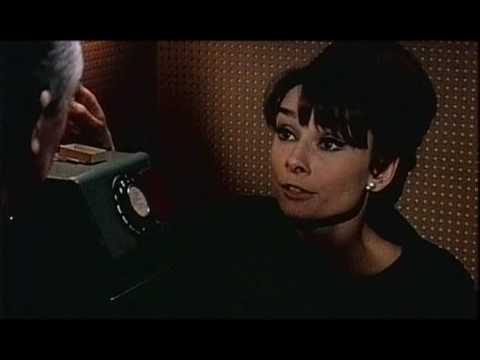 I won't spoil any surprises by saying more.  But I will strongly recommend that after you watch the movie, you watch it again to listen to the commentary from director Stanley Donen and screenwriter Peter Stone, filled with marvelously entertaining anecdotes about the making of the film.  I love the story about Cary Grant's haircut.  My favorite part, though, is whenever a close-up of Audrey Hepburn comes on the screen.  They just pause.  And then one of them says, a little breathlessly, "Isn't she beautiful?"
Yes, she is.