Happy Poetry Month!
The wonderful "pÕÎ-trÉ" blog has a terrific selection of poems about movies. And there have been great movies about poets like "The Barretts of Wimpole Street" (about the courtship of Elizabeth Barrett and Robert Browning), An Angel at My Table
(about Janet Frame) and the documentaries about Rumi
, Billy Collins
, and Charles Bukowski
. And the movie Deliverance
was based on a novel by the poet James Dickey
.
I love "Alice in Wonderland's" version of "The Walrus and the Carpenter."
And this beautiful e.e. cummings poem recited by Cameron Diaz to Toni Collette in "In Her Shoes."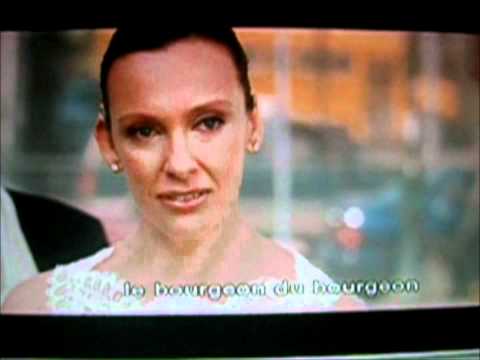 Many movies take their titles from poems, like A Raisin in the Sun
, which comes from a poem by Langston Hughes, Splendor in the Grass
 (from Wordsworth), and Invictus.
Characters in movies often recite poetry. Movies are written by writers, after all, and writers love words. Katherine Hepburn quotes T.S. Eliot in "Without Love," "April is the cruellest month, breeding/Lilacs out of the dead land, mixing/Memory and desire, stirring/Dull roots with spring rain." "Blade Runner" has a quote from Blake's "Tyger."  In "Awakenings," "The Panther" by Rilke illustrates the isolation and bleakness of a patient's inner life:
His vision, from the constantly passing bars,
has grown so weary that it cannot hold
anything else. It seems to him there are
a thousand bars; and behind the bars, no world.
As he paces in cramped circles, over and over,
the movement of his powerful soft strides
is like a ritual dance around a center
in which a mighty will stands paralyzed.
Only at times, the curtain of the pupils
lifts, quietly–. An image enters in,
rushes down through the tensed, arrested muscles,
plunges into the heart and is gone.
One of the most memorable scenes in "Four Weddings and a Funeral" is the heart-breaking funeral service with W.H. Auden's Funeral Blues:
Stop all the clocks, cut off the telephone,
Prevent the dog from barking with a juicy bone,
Silence the pianos and with muffled drum
Bring out the coffin, let the mourners come.
Let aeroplanes circle moaning overhead
Scribbling on the sky the message He is Dead.
Put crepe bows round the white necks of the public doves,
Let the traffic policemen wear black cotton gloves.
He was my North, my South, my East and West,
My working week and my Sunday rest,
My noon, my midnight, my talk, my song;
I thought that love would last forever: I was wrong.
The stars are not wanted now; put out every one,
Pack up the moon and dismantle the sun,
Pour away the ocean and sweep up the woods;
For nothing now can ever come to any good.
And of course "Dead Poet's Society" is about an inspiring teacher who shares his love of poetry.