Bob and Larry bring humor and wisdom to a classic story sure to delight kids and their families in The Little House That Stood, an Easter-themed story inspired by "The Three Little Pigs" and the parable of the wise and foolish builders (Matthew 7:24-27).
When The Three Pigs roll into town looking to build some new houses, they meet one builder with a plan and two without a clue!  Larry builds with hay, Mr. Lunt builds with bricks, but only Bob builds his houses on a firm foundation – following the wise plans from the "Master Builder's Handbook!" Each pig has very particular ideas about what they want for their houses, but will their choices be good ones when the rains come tumblin' down?  Find out in this pig's tale that shows kids that when we follow God's blueprints, we can make the right choices! PLUS:  Ever wonder what happened before Humpty cracked?  Humpty (Bob the Tomato) is the mayor of Gooseville, a quiet little town filled with a bunch of lively characters!  From Jack & Jill's missing crayons, to the Three Bears' lawn problems, all the way to Little Bo Peep's lost sheep, Mayor Humpty is literally driven up the wall with this pickled pack of problems! Now far away from the gripes and complaints of his neighbors, Humpty declares "with all these neighbors in need, I'm better helping just me!"  Will all the town's heroines and all the town's men help bring Humpty to his senses again?
Filled with the Veggie's sunny charm, this story is a lot of fun and it has some important lessons to teach about what we need to think about in making wise choices.  There's a "Give Your Kids a Solid Foundation" discussion guide for parents and teachers, activity pages, and of course a new silly song, as well as some behind-the-scenes glimpses.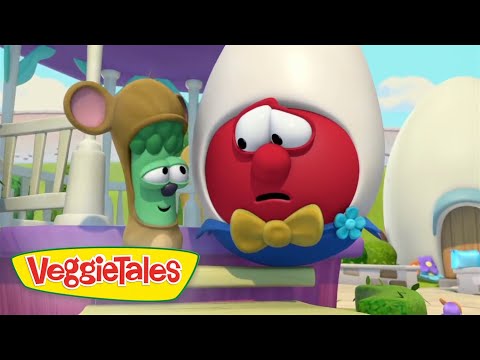 I've got a gorgeous prize package to give away!  Send me an email with "House" in the subject line and tell me your favorite vegetable.  Don't forget your address!  (US addresses only).  I'll pick a winner at random on March 12.  Good luck!