The popular Shalom Sesame DVD series has announced a Shalom Sesame DVD Club.  Grover the Muppet and Anneliese van der Pol (That's So Raven, Broadway's Beauty and the Beast) travel to Israel to meet new people and learn new things in this 12-part DVD series co-produced by Sesame Workshop, the nonprofit educational organization behind Sesame Street, and Israel 's Channel HOP!  Each 30-minute, live-action and animated DVD focuses on storylines drawn from Jewish cultural traditions, highlighting lessons on Hebrew letters and words, unique sites in Israel , and Jewish values. Through Sesame Street characters, celebrities and stories, viewers learn about Jewish traditions, culture and holidays. Guest appearances by celebrity talent include Debra Messing, Achinoam Nini, Mira Awad, Jake Gyllenhaal, Christina Applegate and Greg Kinnear.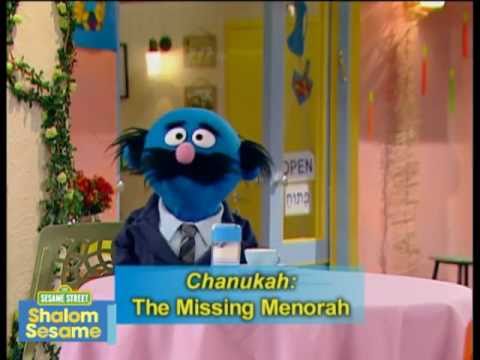 The club is free and members can opt for purchasing the entire DVD series or single titles for a 15% discount , in a single shipment or on a monthly basis.
Shalom Sesame's "Chanukah the Missing Menorah" episode on PBS this December. The 12 DVDs in the series are: "Welcome to Israel," "Chanukah: The Missing Menorah," Shabbat Shalom, Grover!," "Grover Plants a Tree," "Mitzvah on the Street," "Be Happy, It's Purim!," "It's Passover, Grover!," "Grover Learns Hebrew," "Countdown to Shavuot," "The Sticky Shofar," "Monsters in the Sukkah," and "Adventures in Israel."  Each Shalom Sesame DVD includes over 20 minutes of bonus extras including trailers, sneak peeks of all titles, Grover's Video Player (music videos), sing-alongs and Karaoke of favorite tunes like "Aleph Bet Song," "Rosh Hashanah Hannah" (a spoof of Hannah Montana) and the famous "Rubber Duckie" song (in Hebrew) among others. A highlight of Grover's Video Player on Adventures in Israel is "There Must Be Another Way" by Achinoam Nini, Mira Awad and Shalom Sesame friends – the song that represented Israel in the 2009 Eurovision Song Contest in Hebrew, Arabic and English.
Follow Shalom Sesame on YouTube and Facebook and watch "Chanukah: The Missing Menorah" on your local PBS station.