Graham Chapman was the Monty Python troupe member most often referred to by the others as "the dead one."  This affectionate tribute, narrated by Chapman himself in excerpts from the audio version of the memoir he wrote before he died of throat cancer in 1989.  Like the Python movies, it is is made up of skit-like segments, but it only briefly reaches anywhere near their level of sublime comic anarchy.  Even with a quick moment of lunacy with Cameron Diaz providing the voice of Sigmund Freud.
The segments are animated by a widely varied group of  artists, occasionally recalling Terry Gilliam's inspired paper cut-out interstitials but more often just needlessly crude and sometimes downright dull.   But the real problem is that Chapman may have been an interesting person and certainly led an interesting live but he clearly had neither the interest nor the ability to share very much with anyone.  Instead we get a tedious litany of too much sex, too much alcohol, and the emptiness of the life of a celebrity.  He comes across as superficial, bitter, selfish, and dull.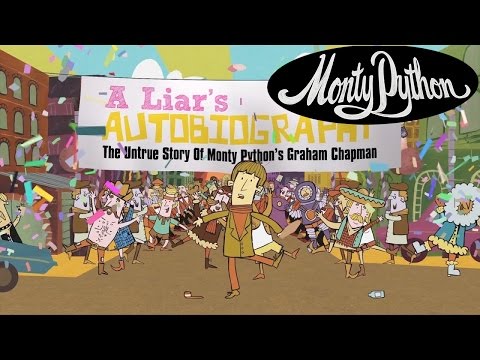 Chapman tells us he was born during a German bombing attack and we see a possibly fictitious incident where he was traumatized by the severed limbs of the people who were injured and killed.  Then he goes to school and his parents don't understand or fully appreciate him and he has sex with women but really wants to have sex with men, and then he has sex with men, and then some sex with women again but mostly with men.  In one of the segments we get to see from his perspective as he continues to smoke his pipe through some joyless sexual encounters.  He has contempt for just about everyone, especially those who are overly impressed with celebrities (including himself).
The movie comes to life only at the very end, when we see footage from Chapman's funeral, with the eulogy from John Cleese.  As the other Pythonites look on, Cleese says, "I guess that we're all thinking how sad it is that a man of such talent, of such capability for kindness, of such unusual intelligence, should now so suddenly be spirited away at the age of only 48, before he'd achieved many of the things of which he was capable, and before he'd had enough fun. Well, I feel that I should say: nonsense. Good riddance to him, the freeloading bastard, I hope he fries. And the reason I feel I should say this is he would never forgive me if I didn't, if I threw away this glorious opportunity to shock you all on his behalf. Anything for him, but mindless good taste."  I'd add, anything for him but this dull and sour tribute.  Much better to watch the parrot sketch again.