It is true.  At heart, everyone is 19, except for the people who actually are.  "How I Met Your Mother" star Josh Radnor has followed his promising debut as a writer/director with the uneven but intriguing "Liberal Arts," a throwback to the neglected tradition of the college-based story that has almost nothing to do with getting wasted or pranks.  Radnor also stars as Jesse, a New York City-based college admissions officer who (like the characters he plays in his television series and his previous film) seems stuck in that stage between being in school and being a grown-up.
He is delighted when one of his favorite professors from his own college days calls to invite him back to the campus in Ohio.  (The never-named small but prestigious liberal arts school is played in the film by Kenyon College.)  The professor (Richard Jenkins as lefty Peter Hoberg) is retiring, and he invites Jesse to come to his farewell dinner and say a few words.  Also on campus for the dinner are a couple whose daughter is a sophomore at the school (Elizabeth Olson as Elizabeth, nicknamed Zibby).  Jesse and Zibby hit it off, quickly developing a nice rapport. She makes a mix CD for him and he promises to write her a real letter with his reactions.  Jesse also meets the morose Dean (John Magaro), a brilliant but troubled student, and a non-student named Nat who is just hanging around campus being all adorably whimsical played as winningly as is humanly possible by Zac Efron, despite the considerable handicaps of an impossibly fey character and one of those knit ski caps with the strings and the tassel that has never done anyone any favors.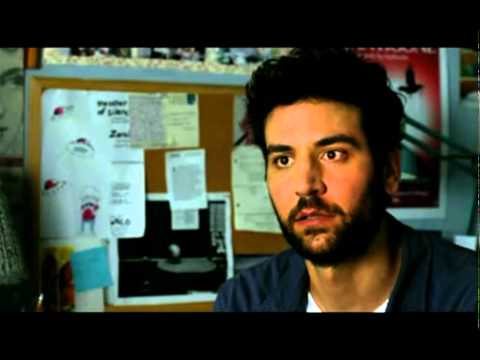 Jesse and Zibby have a refreshingly retro epistolary conversation and in one of the movie's sweetest sequences he writes to her about the way her classical music mix CD has transformed his interaction with the world around him.  Not knowing what kind of relationship she has in mind but tantalized by her, he returns to the campus and again encounters not just Zibby, Dean and Nat but also Peter and his other favorite professor, the icy Judith Fairfield (Alison Janney).  Peter is already regretting his retirement.  Dean is struggling and feels isolated.  Zibby is the only one who seems comfortable with where she is, a large part of what draws him.  "I just can't figure out whether it's because you're advanced or because I'm stunted," he says, making her the adult.
But as he shows quite literally with calculations on a legal pad, the numbers do not add up.  Zibby, too, is trying to be a different age.  The only one who is completely comfortable with who and what he is is the guy in the ski hat, who is at this point in the movie further burdened with an excruciating speech about, oh, dear, caterpillars turning into butterflies.  I'm pretty sure Professors Hoberg and Fairfield would take out their red pens and write "TRITE" over that one.
The Dean character does not work well, either, even if you give Radnor the benefit of the doubt and think of Dean, Nat, and even Zibby and Peter as ways for Jesse to confront versions of himself rather than genuine characters.  Lovely moments like the classical music discussion, a genuinely moving passion for the written word, and nuanced performances (Radnor is tops in casting and directing actors) may make you smile mistily about being 19, no matter which side of it you're on.
Parents should know that this film has strong language, a suicide attempt, sexual references and situations, drinking and drunkenness.
Family discussion:  How many different ways does this story present the struggle people have to act their age?  What does Jesse miss about his time at Kenyon?  What does he learn from Zibby, Nat, and Dean?
If you like this, try: "Happythankyoumoreplease" by the same writer/director and "Garden State"