I absolutely loved the new American Girls movie, McKenna: Shoots For The Stars
.  Based on the stories about the American Girl of the Year doll for 2012, a young gymnast. So it was a treat to get to interview the girl who plays McKenna, Jade Pettyjohn.  Her co-stars include Nia Vardelos of "My Big Fat Greek Wedding," who plays her mother, and real-life gymnastics champion Cathy Rigby, who plays her coach.  In the movie, McKenna's challenges include an injury and a learning disability but her family and friends provide a lot of support.  I especially appreciated the way that kids with disabilities are portrayed — in addition to McKenna's learning issues, her tutor is in a wheelchair — it is frank and sympathetic but not at all condescending or marginalizing.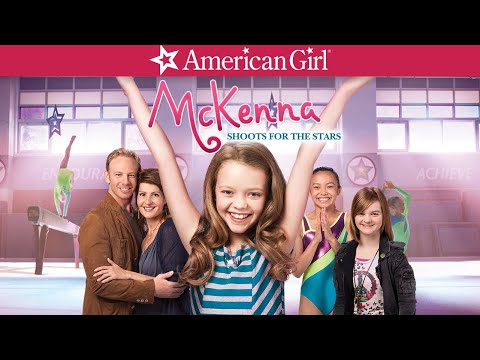 I have one copy of the DVD to give away!  If you want to enter, send me an email at moviemom@moviemom.com with "McKenna" in the subject line and tell me your favorite doll.  Don't forget your address!  (US addresses only.)  I will pick a winner on July 28.
What was your audition like? And how did it feel to get the part?
It wasn't a gymnastics movie when I did the audition.  They didn't want to give away the idea, so I thought it was a dance movie.  They gave me lines to memorize and had me read them with the casting director.  I was in the car when I found out I got the job and so I couldn't jump up and down but I was super-excited!  And it shot in Canada and that was really exciting because I had never been out of the country before, so that made it even better.
My favorite thing in the movie is the way it portrayed the friendships between the girls, even those of different ages and those who were competing against each other. Are your friends like that?
My friends don't have as much drama!  But I liked that the characters in the movie all made up in the end and were better friends.  And the girls on the film had a lot of fun together on set and off set.  We would invite each other to where we were staying and watch movies and have classes with my mom and we celebrated Canada Day and watched the fireworks!
It was great to see disabled characters in the movie.  Do you have disabled friends?
I do.  I was  in a group called Kids on Stage for a Better World and one of the girls was in a wheelchair.
What surprised you about working on the film?
I knew gymnastics was hard but I did not know how much hard work and dedication it takes.  I was amazed by it.  I did a little bit before.  I could do cartwheels and a few things but they flew me out a few weeks before so I could learn the gymnastics.  One thing me and my character have in common is that we both love to make something come out right and work until it is perfect — for me it's acting and for her it's gymnastics.
What movies do you like?
It changes but right now I love "We Bought a Zoo."  And I love "The Help."  And the "Step Up" movies.  I am so excited for the new one!
You wore some great clothes in this movie!
I loved my characters outfits and stuff.  They were amazing!  I loved the dress at the end.  But it was really hectic on set and I had seven or eight costume changes in one day!
Did Cathy Rigby give you any pointers?
She is so amazing!  She is my role model.  I love her!  She helped with double cartwheels and splits — it was really cool to work with her.
What's the best advice you ever got about acting?
It is really important to understand every word in the script.  I've learned a lot of new vocabulary words that way!
What do you want people to learn from this movie?
I want them to learn that it is important to have balance, a little bit of this and a little bit of that.  You can't do just one thing because you might stop loving it and getting fun out of it.
(photo credit: Jessica Pettyjohn)