There's an old joke about a woman who goes to a therapist.  "Why are you here?" he asks.  "My family wants me to come because I love pancakes," she answers.  "Well," he says reassuringly, "that's perfectly normal!  I love pancakes, too."  "Really?" she responds happily.  "You must come over to my house.  I have trunks full of them!"
While many people may tell you that they are fans of "Star Trek" or "Star Wars" or "The Big Bang Theory" or an obscure Marvel comic hero named Red Raven, there are the super-fans who go way past buying the box set DVDs and encasing their comic collection in mylar.  They fill rooms with collections of mint condition action figures.  They spend a year meticulously creating animatronic costumes for characters from a video game.  They propose to their girlfriends with a "Lord of the Rings"-styled engagement ring, in front of 6000 fans at a Kevin Smith panel.  And this is their movie, opening in selected cities and available everywhere via Video On Demand.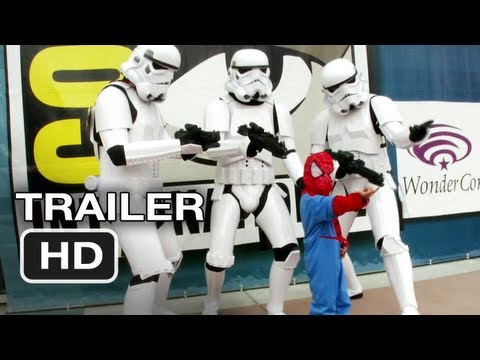 Morgan Spurlock, who made himself the star of documentaries that were very critical of big business and corporate brainwashing ("Super Size Me," "Pom Wonderful Presents The Greatest Movie Ever Sold"), stays off camera in this kinder, gentler tribute to the the consumers who find hope, inspiration, and home in their passion for superheroes, zombies, cartoon characters, games, comic books, and the rest of what the people behind San Diego Comic-Con call the lively arts.  The fans are pretty lively, too, as Spurlock shows, following five attendees.  Comic-Con is one of the only places in the world where you can arrive as a fan and leave as a professional, and two of the movie's leads are would-be comic artists who bring their portfolios for review by publishers.  One is a costume designer and maker who compares her effort to win Comic-Con's annual Masquerade costume competition to the "friends on a suicide mission" plotline of the game she is bringing to life. Another is one of the country's biggest sellers of comic books, hoping to sell one comic worth half a million dollars to keep his business alive.  And one is there to pick up the "Lord of the Rings" engagement ring and propose to the girl he met at Comic-Con the year before at the Kevin Smith panel in the cavernous Hall H.
Interspersed with the journeys of these fans is commentary from other attendees, some in costume and some who like many at Comic-Con are the objects of fan-dom and fans themselves.  Seth Rogan, Kevin Smith, co-producer Joss Whedon, Stan Lee, and more talk about the fans and, endearingly, talk about their own encounters as fans.  And there is some rueful discussion of the Con's journey from a few hundred people trading comic books in a hotel room in 1970 to 160,000 pop culture fans waiting in line for hours to see movie stars in Hall H.  "We can't use the loading docks anymore because f**ing Lucas owns them," says a comic book dealer.  There is thankfully little of the "look at the weirdos in the costumes buying action figures"  commentary Comic-Con often receives, and it is nice to see affection and even respect for people who are passionate about the culture of fantasy and imagination.  Spurlock balances the stories of his characters with the larger context, showing us that each of the attendees has a story and that Comic-Con is a place where stories and characters always matter.
Parents should know that this film includes some strong language, drug references, sexual references, scanty costumes, and some horror images.
Family discussion: What makes people into super-fans?  What do you learn about people from the costumes and media figures that mean the most to them?
If you like this, try: "Trekkies" and its sequel