DisneyNature's fourth in its series of nature documentaries released for Earth Day is gorgeously photographed, heartwarming, inspiring, and adorable. It combines astonishingly vivid and intimate footage of animal life with narration that sometimes crosses the line between accessible and intrusive.  And this G-rated saga has a "Bambi" problem.  The primatologists who appear at the end of the film are excited about sharing the unexpected and undeniably sweet story of an orphaned baby chimp who is adopted by an unrelated male. But that means the cute baby has to lose his mother first.  It is handled discreetly, but we have seen how tenderly she cares for her son and how much he depends on her, so sensitive viewers of any age may find her loss and the baby's abandonment by the other adults disturbing.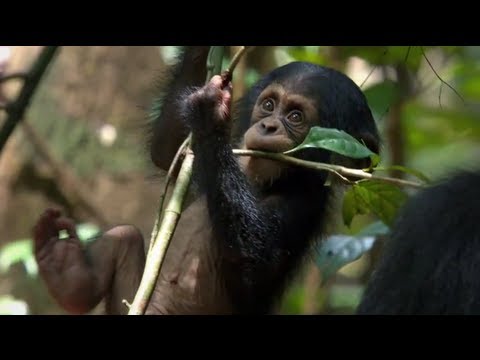 Narrator Tim Allen introduces us to newborn Oscar, whose tiny, wizened face is utterly captivating as he begins to explore the world around him.  His mother Isha cuddles him, feeds him, and patiently teaches him how to survive in the jungle.  They are part of a tribe led by alpha male Freddy, who provides protection and helps search for food. "The jungle itself is a living, healthy thing that does not want to be eaten," Allen tells us.  Nuts are hard to open and honey is guarded by bees.
As the area is cut into by development, food becomes harder to find.  The chimps are threatened by an invasion from a nearby group of hungry chimps with "a formidable leader named Scar." The choice of names and framing of the story unhesitatingly directs our loyalties.  Scar "steals" but Freddy and his tribe bravely forage for food.
Like Sharks and Jets, the two groups have deadly battles over turf.  Oscar is left alone.  He is still too young to fend for himself and at first, he cannot find anyone to take care of him.  Freddy becomes his adoptive father, but soon faces the work/life balance problem that is all too familiar.  He is so enthralled with his new son that he begins to neglect his job of protecting the group.  And Scar is waiting for his chance to return.
Allen's commentary is sometimes corny and distractingly over-anthropomorphized.  But director Mark Linfield and his crew were able to use the latest technology to bring us closer into the lives of these beautiful animals than even the scientists who study them have been able to get before.  The breathtaking visuals and the brave and affectionate hearts of these beautiful creatures continue to draw us back in to the story.  We see how the chimpanzees communicate and cooperate, how they use tools and teach each other survival skills, and how they use grooming to build community and define their hierarchy.  Deep within the grand sweep of the African rainforest, illuminated by the gentle glow of bioluminescent fungi, Oscar and Freddy teach us that "humanity" is too narrow a term to encompass the love, courage, and compassion these chimps so clearly understand.
Parents should know that this film includes a sad death of a parent (off-screen), leaving the baby chimp at risk and other characters are in peril.
Family discussion: How many different ways do we see the chimpanzees communicate with each other?  How do Isha and Freddy teach Oscar what he needs to learn?  How can we help the chimpanzees?  Read the interview with co-producer/director Mark Linfield.
If you like this, try: The other films in the series: Earth
, African Cats
, and Earth