Producer/Director Matthew D. Kallis answered my questions about Most Valuable Players
, the marvelous documentary about three high school teams competing for the Freddy Awards, given for the best high school musical productions.  I asked him about his favorite musicals and what kids learn from putting on a show.
How did you decide to make this film?
I grew up in an environment where the arts were held in high esteem, and I was on the stage crew when I was in school.  So this subject matter was a good fit for me.   When I learned about the Freddy Awards, I was very impressed that this region of America, that's so very sports-centric, would devote these kinds of resources and support to the arts.  It was a story I felt needed to be told.
What impact did the creation of the Freddy awards have on Pennsylvania theater programs and why?
It has increased awareness of high school performingarts.  Because the Freddy Awards is televised live, residents of the area flock to see all the shows, so they can judge the competition for themselves.   The schools are seeing an increased interest and more revenue as a result.   Like any trophy, the Freddy Award brings about a certain amount of respect for the winning schools.  Easton Area High School, for instance, was facing a budget cut that would have wiped out their performing arts program.  But when the school won the Freddy for Best Overall Musical (for RAGTIME), the school board reversed its decision. The Freddys have had a real, tangible impact on the arts.
Do you have a favorite musical?
This is a really tough question since there are so many musicals that I love for different reasons.  Although many newer musicals are superb, like THE DROWSY CHAPERONE and SPRING AWAKENING, I am still quite nostalgic about the classics.  The first opportunity I had to see musicals was in films like CAMELOT, FUNNY GIRL and THE SOUND OF MUSIC.  Later, my parents took me to New York where I saw great Broadway productions of MAN OF LA MANCHA, FIDDLER ON THE ROOF andmore.  I was hooked.  As a teenager, I saw THE WHO performing TOMMY, JESUS CHRIST SUPERSTAR at the Hollywood Bowl, Tim Curry in THE ROCKY HORROR PICTURE SHOW at the Roxy on Sunset Boulevard, and A CHORUS LINE on Broadway.  I just don't know how to pick a favorite from the list.
However, if I must select a one, I guess it will have to be OKLAHOMA!  Of course, it is a great musical, but that is not the main reason.  When I was still in elementary school, my brother and sister allowed me to tag along with them to see a performance of OKLAHOMA! at Beverly Hills High School.  I was so impressed with the amazing production values and all the talented kids.  Everything seemed so dazzlingly professional.  I knew I wanted to part of it, and that is why I joined the stage crew.   The experience was fantastic.  Making MOST VALUABLE PLAYERS allowed me to relive those wonderful times vicariously through the kids that participate in the Freddy Awards program.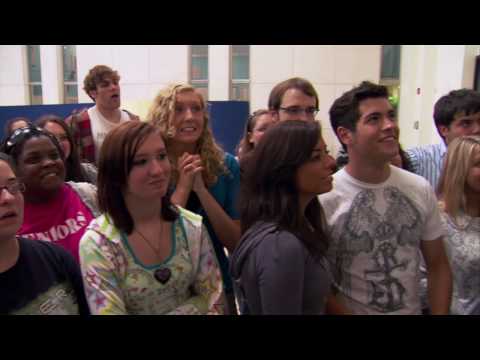 While most teens are listening to hip-hop and pop, what keeps drawing some kids to traditional Broadway show tunes?
Kids today are being brought up on different kinds of showtunes.  AMERICAN IDIOT, NEXT TO NORMAL, IN THE HEIGHTS or even THE BOOK OF MORMON, as examples, all have a cool, modern vibe to them with all sorts of influences.  As a result, these musical scores might pique their interest in other, more classic, Broadway shows.
What are the most important lessons high schoolers learn from putting on musical shows?
There are lots of important lessons.  They learn about responsibility and deadlines.  They learn about cooperation and teamwork.  Also, high school students can apply many of their reading, writing and arithmetic skills.  For instance, building sets takes an understanding of math and physics.  Scripts have to be read, analyzed and interpreted.  There are all different skills being used in the theater, so the list of educational benefits goes on and on.
What is the biggest challenge for school performing arts programs?
The biggest challenge remains staying alive.  Arts programs are always at the top of any "cut list" come budget crunch time.   It's important that school boards and administrators understand that there's more to the musical than just song and dance.  Yet arts programs must also learn to be more self-sufficient if they plan to survive.  Many of the schools featured in MOST VALUABLE PLAYERS get no money from their schools.  They raise all the funds on their own, which puts them in a more powerful position.