Brother White
 premieres this Sunday on GMC and I was thrilled to get a chance to speak to one of my favorite actresses, the fabulous Jackée, whose Emmy-award winning role in "227" has led to her own eponymous series.  Brother White is a white pastor who goes from working for the head of a glamorous mega-church to the tiny, impoverished Divine Faith Apostolic Church in Atlanta.  It is also the story of the parishioners and neighbors who welcome him including Jackée's character, the skeptical choir director.  The movie has heart, humor, and a stirring appearance by Bebe Winans.  There's a discussion guide for viewers who want to explore its themes of community and faith.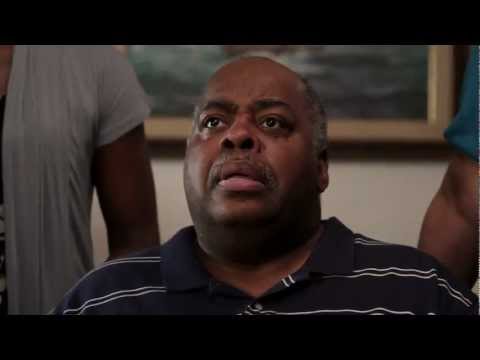 I began by telling Jackée I had just enjoyed watching her again on cable as the outspoken hairdresser in Deliver Us from Eva and that led to a conversation about her early years in show business, Brother White's real-life inspiration, and why the story is so close to her heart.
Tell me a little bit about the movie and your character.
Well, it's an uplifting movie.  Parents and children can watch it together, which is so rare. A family entertainment usually means just for the little ones, but it's also something for the adults. And also, it's a drama and a comedy which is what I wanted to do.  And we were able to do a lot of improvisations. The director was so kind and loose about it that I was really able to use my comedy chops. The character was able to be more fully formed, not just as fun but seen as a warm human being full of misunderstandings. So I like that.
I think you really your finger on it. It's the combination of the humor and the serious and there really is something in there for everybody.
You don't have to be afraid to go away for a moment while the kids are watching it. When you come back, everything will still be okay. You didn't miss anything that will be harmful to them.  That's what I liked about it. I do care about that; I do care about what kids see, and what adults see as well.
I like this one because there's nobody in it who's perfect. Everybody has got some lessons to learn. Everybody has got some faults to deal with. And yet, there's also a lot of humanity, a lot of decency in it.
Right, and that's what we need. People don't think so but it helps to ease your soul. That's the kind of movie it is, so you can see the spirit and the soul that you don't feel,  when you watch it, you're like "Whoa! What was that?!"  Sometimes you watch something where that last ten minutes it all goes to pot, and you go up and go "Blah! You and I wasted 2 hours."
Now, were you raised the church? Did you go to church while you were growing up?
Oh yes, I was raised Baptist in North Carolina. Yes, definitely, so this was right up my alley.
How did you first find out about this project?
I've been working with GMC, the Gospel Music Channel, for about 5 years now, trying to find the right project. I've done a couple of other projects for them, and they've finally found one that my character, when I read it, I said, "It's perfect."
What makes it perfect for you? What do you look for in the character that you play?
Like you've said, humanity and I look for some drama because I can do comedy; I do it in my sleep, but normally that's what I get. I eat with dramatic action, So when I see something where I can use my dramatic skills, I want to go for it.  It was right up my alley.
When you were growing up, was there a particular performer or movie that really made you want to become a performer yourself?
When I was growing up, I used to listen to the radio. At 6 years old, my earliest memories are of trying to hide from my sisters and brothers that I would listen to the radio, and sometimes I'd be singing along with the radio. A couple of times, they busted me. So it was really the radio, and singing was my first love. I went into the high school of music and studied opera. Then, I started taking acting lessons in the 10th grade, and I never stopped. Remarkably, it took, and I did a show when I was a junior in high school, "The King and I."  The audience stood up and gave me such an ovation that I said "Oh this is for me."  Then, when I found out I was funny, that I could do comedy, my career just took off.
How did you first know that you were funny? Were you funny with your family?
No… I really don't know it until I did a soap opera, "Another World, which is not on TV anymore. I played Millie Mason, a lady of the night.  It wasn't written to be comic but they let me be funny and that was when I knew this was what I going to do. Then on "227," I really got to be funny.
What does it feel like when you are performing and you can hear people laugh?
It makes me want to do more. Once you get them to laugh, you want to keep going. You don't want the laughs until they're sick!  As a comedian,  you don't think "Oh, they laughed!" Your thought is, "Oh, let me get another joke in here.". I'm always ready for the next joke that fits into what we're doing, not just because it's funny.  Sometimes, you can have a funny thing that you can do that doesn't fit in you're doing, and it will put everybody else off track. You have to just do it in context, so when I'm able to see something coming, I jump in there and that's what happened with "Brother White."  They just let the camera loose on me, because I was able to jump in and get my little brand of comedy to add to the story.
And you often get a chance to do improvisation when you are acting?
No, this is the first time in a long time. It's been years that I have allowed me to just cut loose, so I was very happy coming home from work, which is very rare. Usually, you just want to go home and go to sleep.  But because they let me improvise I would think about the next day.  I don't know if they planned that way, but it worked out, and it made me very happy. I was very happy it turned out so well.
I think it's a very important thing for movies of all kind, but also particularly faith-based movies, that they allow for some humor. That's how you invite the audience in, and that's why preachers like to begin with a joke.
You can have some levity with your religion. Everybody's not disciplined enough to understand what they listen to, so blend it with some humor so they'll open up more.  They'll be able to open up more to what we're trying to teach them. That's what this movie is trying to teach. Don't judge a person by what you see, because my character was judging the pastor because he was white and she was not sure what he was doing here. He turned out to be the right thing, but she was able to admit "I was wrong." And that was another lesson. You've got to admit when you are wrong and then open up even more. When you're wrong, try to learn the lesson that you missed out on out on. That's what I think is interesting.
You know it's really based on a true story. The author actually lived with an African-American family in South Central L.A. for almost three years. He's a Mennonite.  To quote him, he said "A Mennonite is a step above the Amish because they use use electricity."
What do you think is funny? Who makes you laugh so that you can't stop?
Lucille Ball, Betty White, Mae West. I'm old school, because timing is key. If you don't have timing, you really can't do comedy. You got to know the timing before you even say the line. You got to know the laugh is coming and then top it with another laugh. You can't know that until you know it. I'm old school. I don't look at too many other people and there's not many female comedians, even though people think so. There's stand up, but in terms of television, there's not really many female comedians, so you have to draw from the veterans. That's what I think.
What is your next project?
I'm getting ready to do a play called "I need a Man." We'll make a tour in a couple of weeks. We're going to tour it nationwide and we're going to film it as well. Ruben Studdard will be in it. It's fun play, it's music, and we had a lot of fun. And you can follow me on Twitter.