In honor of this DVD Pick of the Week, I have three copies to give away.  Send me an email at moviemom@moviemom.com with "The Way" in the subject line and tell me your favorite Martin Sheen movie.  Don't forget your address!  US addresses only.
A story about a father and is son comes to us from a father and his son.  Emilio Estavez wrote and directed his father Martin Sheen in a touching and uplifting movie about a doctor who completes the pilgrimage he told his estranged son not to make after the son is killed in a storm.
Sheen plays Tom, an affluent ophthalmologist living in Las Angeles, playing golf with his friends and worried about his son Daniel (Estavez).  In his late 30's, Daniel has dropped out of his PhD program to roam the world.  Tom gets a call from a French policeman telling him that Daniel is dead.  He flies to France, identifies the body, and then impulsively decides to finish what Daniel had started, to walk the Way of St. James from  St Jean Pied de Port to Santiago de Compostela, 780 km/484 miles as pilgrims have done since the middle ages.  He will bring Daniel along with him, leaving his ashes along the path so that he can complete his journey.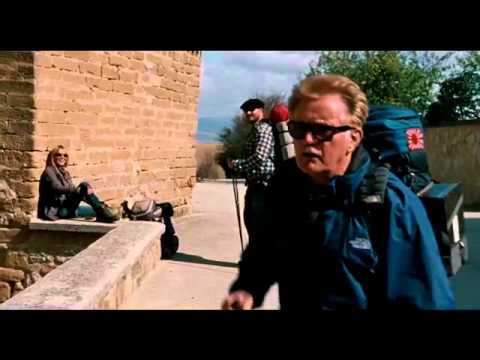 Tom has no interest in the other pilgrims or in sharing with anyone what he is doing.  But there is no way to avoid the people who are walking along the same road and staying at the same inns and soon he finds himself sharing the journey with an affable Dutchman named Joost (Yorick van Wageningen), a bitter Canadian named Sarah (Deborah Kara Unger), and a frantic Irish writer named Jack (James Nesbitt).  People on The Way tend to leave their last names behind.  Everyone is just a first name and a nationality — and everyone but Tom gives a reason for being there.  Joost wants to lose weight before his brother's wedding.  Sarah wants to quit smoking, but only after she completes the pilgrimage.  Jack is there to write a book about it and his editor is impatient.  But pilgrims are not always honest with themselves or each other and part of what they will learn on the road is what they are really doing there.
At times it has the feel of a television movie but the scenery is spectacular and benefits from the big screen and Estavez as writer and director has a good sense of timing and a gift for cinematic storytelling.  It is funny and heartfelt and inspiring and it will make you think more deeply about your own journey.
Parents should know that this film concerns the sad death of an adult child and grief of his father, drinking and drunkenness, constant smoking, drug use (involving a character from the Netherlands, where marijuana is legal), and some potty humor.
Family discussion: What was the significance of Tom's being an eye doctor?  Did the pilgrims find what they were looking for?  How do you know?
If you like this, try:  "Riding Alone for Thousands of Miles," a brilliant and deeply moving Chinese film about a father who completes his late son's journey.