Coach Cathy Rush arrived at tiny Immaculata College at a moment when there were big changes in women's basketball.  The rules were changed to allow women for the first time to play the all-out game by the same rules as the men.  And for the first time there was a national championship.  Coach Rush took her team to the national title for three of the first four years.  And this week, a movie based on her story is opening.  It is called "The Mighty Macs."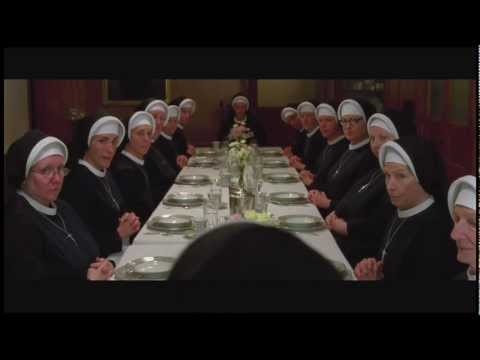 I was delighted to get a chance to speak to Coach Rush about her experiences at Immaculata and what she is doing now.
You must be very excited about the movie!
The excitement is really building as we approach the premiere.  I've been traveling around doing pre-release screenings and we've had standing ovations.  We showed it in New York and they were ecstatic.
What was the rule change that was so important in the early 70's?
This goes back to the 1930's when my mother was playing basketball.  They didn't think women could run up and down the court more than once or twice so there were three players on one side and three on the other and you never went full court.  You were not allowed to cross half-court. One group of three would shoot and the other side was just defense.
Because women were too frail?
Absolutely!  The Olympics didn't have a marathon for women until the 90's.  And then people realized women were capable of more.  In the 60's it had morphed into a huge scoring game where it was too easy to score.  One player in Iowa was averaging 58 points a game.  It was too easy to score when you were playing three on three?
Did you have a nun as an assistant coach as happens in the movie?
That is actually not true but part of the Immaculata story could never be repeated because of the community that was there and was so important.  The Mother Superior was not really with us in the beginning so the assistant coach character was the embodiment of all the nuns who loved us and prayed for us and did extraordinary things to support us.  Even after we started winning there was some controversy about whether Immaculata should be known as a jock school.  Everyone had to wear skirts to class and the dining hall — it was a different era.
Wasn't it a challenge that you did not have a chance to recruit talented high school players?
Whoever showed up on your college campus was who you used.  Coincidentally — we've often thrown around the idea of Divine Intervention — Theresa Shank Grentz was intending to go to Mount St. Mary's.  Her family home burned down and the family basically got out with what they had on.  She didn't have money or clothes.  So she ended up commuting to Immaculata and was one of our strongest players.  Because there were no scholarships we had nothing to offer players except the chance to be a part of the program.  I did start recruiting later on and found Mary Ann Crawford Stanley who was fabulous.  So we decided not to leave in fate's hand and recruit some players but all we could offer them was a good education and a good program.
I think it is a testament to your vision and leadership that so many of your players became coaches — even more than that they became champions.  What inspired them to follow in your footsteps that way?
Their experience at Immaculata, certainly, but also Title IX had just come in and major universities realized they had to find coaches and provide a little equality, well, not a whole lot but a little.  So these people went right into Division 1 jobs.  Part of it was the opportunity that they had.  Teresa was a biology-chem major and I asked how that prepared her to coach and she said she should have been a Psych major.  We've also had a bunch of doctors and other amazing women.  They came to Immaculata for an education first.
You had some unusual drills in the movie — were those things you really did?
We did a lot of stuff.  I did bring in boys to compete against.  We had 11 kids on the team and when we went from the first five to the second five the competition was not at good, so we brought in the boys.  I was blessed to be in the Philadelphia area where there were great men's coaches who knew the 5-member game and they were kind enough to let me see all of that and put it into our own system so I was very, very lucky.
What is important for a coach to know?
Coaching is really teaching.  We're all teachers of some kind — parents are teachers, too.  The players who became coaches do not coach like me; they are all smart enough to coach within the framework of their personality.  I was not a screamer.  I didn't have to yell to get across what we needed to do.  Being so young, I had kind who were two and three years younger than me but there was no question of my authority.  I was Mrs. Rush or Coach.  People need to lead by example.
The movie makes it clear how much some things have changed since the 1970's.
I was a 60's woman and not the Berkeley 60's.  I was from a small town and went to a conservative college and then coached at an even more conservative college.  It was a different time.  My life plan at that time was to get married, teach for three years, and have a family and never work again.  When I say that to kids today, they do not understand it.  But in those days people had different expectations for their sons than their daughters.
What are you doing these days?
I have a girls' basketball camp.  This is our 41st year, our biggest year ever, over 9000 kids in camp.  My youngest son runs the business and every now and then I come in and tell him what he's doing wrong [laughs].
You're still coaching!
That's right!