Today we celebrate the 100th anniversary birthday of one of the most talented, hardest-working, and best-loved comic performers of all time, Lucille Ball.  She insisted on having her then-husband, bandleader Desi Arnaz, as her co-star in what became a comedy classic from the early days of television, I Love Lucy
.  And Arnaz insisted on putting the show on film, very unusual in that era when no one was giving any thought to re-broadcasting television programs.  While many comic gems of that era have been lost, "Lucy" is indeed loved all over the world and being shown and appreciated on some station just about any moment of every day.
The complete series
has been re-issued this week on DVD in honor of her centenary.  Lucille Ball talks to Dick Cavett about two of her best-remembered episodes, the stomping on the grapes and her "mirror scene" with Harpo Marx (a tribute to the brilliant mirror scene in the Marx Brothers film, Duck Soup
).
This is my all-time favorite Lucy episode, partly because what happened was an accident and I love the way she just went with it.  The expressions on her face and William Holden's are priceless!
Before she was a zany redhead on television, Ball showed her acting skill in some movie roles.  Here she holds her own with Katherine Hepburn and Spencer Tracy in the witty Washington wartime romance, "Without Love."

Ball's biographer said her best performance was in the wonderful film, Yours, Mine and Ours
 (infinitely better than the Steve Martin remake).  It was her second co-starring role with Henry Fonda, based on the true story of a woman with eight children who married a man with ten.  I love the way this fan tribute combines the clips with scenes from their film together, a heart-breaking Damon Runyon drama called The Big Street
 about a disabled showgirl and the busboy who makes an enormous sacrifice to make her dream come true.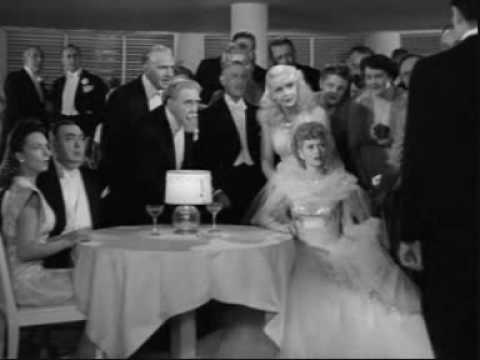 Be sure to tune into Sirius Radio's special tribute to Lucille Ball from Lucy Fest, the annual gathering in her hometown of Jamestown, NY.  Redhead Radio will launch at 12:00 am ET on August 6, 2011—the day Lucy would have celebrated her 100th birthday—on SiriusXM channel 82, taking over SiriusXM's RadioClassics for two days. SiriusXM's Greg Bell will host Redhead Radio featuring the festival's headliner, Joan Rivers.  Sirius will broadcast dozens of episodes of her classic 1940s radio comedy series My Favorite Husband, which inspired l Love Lucy; an interview with stand-up comedian Paula Poundstone—a featured performer at this year's fest— about the influence Lucy has had on her career; and interviews with Lucy impersonators, experts, historians, event organizers and fans at Lucy Fest. The channel will chronicle fan participation in "Be a Lucy," the attempt set the world's record for the most people dressed as Lucy Ricardo in one place at one time. Additional content includes Lucy's guest-starring role on the classic radio dramatic series Suspense; radio versions of her films "Fancy Pants" (with Bob Hope) and "Dark Corner" and interviews Lucy did with legendary personalities Abbott & Costello and Bob Hope on their classic radio shows.