Shakespeare's plays were originally performed in London's Globe Theatre.  The original open-roof theatre, made of wood-and-thatch was built in 1599 by Shakespeare's company of actors and was destroyed by fire in 1613. American actor and director Sam Wanamaker, worked tirelessly to raise funds for the theatre's reconstruction and a modern reconstruction of The Globe opened in 1997 approximately 200 yards from the site of the original theatre.
Now the Globe comes to more than 260 movie theaters across the country through NCM's exclusive Digital Broadcast Network.   NCM Fathom, Globe Theatre and Arts Alliance Media with Shakespeare's Globe London Cinema Series have produced an exclusive four-part in-theater series of the most classic of Shakespeare titles in U.S. movie theaters nationwide this summer and fall. Captured in 2010 from the prestigious and internationally renowned Globe Theatre in London— Shakespeare's theatrical London home – the series will kick off in June with The Merry Wives of Windsor followed by Henry IV Part 1, Henry IV Part 2 in August and closing in September with Henry VIII. Each performance will begin at 7:00 p.m. local time and will include a special 20-minute historical perspective on the Globe, the reconstruction process, the work of the Globe today, and a behind-the-scenes look at each production with interviews from the actors and creative team involved.  It begins with "The Merry Wives of Windsor," said to have been inspired when the queen wondered what it would be like to see the wine, women, and song-loving Falstaff (of "Henry IV" parts 1 and 2) in love.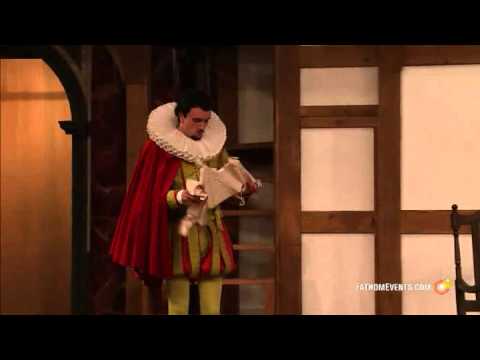 Tickets for Shakespeare's Globe London Cinema Series are available at participating theater box offices and online at FathomEvents.
Shakespeare's Globe London Cinema Series schedule is as follows:
§  The Merry Wives of Windsor – Monday, June 27 – One of the great comedies by William Shakespeare, this hilarious tale of love and marriage, jealousy and revenge, class and wealth is Shakespeare's only play to deal with the contemporary Elizabethan era English middle class life. It was first published in 1602, although it was believed to have been written prior to 1597.
§  Henry IV Part 1 – Monday, August 1 – The second play in Shakespeare's tetralogy dealing with the reigns of Richard II, Henry IV and Henry V, Part 1 depicts a span of history beginning with Hotspur's battle at Homildon and ends with the defeat of the rebels at Shrewsbury in 1403. This work of honor, rebellion and the struggle for power is thought to have been written no later than 1597. From the start it has been an extremely popular play both with the public and the critics with Roger Allam winning the 2011Olivier Award for Best Actor for his role as Falstaff.
§  Henry IV Part 2 – Thursday, August 18 – The third piece of a tetralogy, preceded by Richard II and Henry IV Part 1, this work is followed by Henry V. This play picks up where Henry IV Part 1 ended and focuses on Prince Hal's journey toward kingship. The two plays are often perceived as a dissection of father-and-son relationships, with Falstaff as a wayward father substitute for the young Prince Hal, who is estranged from his own dying, guilt-ridden father, Henry IV. It's also a drama about an old England that, like Falstaff himself, is riddled with ills, in decline and in urgent need of rebirth. It is believed to have been written between 1596 and 1599. Allam received the 2011 Olivier Award for Best Actor for his role as Falstaff in Henry IV Part 2.
§  Henry VIII – Thursday, September 15 – This work is based upon the life of Henry VIII of England. During a performance of this play at London's Globe Theatre in 1613, a canon used for special effects ignited the theatre's thatched roof and beams, burning the original structure to the ground. This play was famous in its own day as Shakespeare's most sumptuous and spectacular play, and this production presents a gorgeous pageant of masques and royal ceremony.