John Bengston has tracked down the original locations for the three biggest comedy stars of the silent era.  His books are a treasure trove for historians and film lovers, reminding us that these early films are not just masterpieces of comedy but also remarkable time capsules of early 20th century America.  His  Silent Visions: Discovering Early Hollywood and New York Through the Films of Harold Lloyd
is a follow-up to his Silent Echoes: Discovering Early Hollywood Through the Films of Buster Keaton
and Silent Traces: Discovering Early Hollywood Through the Films of Charlie Chaplin
. He is often able to show how particular locations appear over and over again — he even located both Harold Lloyd and Bruce Willis at the same place, seven decades apart.  His blog about Keaton, Chaplin, and Lloyd is a treat.  He was kind enough to answer my questions about Harold Lloyd and what he discovered in his research.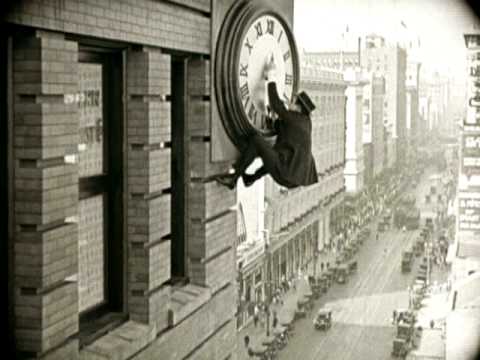 In his day, Harold Lloyd was as or more successful than Chaplin or Keaton.  Why is he not as widely remembered today?
Harold Lloyd was immensely popular; as popular as Chaplin in many polls, and more prolific.  As a result, Lloyd sold more tickets during the Golden Age of Comedy than any other comedian, and retired as one of Hollywood's wealthiest men.  Lloyd owned all of his films outright, and completely controlled their distribution.  Lloyd was concerned about how his films would be received in later years, and did not want them shown cut up on television interrupted by beer commercials.  So at a time when other silent comedians began enjoying a renaissance, Lloyd's films were generally unavailable.  The ironic consequence of Lloyd's efforts to preserve his legacy was that it kept his films out of reach from a generation of film fans, breaking the chain of public recognition.  For years then Lloyd's films have not garnered the attention they deserved.  Lloyd's films are now available on DVD, and comedy fans unfamiliar with his work are in for a real treat.
Lloyd famously did his own stunts (usually without any safety equipment) and one early accident severely damaged his right hand.  How did he compensate in his stunts and how did he camouflage the injury on screen?
Lloyd performed numerous stunt climbing sequences throughout his career, even though he only had one complete hand.  In a freak accident, Lloyd lost nearly half of his right hand posing for a gag publicity photo by pretending to light a cigarette with the sputtering fuse of a fake bomb.  Inexplicably the property bomb contained a real charge that discharged moments after Harold lowered it away from his face.  Although the accident was news at the time, Lloyd worked hard to preserve the illusion that he was not injured, wearing a tightly fitted glove over a prosthetic thumb and finger when filming.  Lloyd also cleverly staged scenes to favor his left hand, filmed mirror reflections of his left hand as his "right," and used hand doubles for certain closeups.  When posing for news photos in public, Lloyd usually adopted a causal stance with his right hand in his pocket.
Can you explain a little bit about your research techniques?  What were your resources for tracking down buildings that no longer exist?  Do any records exist from the making of the films?
When I began this research 15 years ago, I had little choice but to visit Southern California libraries and photo archives in person.  Today I make most of my discoveries sitting at my home computer, hundreds of miles from Los Angeles.  With the Internet it is now possible to search vintage photo archives, highly detailed real estate atlases and fire insurance maps, 1920s newspapers and telephone directories, and even historic aerial photos online.  Further, with Google Street View and Bing Map's Bird's Eye View, one can hop across town to see how these film locations look today, without having to fight traffic.
When attempting to solve a location, I start with obvious things like street signs and the names of business establishments in the background.  Sometimes the street will have an unusual curve, or a staggered intersection.  The angle of the sun usually tells you the direction of the street, and landmarks such as trolley tracks, parks, and churches provide other clues.  My only clue for discovering the church Buster Keaton used in Seven Chances (1925) was noticing that it stood at the southeast corner of a "T" intersection, but armed with a few vintage maps that was sufficient.  I am now so familiar with how Los Angeles appeared in the 1920s that I can identify many scenes that contain no outward clues at all.
What did Lloyd look for in selecting locations?  Did he use any more than once?
Lloyd's favorite place to film was at Third and Grand, atop Bunker Hill in Los Angeles, where he filmed scenes for seven different movies, all just one block from the top end of the Angels Flight funicular railway.  This charming neighborhood was completely obliterated during the 1960s urban redevelopment movement, and is now populated with glass office towers.  The section of Third Street on Bunker Hill was situated above the Third Street Tunnel.  Since through traffic could use the tunnel instead, it was convenient to shut down Third Street above the tunnel for filming chases and stunts.
Did many appear in films by other performers as well?  You compare Lloyd's use of the boat in Coney Island to Keaton's — how did that reflect their different styles and approaches?
Los Angeles and especially Hollywood were still relatively small cities at the time Harold Lloyd began his film career in 1915.  Because at the time there were only a limited number of commercial districts, residential neighborhoods, train stations, public parks, and so forth to choose from, it was common for the great silent comedians to cross paths when filming, almost by necessity.
Chaplin and Keaton filmed frequently in the Skid Row and Chinatown parts of town, while Lloyd filmed extensively in the bustling financial and business districts of downtown Los Angeles.  This makes sense, as Lloyd played more of a middle-class Everyman character.
Was there one location that was especially tough to track down?  How did you finally find it?
I visited New York 25 years ago, but did not travel there to research the book.  I was able to confirm dozens of vintage New York City locations appearing in Harold Lloyd's 1928 feature Speedy by using the Internet to cross-check vintage maps and archival photos with contemporary views on Google Street View.  But some street scenes eluded me until I realized they were not filmed in New York at all, but were filmed on Flower Street in downtown Los Angeles instead.  Speedy has several sequences where the film jumps back and forth between scenes filmed in the two cities.  We're not supposed to notice this.  To me it makes me appreciate the skill of Lloyd and his talented crew even more.
Do you have a favorite Lloyd film or stunt?  Who was his best co-star?
It would be difficult for anyone to surpass Harold hanging from the hands of a skyscraper clock in Safety Last! (1923).  That sequence was filmed using a special set built on the roof of a tall building.  Yet in a continuous shot from an earlier film, Ask Father (1919), Harold actually climbs the first three floors of the former International Bank Building in downtown Los Angeles.
Which buildings in his films still exist for people to visit (or to show up in current films and television) today?
Harold used eight different buildings in the Historic Core of downtown Los Angeles to film his various stunt climbing movies, seven of which are still standing.  But the greatest number of surviving building locations, by far, stands along Rampart Boulevard between 3rd Street and 6th Street in Los Angeles, where Lloyd filmed several elaborate stunt/chase sequences appearing in For Heaven's Sake (1926).  The street is lined with two dozen or more apartment blocks all built between 1924-1924, and which are nearly all still standing.