Don McGlynn is the director of a raise-the-roof documentary about gospel music fittingly called "Rejoice and Shout." It is a thrilling compendium filled with history but more importantly, filled with music. The people are wonderful and McGlynn gives us full performances of the gorgeous music of the past and the present.
How did you find those amazing archival clips?
It was an enormous job finding it. I've been working with my producer partner Joe Lauro, who has been gathering this stuff for 20 years. It was daunting to go through all the material but even the middling clips were so inspiring. And the ones we used I'm very thrilled with. There were a number of gospel shows around the country. We got a lot from "TV Gospel Time" and some from "Jubilee," a show out of Chicago. Joe is so determined and so interested that he wanted to see everything. And that means we got to use clips that had never been exhibited. We think of the beginning of movies with sound as "The Jazz Singer" in 1927. But we found one clip that pre-dates that, from 1922. And after "The Jazz Singer" all these newsreel crews went out to make sound films. About 30 minutes into our movie we have five or six clips of footage almost 90 years old that had never been edited before. There was a lot of archeology going on!
One of my favorite parts of the movie was tracing the way that gospel and pop and rock music influenced and enriched each other, sometimes uneasily.
One of the great things about gospel music was the way they took the whole concept of the barbershop quartet and twisted it and changed it around so much that it became this very elaborate, fascinating kind of music. As much as I love all of the quartets we have in the film, like the Dixie Hummingbirds and the Golden Gate Quartet, I think it's fair to say they're kind of unthinkable without the Mills Brothers. There's this back and forth feeding of gospel into pop and vice versa.
And you show the influence gospel and folk had with each other, with Bob Dylan a big fan of the Staples Singers and performing with them.
It's conscious music and it was a good time for both of them to sing those songs. That was a great meeting point. I'm a Minnesotan, too, an Irish Catholic boy, up there isolated in the frozen north, so it is heartening to me that Dylan, also from Minnesota, was listening to the Staples. We feel so isolated but that doesn't mean we can't find the world somehow.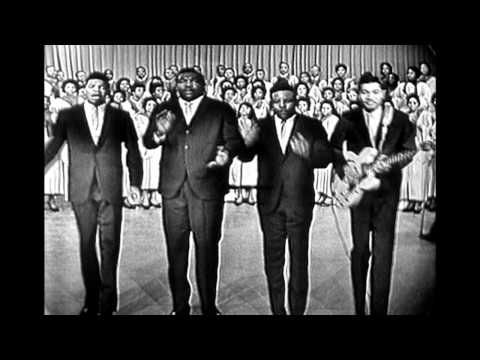 How would you describe the importance of gospel in the African-American churches?
When you go to a Baptist church, it's very similar to my experience in a Catholic church, but there's more going on. You have the sermons, and the collections, and music. In gospel you feel that there's this commitment for the daily experience. People say, "I go to church at nine and get home about six." And it's never boring! It's a blast. It's also like the newspaper of the community, to find out what is going on with everyone, what this meant morally and ethically, of course frequently referring back to the Bible.
Does the experience of singing gospel music bring the singer closer to God? Is it a form of prayer?
That's maybe the point of my movie. In order for these people to sing so beautifully, having this religious and emotional and spiritual connection to the music brings it really to life. It's inescapable. There were two things that were important to me. One was that this is a music movie so let's have full performances of the songs. And these people are really religious, so let's talk about what God and church mean to them. They're artists who are expressing themselves because of how they feel about these subjects.